Shopping Basket
Your Basket is Empty
There was an error with PayPal
Click here to try again
Thank you for your business!
You should receive an order confirmation from Paypal shortly.
Exit Shopping Basket
| | |
| --- | --- |
| Posted on 24 November, 2012 at 5:54 | |
Ever had major parasol envy? I saw a lovely vintage parasol on a wedding blog (as you do) I wanted one!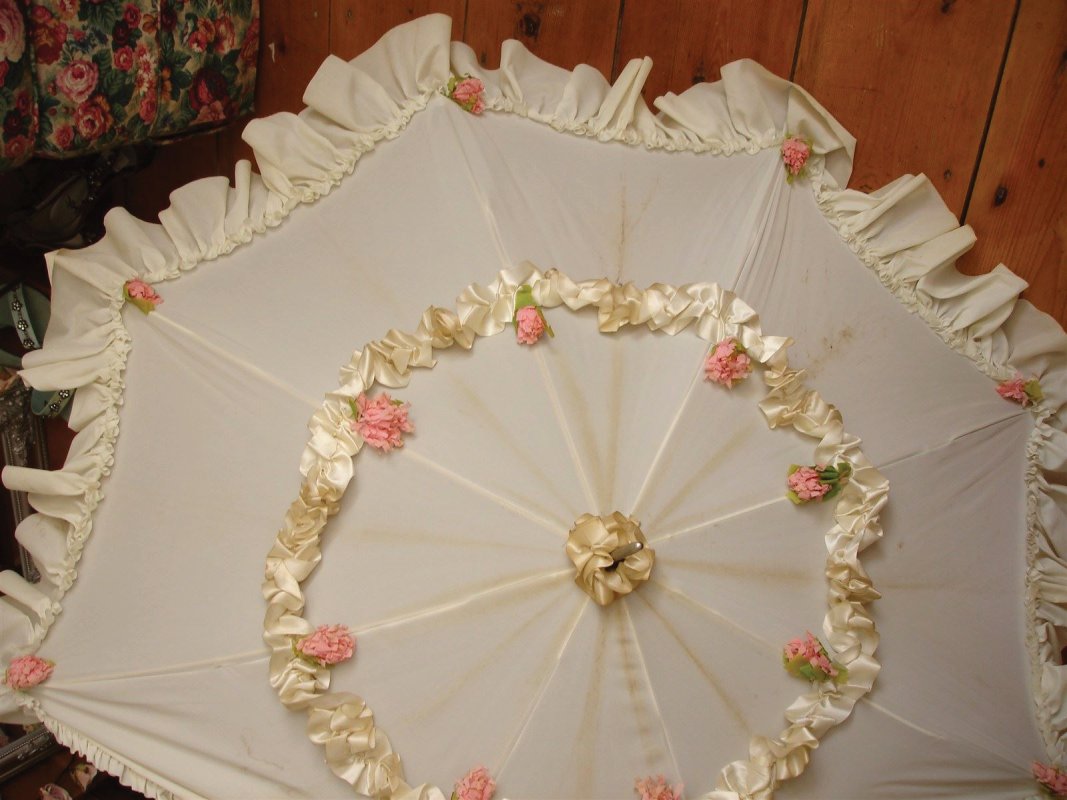 I've had this theatrical prop in my 'collection' ever since I played Eliza Doolitttle in 'Pygmalion' when I was 16. (I never throw anything out!) I knew it would come in handy some day. Now I am a vindicated hoarder.
It came with the original frills but my mum embellished it at the time with crepe paper flowers! Several decades have not been kind to it and the nylon fabric became stained. It was time for a glamourous makeover. I was sure I could use the frame which had a lovely mother of pearl effect crooked handle to create a 'parasol' like the one I now envied so much.

I took the fabric and trimmings off and was left with the frame. I had planned to cover it with panels if silk and then embellish with vintage lace which would be gorgeous....but take absolutely ages, which is why the frame was languishing naked in a corner whilst I then got on with other, more pressing commissions.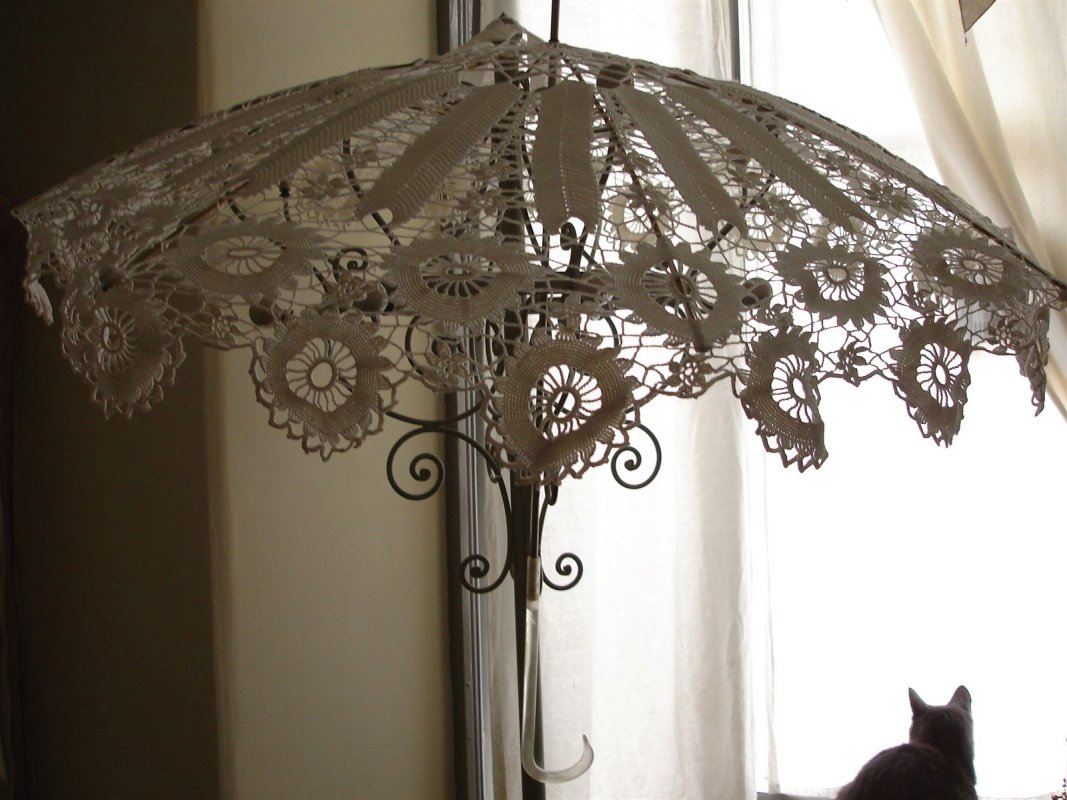 Quite by chance. whilst rummaging through my vast collection of vintage paraphernalia for something else entirely (to trim a wedding dress) I unearthed a vintage crochet tablecloth.
I thought it would make a fabulous skirt so I put it to one side to experiment with later.
I had it draped around a mannequin that evening when I had a eureka moment. What if?!...............

Some experimentation revealed that the piece would fit nicely over the frame and dangle attractively over the ends.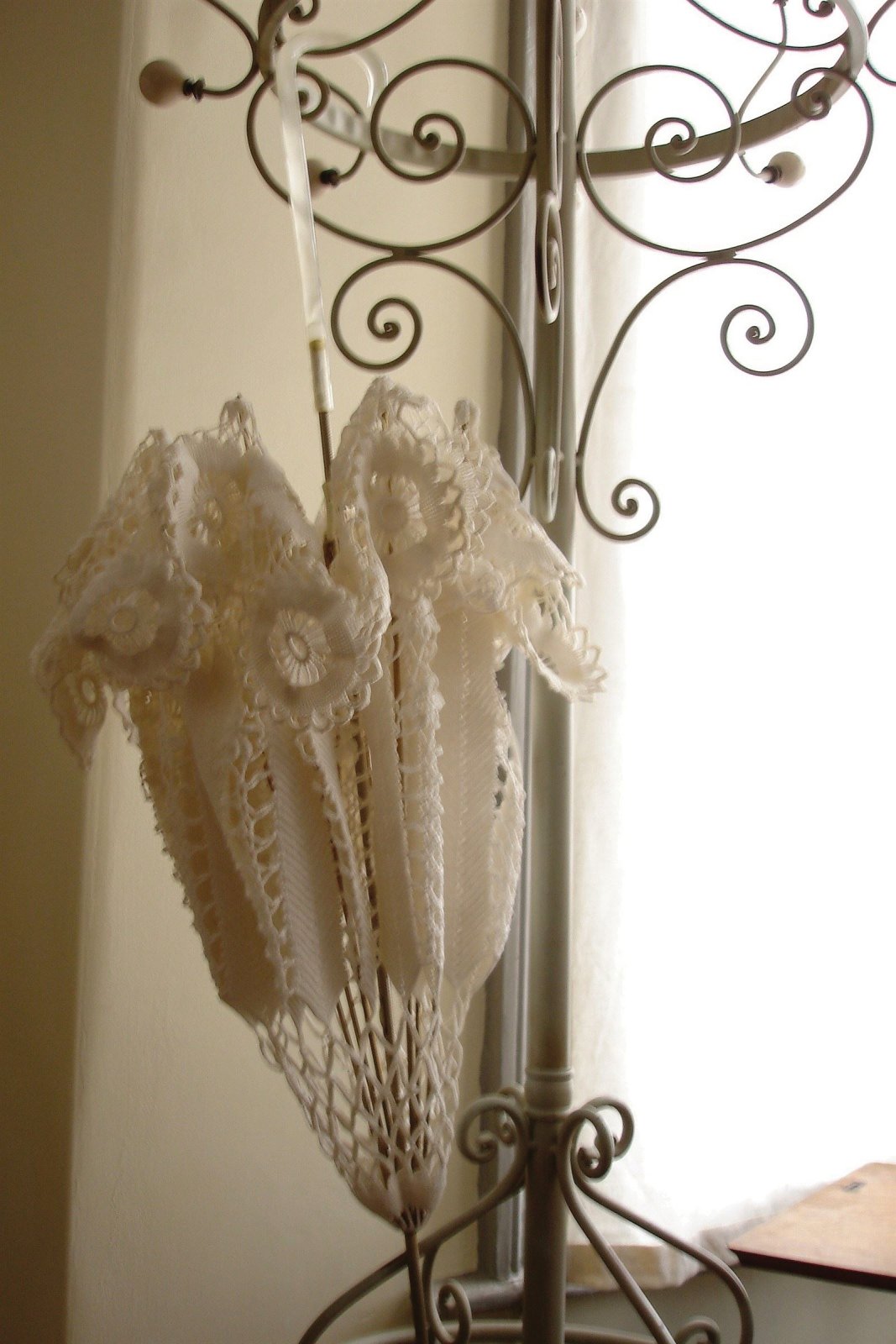 The trick was distributing it evenly as there were not exactly enough panels to go with each 'spoke' of the frame. This was achieved through trial and error and using glass headed pins to keep the crochet in place during experimentation. I attached the crochet to the appropriate points by hand stitching.
It was a fairly straightforward process once I had worked out how to stop the spokes slipping completely through the crochet and finish it so that the crochet didn't get caught on the spokes when it opened.
I am really pleased with the end result.
It's a lovely piece and practical because it clicks closed so can be carried in that position.
I love it when a plan comes together
I shall be keeping the parasol for use in photo shoots and fashions shows.

Whilst the  parasol is not for sale it will be available to borrow, free, for any brides commissionning a Vintage Smart bridal gown.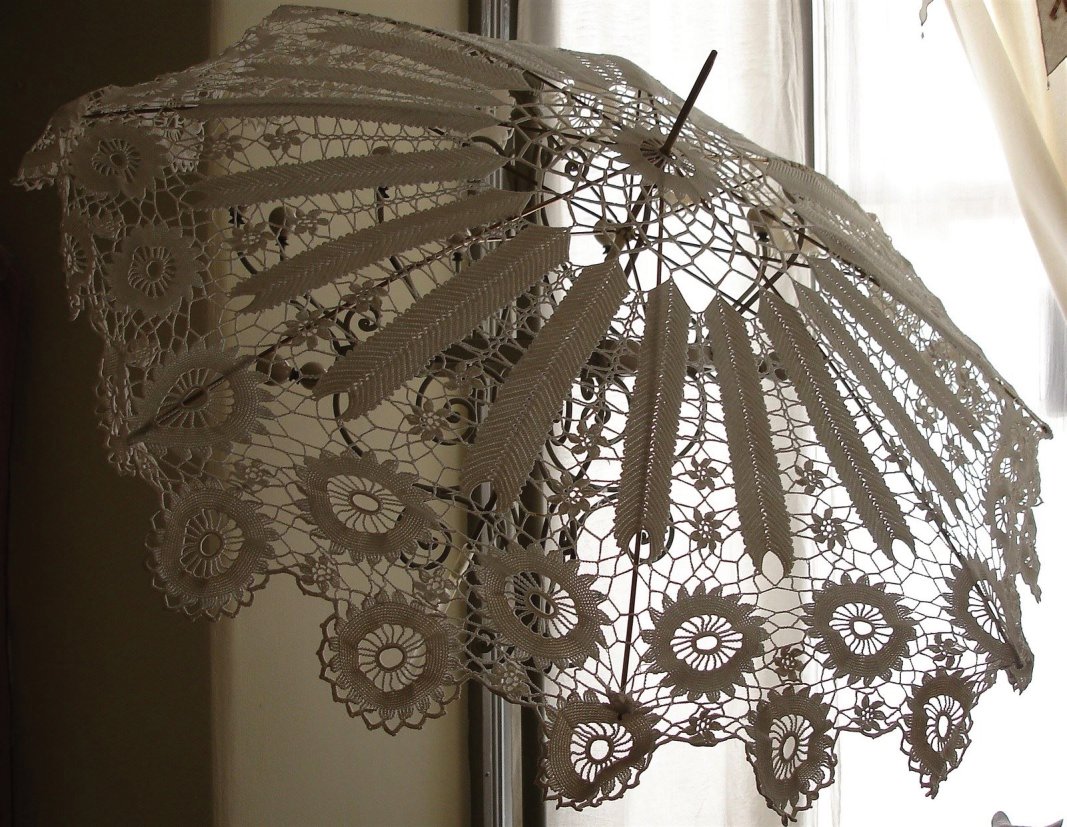 Categories: Bridal and vintage bridal, Vintage bridal, Vintage Fashion, Wedding tips
/