Shopping Basket
Your Basket is Empty
There was an error with PayPal
Click here to try again
Thank you for your business!
You should receive an order confirmation from Paypal shortly.
Exit Shopping Basket
Choosing your wedding dress is often one of the most exciting elements of preparing for your big day. There is certainly a mind-boggling choice, and a lot of advice on offer in magazines and wedding blogs. In addition to looking through these, prospective brides will also, usually, take some time to see what is available in high street bridal stores, where a made-to-order service is offered.

Made-to-order is not the same as made-to-measure. If you order from a sample dress that you have tried on in a shop, even if it is a 'designer gown', that style is then made up in the standard size that is closest to your measurements. Any adjustments needed because you do not fit the standard size precisely in height or other variations, would mean alteration, normally charged in addition to the purchase price.
Having a dress made-to-measure means that you can choose. The style is exactly what you want; the beautiful fit is included in the price and achieved by fittings at each stage of construction.  You will feel pampered and special, as you see your gown 'evolve' thoughout the exciting creative process.

Whether your dress is made-to-order, Vintage or, made-to-measure, all good suppliers should be able to give you confident answers to the following questions.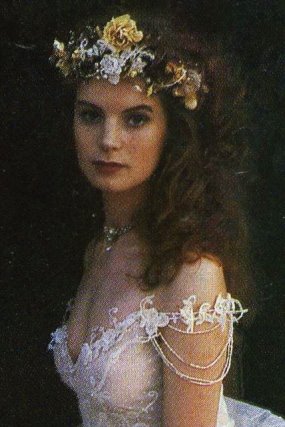 QUESTIONS
Who will conduct my appointment
Is there a time-limit to my appointment?

Is there a limit to how many dresses I can try on?
Can I bring other people with me when I try on dresses and for fittings?
Should I bring my accessories with me to the appointment?

How long does it take to have a dress made?
Where will my dress be made? and who will be making it?
What will my dress be made of?
How many fittings are needed?
How much desposit do I need to pay and can I pay in instalments?
Do I have to pay extra for alterations or any other charges.?

Will my dress be delivered or do I collect it?
   at Vintage Smart

    you are guaranteed a warm welcome and friendly service

Most brides come to Vintage Smart if they have strong ideas about the style of dress they would like; because they simply can't find a gown with the combination of style features they are looking for, or because they realise they want something unique; different to what they have found on offer elsewhere.
Whilst I specialize in Vintage and Vintage-inspired gowns, I can make you anything you want. With over 20 years experience in designing and making stunning gowns, I can also offer informed advice to help you with your choice.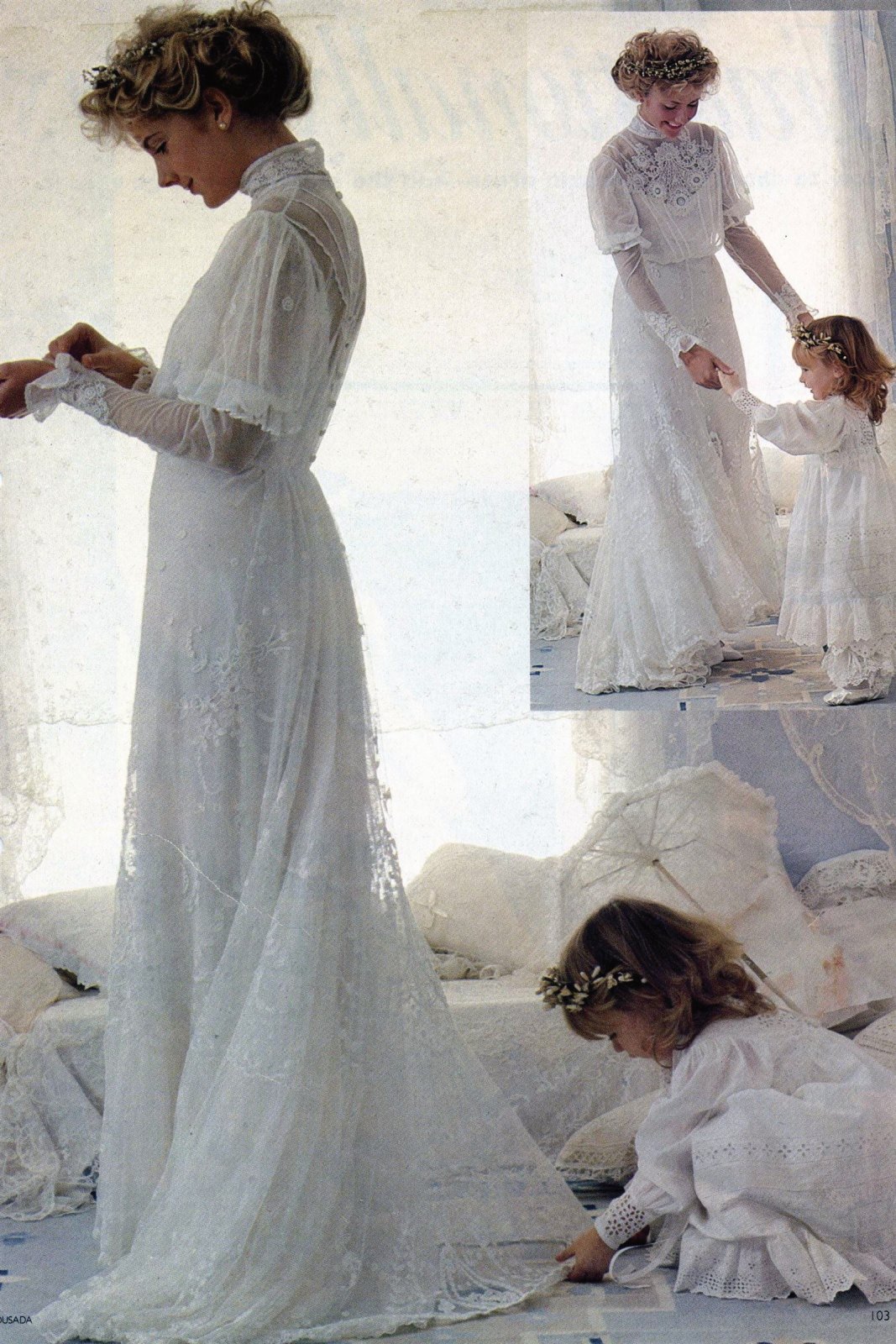 ANSWERS
All appointments are conducted by Meryl Smart - Designer at Vintage Smart.

1hr -1hr30mins is usually sufficient for an initial consultation, including trying on a number of dresses . Although this time is not rigid, normally a 2 hr slot is allocated, which includes re-organising the space for the following appointment.
Before trying on dresses I talk to the bride to find out preferences in terms of style etc. Then we can select from my collection, those items that most closely fulfil that brief. I will also suggest other gowns that might suit or inspire the bride. Much can be discovered from trying on two or three dresses with different features, but of course it is possible to try on more.

Brides are welcome to bring others to the appointment. This is best limited to 3 because of space.

If you already have accessories: shoes, bra, head-dress etc. it is ideal to bring them to the appointment so that you can check they co-ordinate or create the look you are after, particularly if you are looking for a ready-made Vintage dress.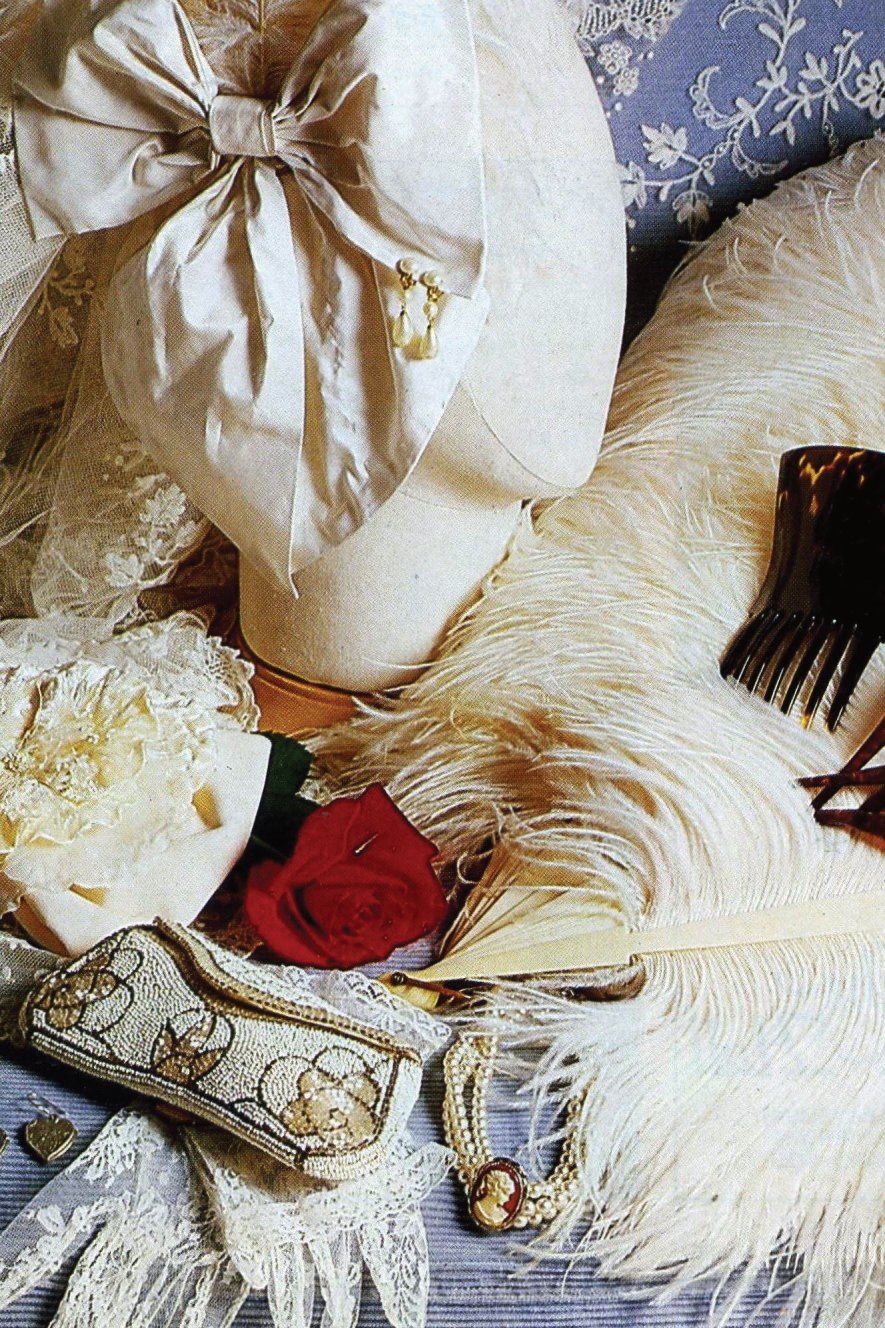 The time needed to have a dress made will depend on style and fabric choices, as well as your availability for fittings. Whilst it may be possible to make your dress in a matter of weeks, it is best to allow a minimum of 2-3 months.
At Vintage Smart, all made-to-measure gowns are individually hand-made by Meryl at her workshop in Taunton.
Fabrics for your made-to-measure gown will be discussed at the design consultation where you will be able to choose from samples.

Initial consultation is followed up with design drawings and costings. Final choices are detailed  when the commission is confirmed.

With Vintage gowns the fabric is identified as accurately as possible and advice given about cleaning. Buying a genuine Vintage gown means you are buying into history.  Sizes tend to be smaller than the modern equivalent. However, styling and size can often still be adjusted.

After the initial consultation, 3-4 fittings are normally sufficient to complete a made-to-measure gown. More may be needed if the design is complex. These will normally take place at the Vintage Smart studio in Taunton, although Meryl will travel for fittings by special arrangement.

For made-to-measure, a deposit of half the total amount is payable to confirm the commision, with the balance payable in instalments at each fitting.

For made-to-measure gowns, all fittings are included.

For Vintage gowns, the full price is due at time of purchase. If your ready-to-wear Vintage gown requires adjustment, this will incur extra cost, charged at an hourly rate. An estimate will be given for individual items as required, with payment for the alteration on completion.

Completed dresses are normally collected from the Vintage Smart studio in Taunton.

I make dresses for Bridesmaids and other occasions too!
Read Full Post »
FASHION       FUSION - Con-fusion

We could be forgiven for being rather confused about what is happening in fashion at the moment. In some of the reporting of London Fashion Week it looks like some designers have hedged their bets and just bunged everything on at the same time. Clashing patterns, fruit/veg prints, jungle prints.

It could look a complete mess: perhaps that is the point - counter-co-ordination, anti 'mixy-matchy'.

A quick look around the High Street confirms the impression that, apart from designers being retrospective and jumbling up all the influences, there does not appear to be clear direction.

And then, just when you have got your brain around that, Armani comes up with an androgenous, wistful angelic look. Perhaps the industry is just trying to hedge its bets in difficult times; covering all  bases.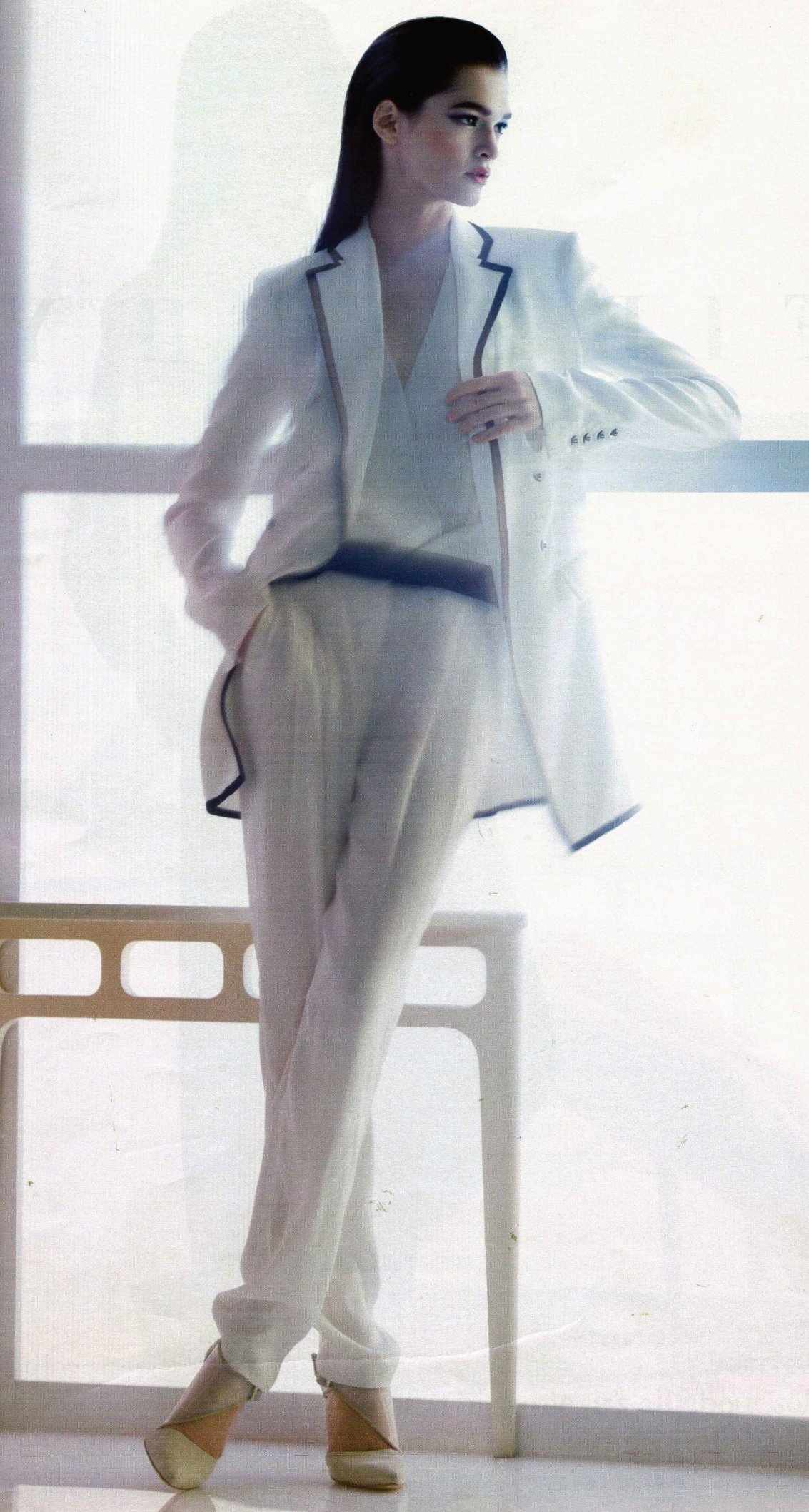 'Retro' seems to be the new buzz word; a term just as diversely defined as 'Vintage' - to add to the confusion.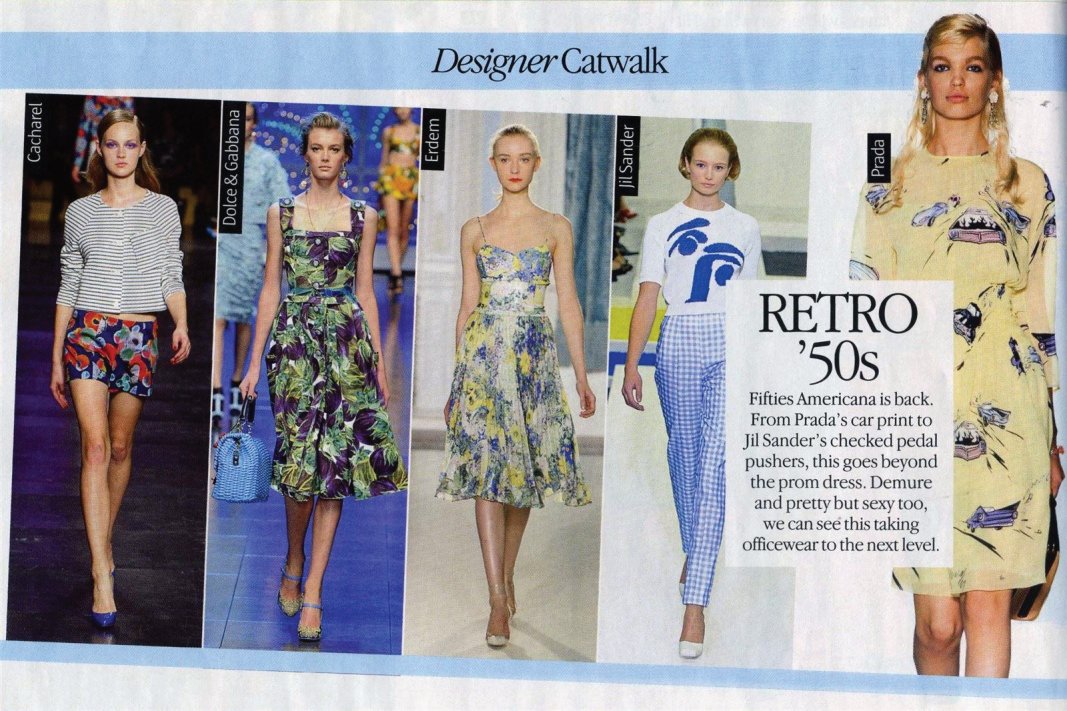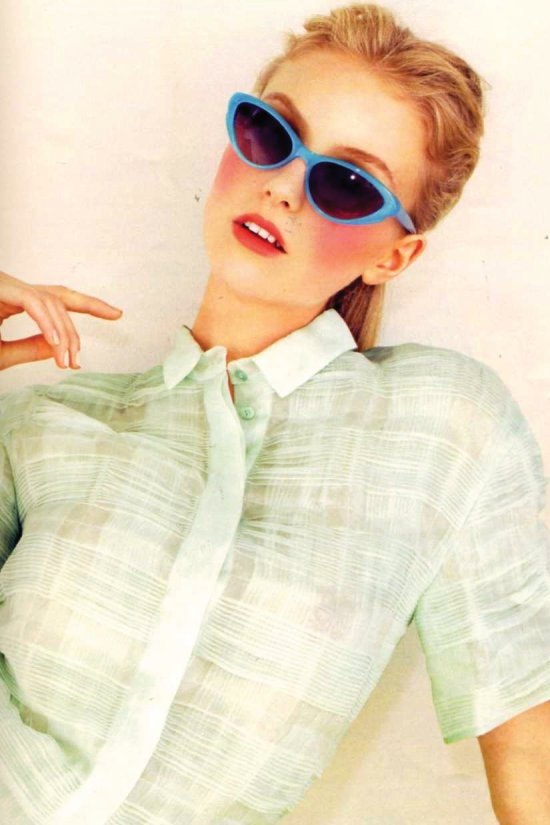 Influences come from  all directions, including new movies such as 'The Great Gatsby' (out later this year apparently) that have already influenced trends. I believe it would be possible to use images from recent fashion show coverage to prove almost any trend.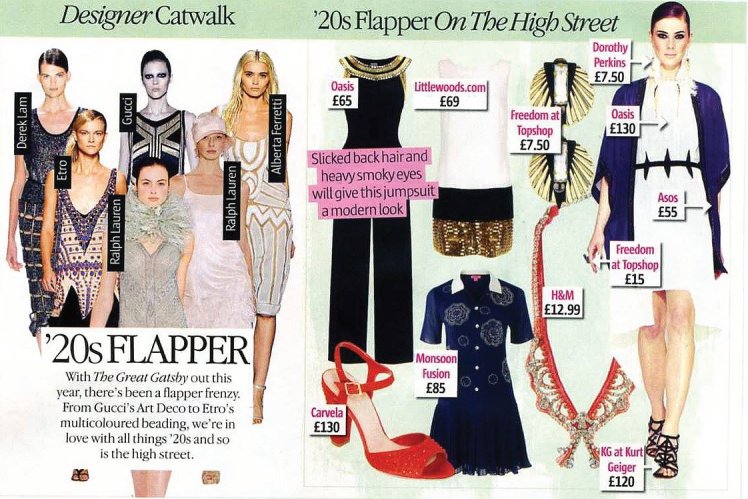 When a high profile figure like Kate, Duchess of Cambridge can resurrect a label by wearing one item from a 'defunct' range (50's style dress), one wonders who is really leading and who is following fashion.
Over the past few decades I have enjoyed reading fashion forecasts based on cat-walk collections, seen how the High Street has interpreted them, and then, with hind-sight, observed what actually caught the public imagination; what people actually purchased and wore. I even thought I'd write a book about it  'Chicken or Egg??'
I love (NOT) the way that fashion magazines create 'rules' for how to wear and not to wear trends.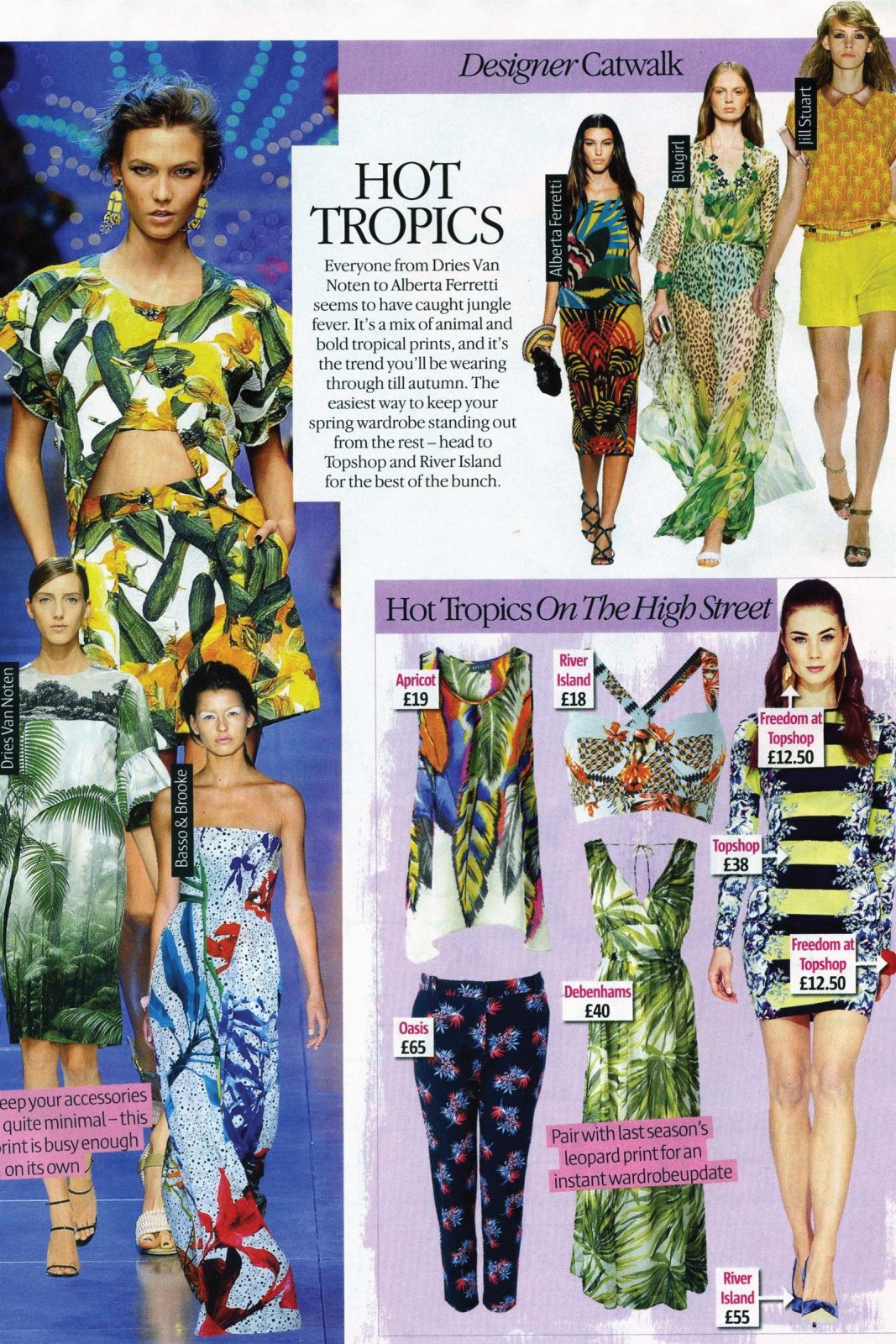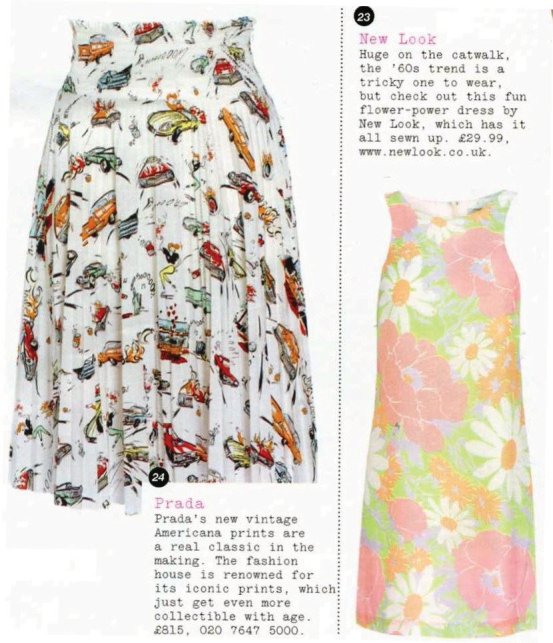 One magazine recently suggested that 'if you wear a 'vintage' fabric it should be in a 'modern' style and vice-versa in order to achieve a 'current' look'; as if everyone knows what they are talking about! Vintage sylists would probably not agree. Most people will, in-fact, just buy what they like. They may not realise, and probably care even less, that it might have a retro 60's influence in the print of the fabric or the tunic style of the dress or that the item they have just bought was 80's style..
Some people have quite a stereotypical and perhaps innaccurate image in their minds of the key looks of any decade.......that is, if they give it any thought at all; and who can blame them. People have busy lives and other things to think about.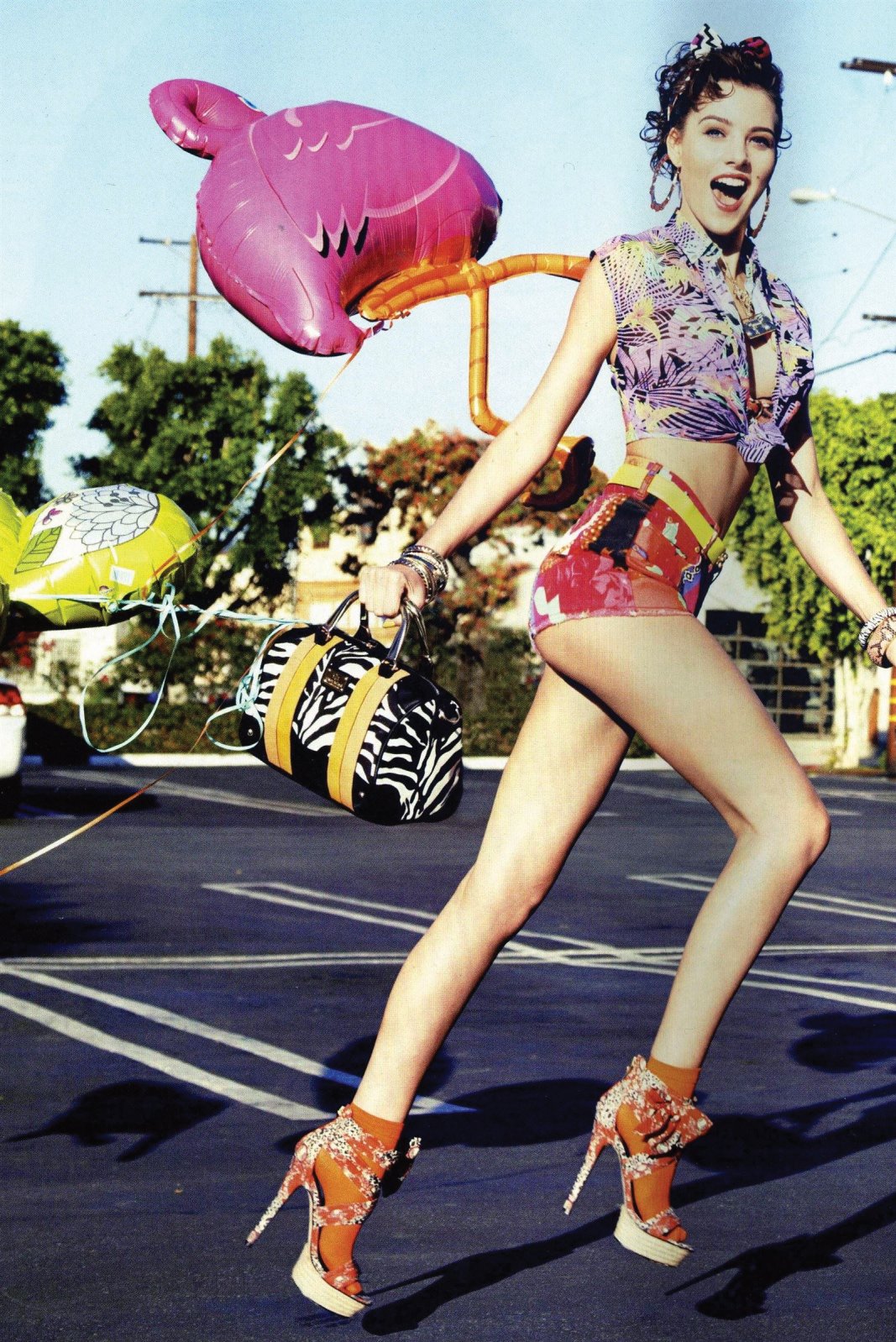 Even self-confessed fans of 'vintage' clothing may not know the intricacies of historical fashion - but know that they like original or unusual pieces that not everyone else has. Many are not aiming for top-to-toe historical accuracy; not interested in looking like they have stepped back in time or out of a period costume drama; rather prefering to pick and choose, mix and match and create an individual look.
Other 'Vintage' fans really like the styling of particular periods but would prefer not to wear 'second-hand'; happy to go for 'repro' or modern vintage/retro-inspired fashion.
One thing is for sure, as cat-walk extremes filter through to high street trends (and vice-versa) now, perhaps more than ever in history, and despite all the 'rules' anyone might seek to impose, anything goes....and sometimes, all at once!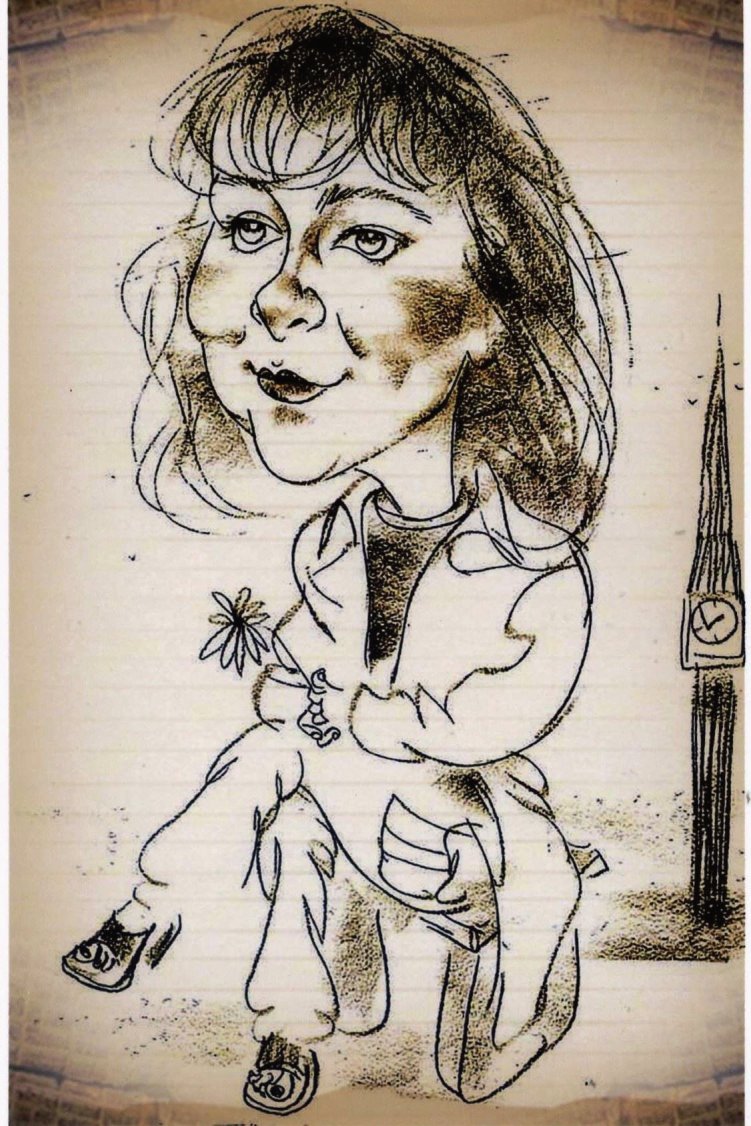 VintageSmartdog

Read Full Post »
Size does matter!

Sorry boys but size really does matter!...... particularly when buying Vintage. It is a fact that women are larger these days and not neccessarily in a bad way! Women are taller and broader and the increased use of elastane to provide stretch in many modern fabrics makes garments quite forgiving meaning we can all kid ourselves a little what size we really are. This is not the case with a lot of genuine Vintage clothing.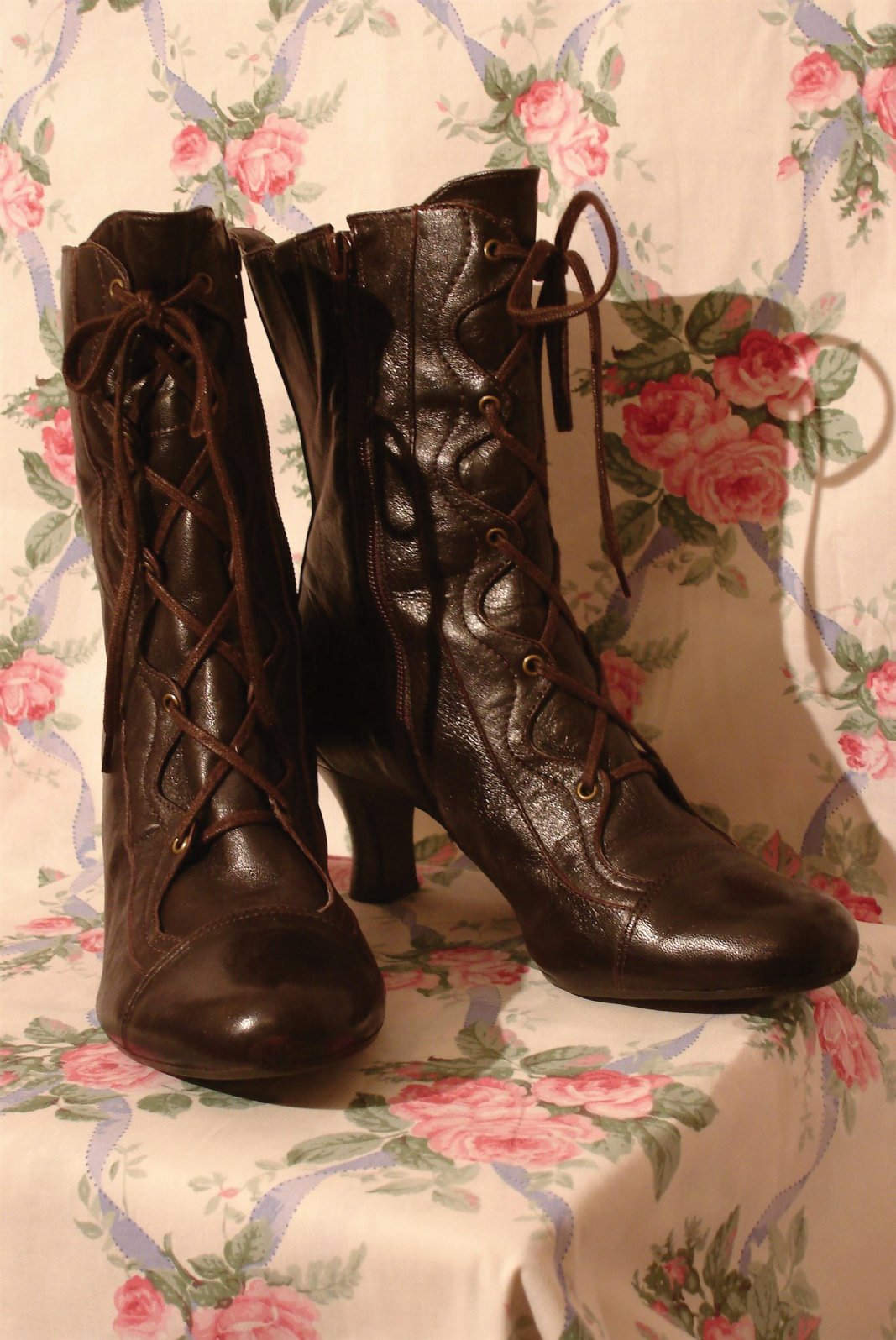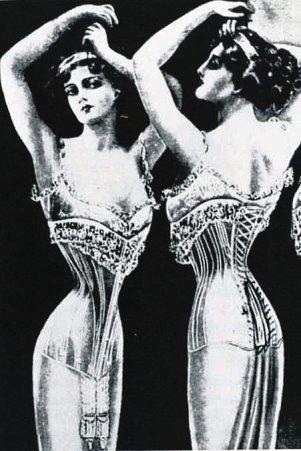 Underwear has always been used to redistribute our 'assets' to conform to the fashionable shape of the day. Nowadays implants, plastic surgery and padded bras have been used to change the 'desirable' proportions and impossible perkiness of boobs. The average bust size has increased.
The average shoe size has also increased from 5 (38) to 6 (39)

        The average dress size is now at least a 14 and that is in modern sizing so perhaps even nearer a 16. Perhaps stores have also been 'sizing to flatter'.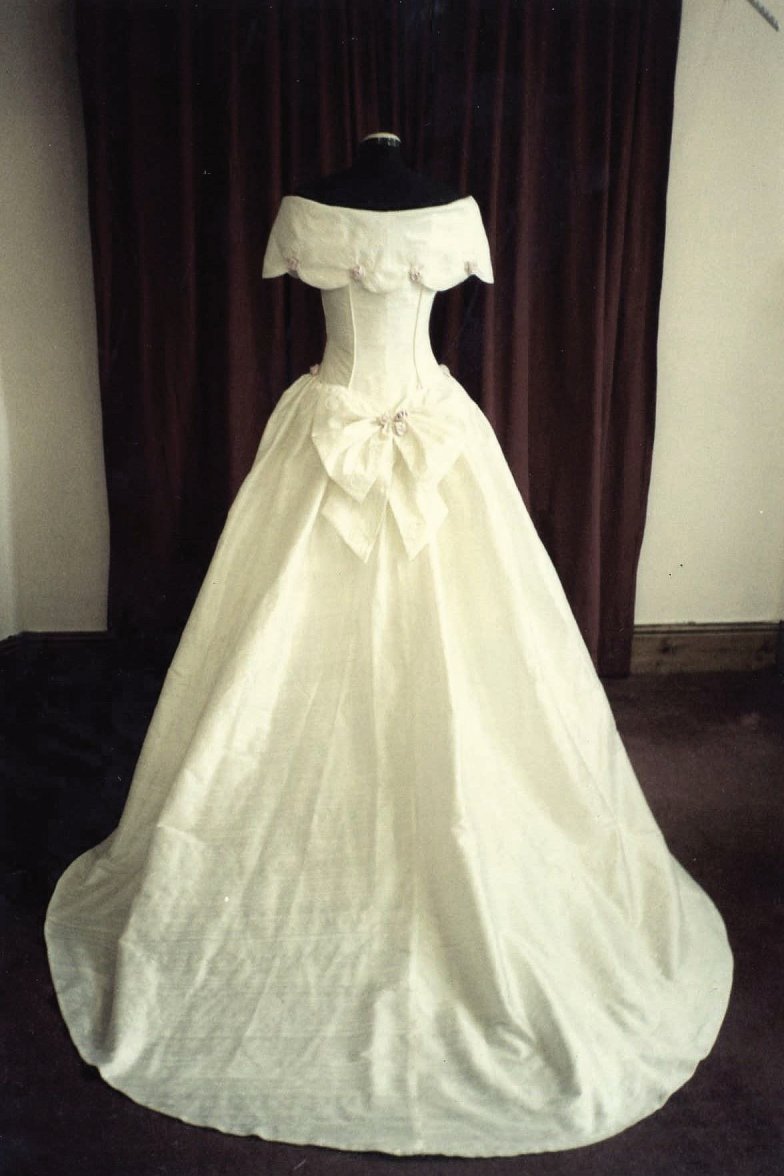 Pattern sizing has remained fairly consistent however and it can come as a shock for potential brides when they try on Wedding dresses because these tend to be made 'true-to-size' and are often boned and very fitted. Brides may have to try on dresses 2 sizes larger than they have become used to buying in High Street stores in order for them to fit.
It is important to be aware of the original period and sizing of a genuine Vintage garment but if it is to be worn rather than just admired it is also important to know the dimensions or how the size corresponds to a modern body and a more modern perception of size and fit.

For my website I include sizing details........
As they are provided in any labelling sewn into the garment.
My opinion as to the accuracy of this with regard to the garment and the sizes that could wear it now.                                                                    Bridal Gown by Meryl Smart

In the case of no sizing label information being available I provide accurate measurements.
I am happy to provide further sizing/measurement/period/fabric details if requested  (please use 'Contact Me' form or e-mail [email protected])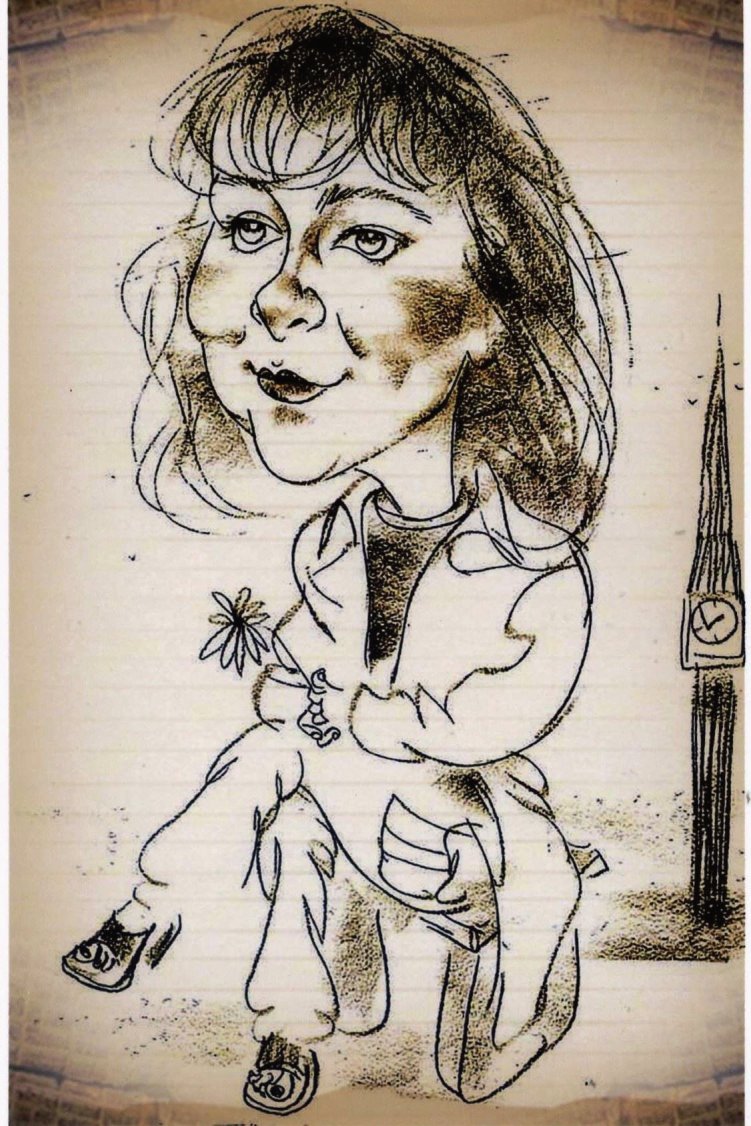 Meryl Smart
Read Full Post »
/