Shopping Cart
Your Cart is Empty
There was an error with PayPal
Click here to try again
Thank you for your business!
You should be receiving an order confirmation from Paypal shortly.
Exit Shopping Cart
A great deal of planning goes into weddings to make sure that they run smoothly; the worry taken out of your hands a little if you hire a competent wedding planner! However, in my experience the bride and her family are focussed on the normal 'wedding' things and may not have planned for the little niggles that can sometimes create problems at the last minute, when you are miles away from home at the wedding venue.

I normally carry a capacious handbag, and at weddings this always includes my Wedding Emergency Kit.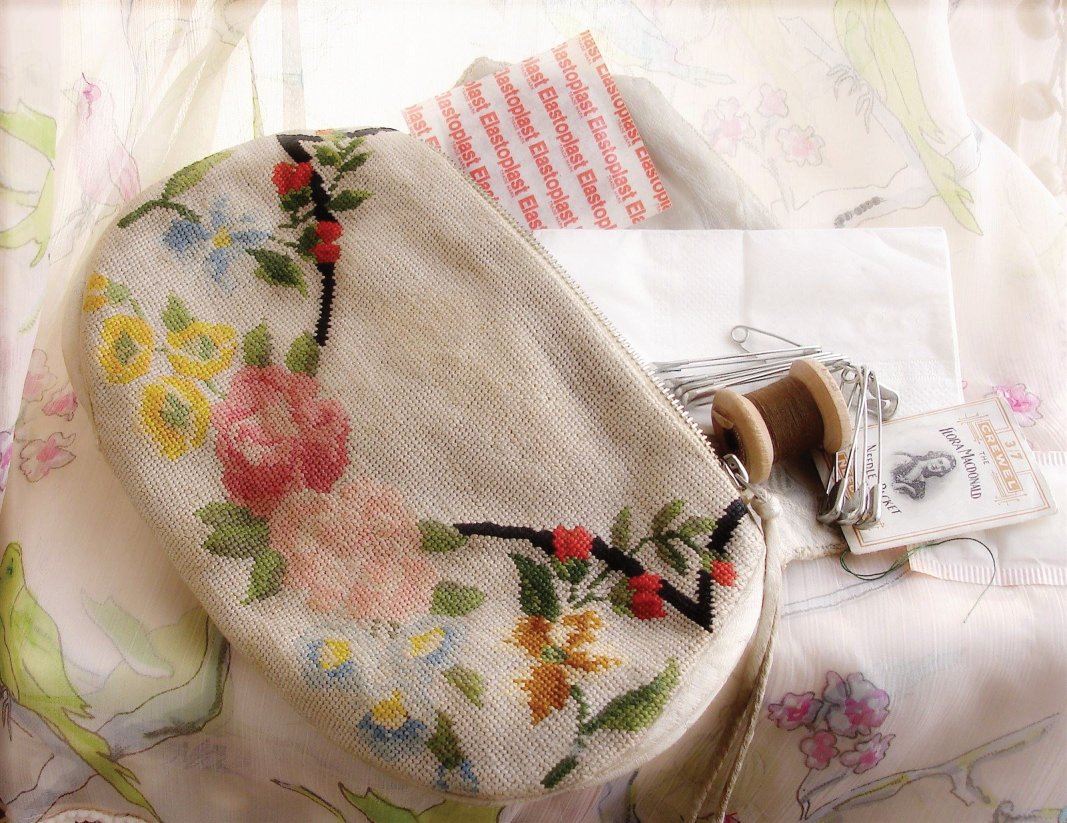 Sewing kit: needle and threads, seam ripper, pins.

Heaven forbid that something goes wrong with the wedding or attendants' dresses or even the grooms trousers! but these things do happen. Best to be prepared to solve the problem with a quick stitch here and there. or......
Trouser hems, broken fly zippers, etc. Trust me, you'll be glad you had a few safety pins!
A real life-saver if those gorgeous new shoes become agony as the day goes on.
Make-up touch-up kit: lippy, combi foundation/powder compact, blusher, eyeliner.

Normally difficult for bride and even bridesmaids to carry a bag. They are busy with bouquets and having photos taken. It might be a good idea to ask one of your other friends/guests to take to the reception a bag with some of the things you would normally carry and or this kit! Whether because of tears or dancing exertions. The Bride is normally photographed from the beginning of the day to the end, not just by the official photographer but by all of her guests.These days the pics often end up on facebook too.
Tissues or handkerchief:  for teary moments

Sometimes these teary moments happen just before or during the vows when the emotion of the occasion can be overwhelming. Make sure the bride and sometimes the groom have easy access to tissues or a lovely handkerchief.
Wet wipes: also useful for spillages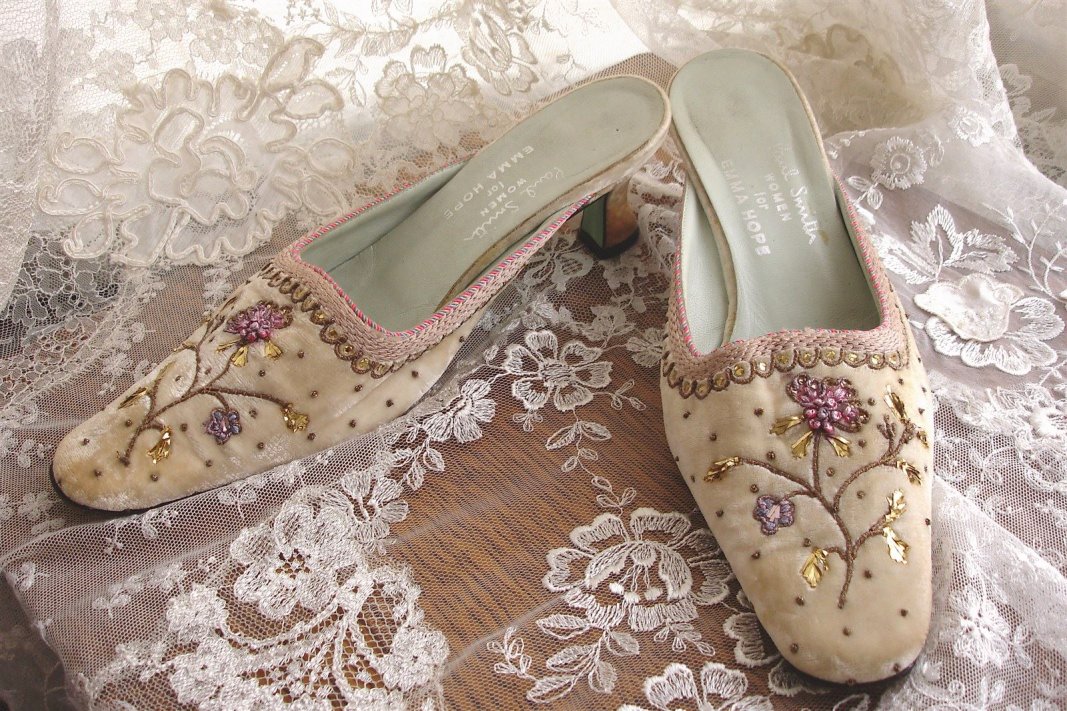 That 'ahhh, bliss' feeling of getting those shoes off after a few hours of increasing agony or irritation. Nothing like it! Not so easy for the bride wearing a full-length dress, making a transition from high heels, but sometimes it's just worth it towards the end of a very long day.
This doesn't just happen in films! Having a 'novelty' ring in your bag just in case, could be a classic moment.
Spare batteries (for camera)/camera charger
I carry a digital camera with replaceable ordinary batteries for weddings because it is so frustrating to be 'caught short' at the church or reception venue with one that requires electrical recharging. Carrying a couple of spare batteries in the handbag is no problem. A charger is a bit more problematic.
Comb, hair grips and small can of hairspray

It is really useful for the bride to be able to refresh the hairstyle during the day especially if a veil/headress has been worn and removed. These days very small cans of hairspray are readily available.
Unless the weather forecast is reliably 'unbroken sunshine' it is often prudent to take an umberella. I've been to several weddings where it has absolutely poured down. At one, the guests were asked to create an 'avenue' of umberellas to protect the bride from the church door to the car. We all got soaked but she made it to the car dry! I now have this Lulu Guinness see-through beauty.

Whilst by no means an exhaustive list, you may be glad to have some of these things to hand on the big day. If you can think of any I've missed please let me know.........

Ivory.white,pale pink/peach                                      

Bias cut- (cutting diagonally across the fabric)          

Flared at hem
Loosely structured/draped                                                  

Slinky fabrics; satin, crepe, velvet.

Cape sleeves or sleeveless
Often with 'Flying panel' attached to dress
Cowl or V neck
                     Pettibone                                                Temperley                                               Packham
The'30's bias cut dress has become a fashion staple in subequent generations.  The style is still available on the High Street today, for day and evening wear, in different colours and prints.
worn across the head with a band fastened at both sides.
Quite often bouquets were carried sideways
Corsages were also popular ( see pic >)

and/or a huge rose bouquet, more as an upright arrangement than  posy or hanging bouquet                                          Pic copyright Meryl Smart

Long beaded necklaces were still in vogue. Beaded 'bib' neckalces, strung pearls and rhinestones
Ever had major parasol envy? I saw a lovely vintage parasol on a wedding blog (as you do) I wanted one!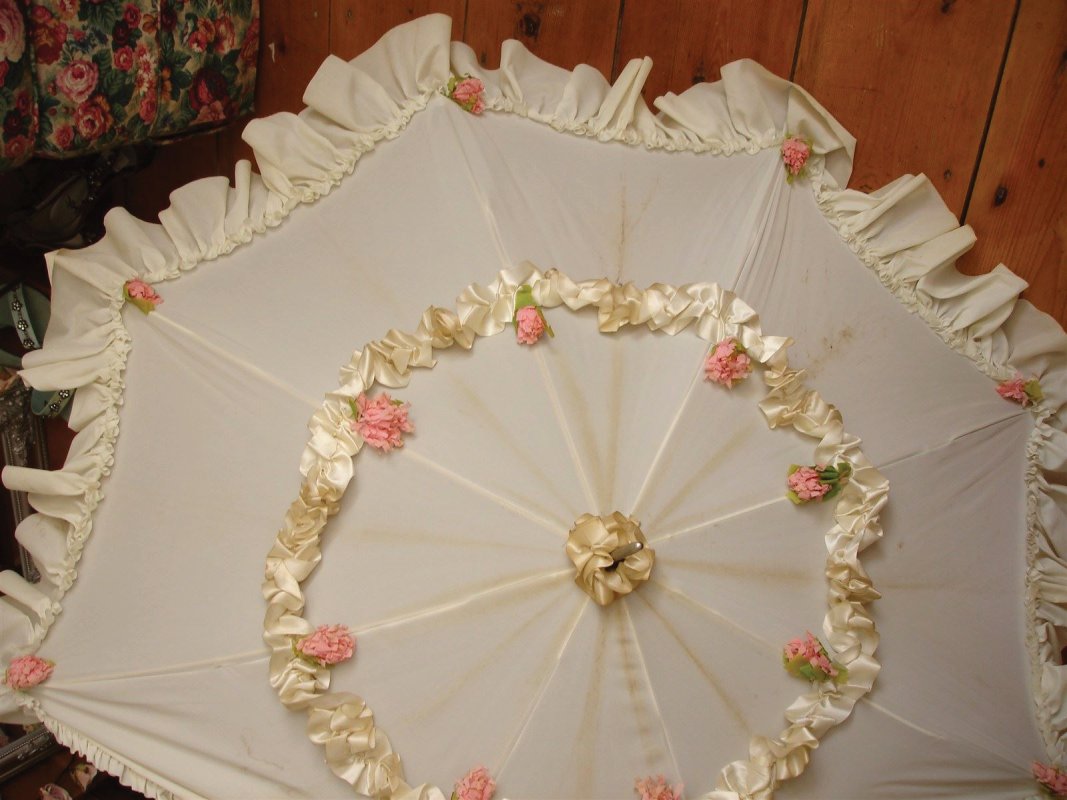 I've had this theatrical prop in my 'collection' ever since I played Eliza Doolitttle in 'Pygmalion' when I was 16. (I never throw anything out!) I knew it would come in handy some day. Now I am a vindicated hoarder.
It came with the original frills but my mum embellished it at the time with crepe paper flowers! Several decades have not been kind to it and the nylon fabric became stained. It was time for a glamourous makeover. I was sure I could use the frame which had a lovely mother of pearl effect crooked handle to create a 'parasol' like the one I now envied so much.

I took the fabric and trimmings off and was left with the frame. I had planned to cover it with panels if silk and then embellish with vintage lace which would be gorgeous....but take absolutely ages, which is why the frame was languishing naked in a corner whilst I then got on with other, more pressing commissions.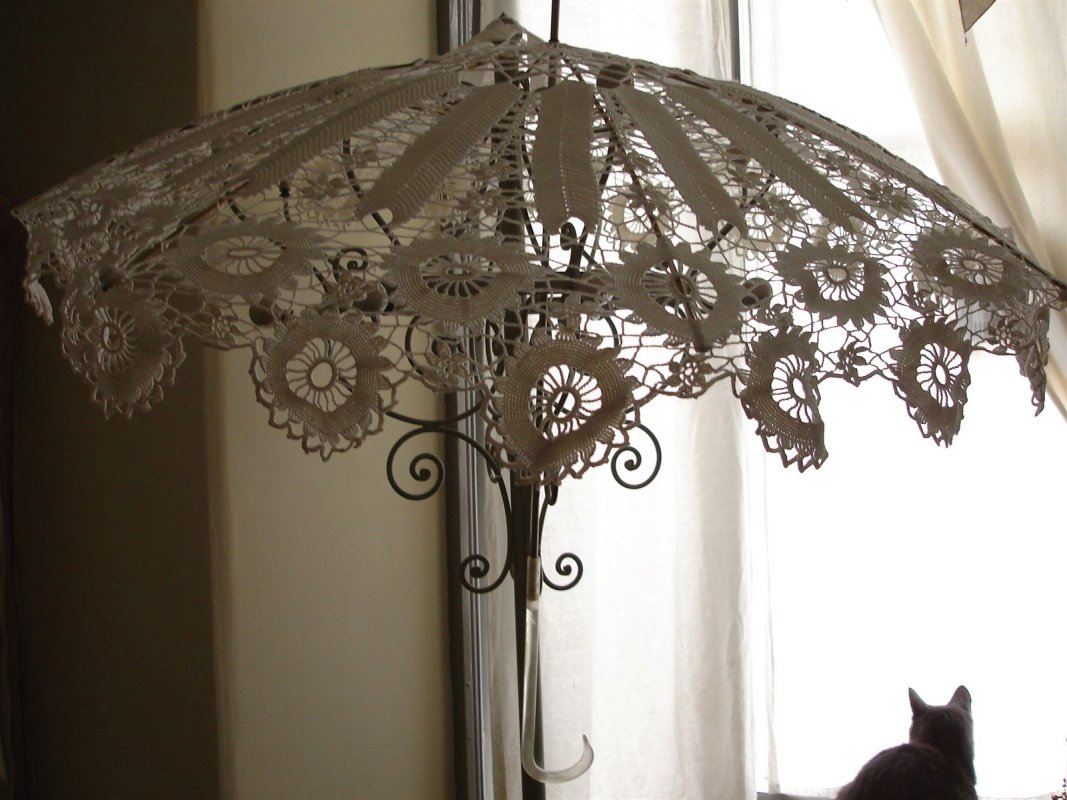 Quite by chance. whilst rummaging through my vast collection of vintage paraphernalia for something else entirely (to trim a wedding dress) I unearthed a vintage crochet tablecloth.
I thought it would make a fabulous skirt so I put it to one side to experiment with later.
I had it draped around a mannequin that evening when I had a eureka moment. What if?!...............

Some experimentation revealed that the piece would fit nicely over the frame and dangle attractively over the ends.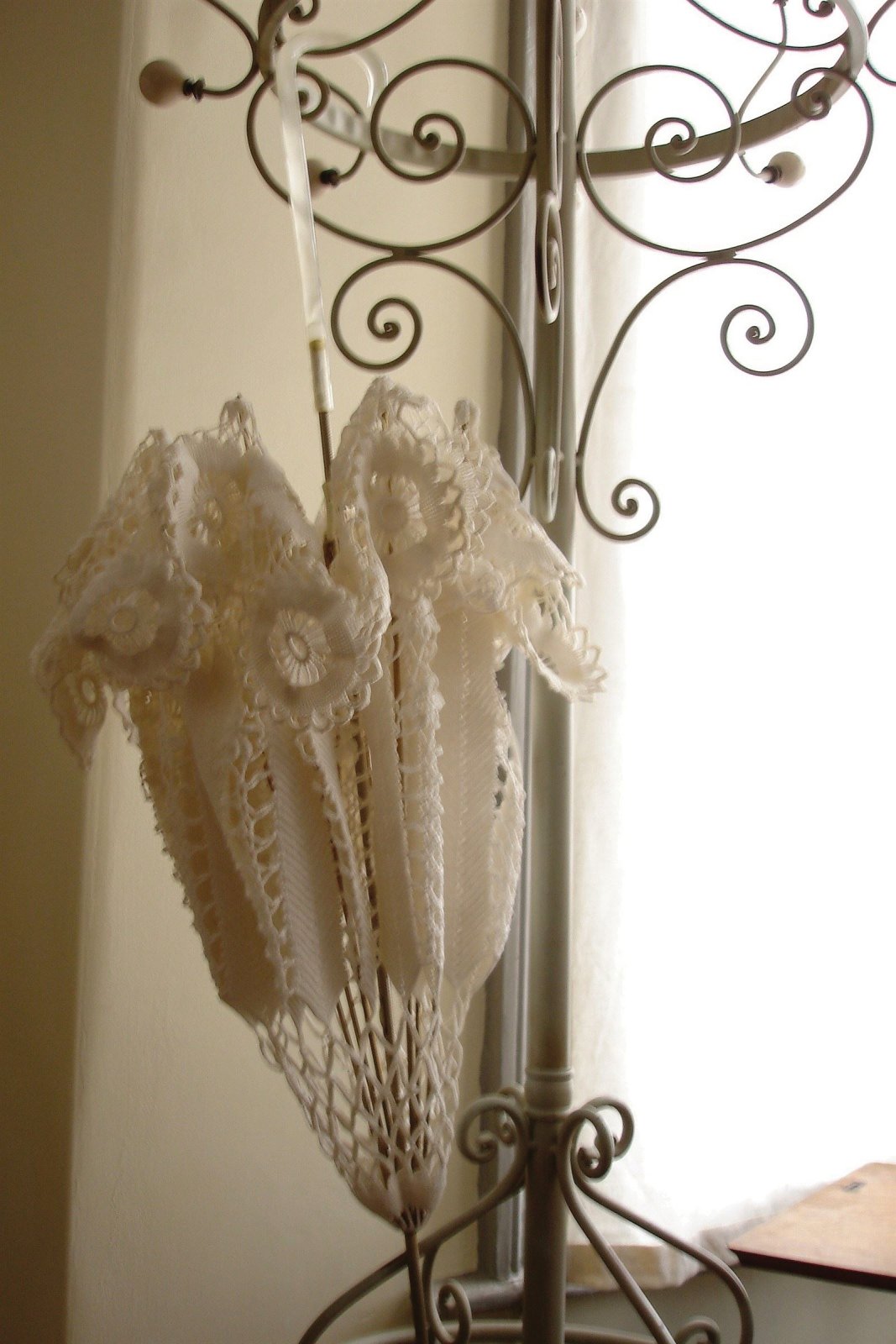 The trick was distributing it evenly as there were not exactly enough panels to go with each 'spoke' of the frame. This was achieved through trial and error and using glass headed pins to keep the crochet in place during experimentation. I attached the crochet to the appropriate points by hand stitching.
It was a fairly straightforward process once I had worked out how to stop the spokes slipping completely through the crochet and finish it so that the crochet didn't get caught on the spokes when it opened.
I am really pleased with the end result.
It's a lovely piece and practical because it clicks closed so can be carried in that position.
I love it when a plan comes together
I shall be keeping the parasol for use in photo shoots and fashions shows.

Whilst the  parasol is not for sale it will be available to borrow, free, for any brides commissionning a Vintage Smart bridal gown.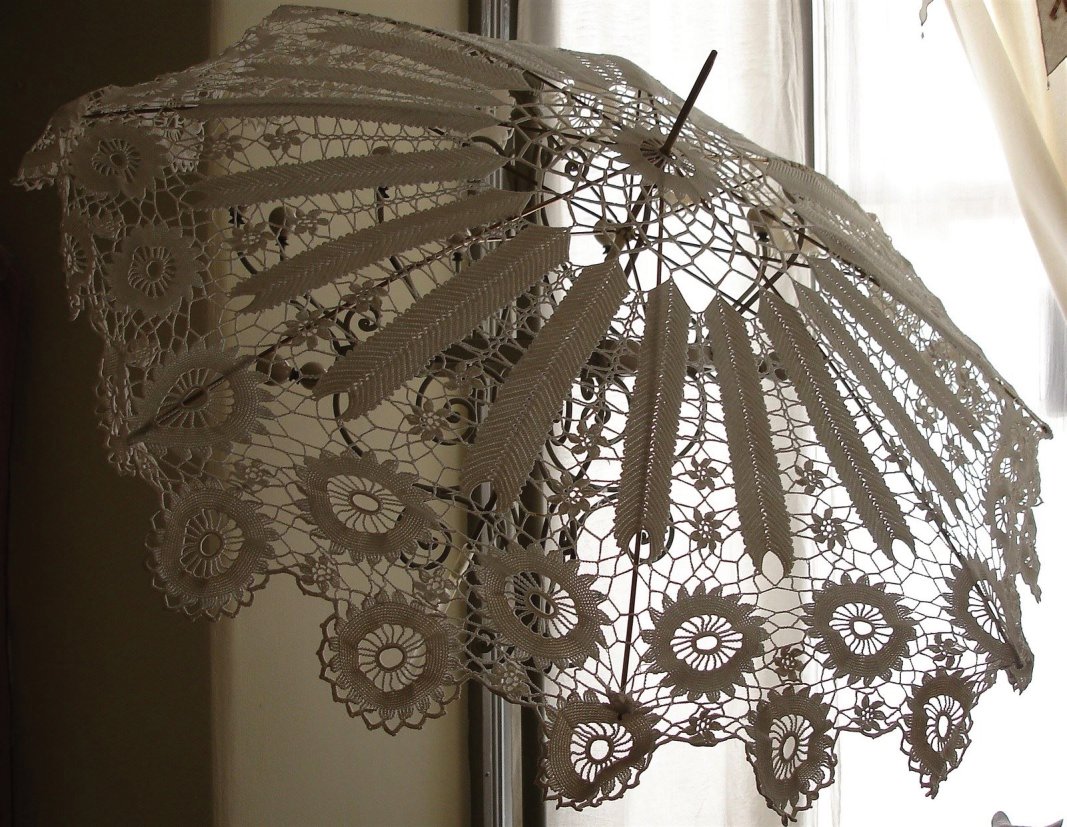 I love weddings. I enjoy the ceremony and always feel honoured when I am invited. I also love a good party as much as the next person.

I attended a wedding recently (as a guest) and I was really looking forward to it. The ceremony was at 1pm, in a church. After transportation to the reception venue, photos took until 4pm, when we actually sat down to eat. The food was plentiful and delicious. The wine and champagne flowed freely. The speeches were long and detailed. The other guests were really friendly. At 7pm the 'evening do' started: more people, more delicious food and a band arrived. It was a great day..... and the bride was really flagging.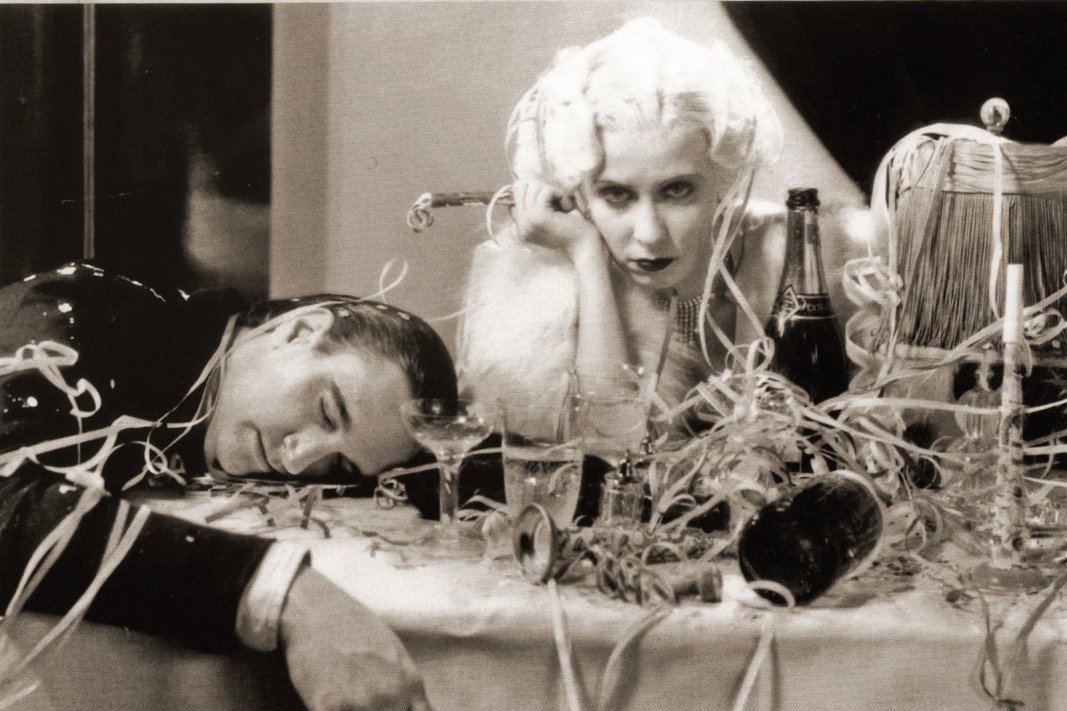 The Bride, normally an extremely gregarious, fun-loving person, was exhausted before the day even started and seemed unable to simply enjoy the day because she "just wanted to sit down and do nothing for a while". She hadn't realised that all of the beautiful 'location shots' she had discussed with the photographer weeks before at the stunning reception venue, would take her away from most of her guests for two hours. She found it intrusive on the day, but he was only doing what she had requested.
She admitted to me that, the previous day, she had been planning to put together favours for the tables and all sorts of other little things that brides feel pressured to provide, but realised that it was not that important to have sugared almonds or whatever on the tables. Anyway, she simply ran out of time and inclination. It wasn't as if anyone even noticed! We were all too busy having a good time!

The intense preparation, being the centre of attention and the overwhelming emotion of the day itself had taken it's toll. She had reached 'wedding burnout'. Having a reputation as a party animal, she was perhaps the least likely person I know to whom this would happen.

When asked (as I sometimes am in my capacity as a bridal designer), my advice, drawn from attending hundreds of weddings, is kept to a minimum. I suggest to brides-to-be to try to do the wedding their own way, to focus on what is really important and to keep it as simple as possible. Afterall it is their day. Easier said than done though. Inevitably, however well-meant, everyone else's opinion often crowds in and, in an attempt to please everyone and live up to expectations, the enjoyment of the couple's day can be lessened. The burden of being a people pleaser, and often an understandable lack of experience in organising such an event. Sometimes, reflecting on the day weeks later, brides have said to me 'I didn't realise.........', 'If I had known........ I would have done things differently....'

So much time. energy and money goes into weddings these days. So many hopes, dreams and wishes ride on just one day where everything is so public that, perhaps, a percentage of burnout is inevitable. Unless of course you are the sort of bride who relishes all of the choices, decisions, organisation and co-ordination or can afford to hire a wedding planner to take this on for you.

If you'd like to prevent the wedding burnout, it might help not to over-complicate, elaborate, and pile on unreasonable expectations that could take away from the couple's ability to enjoy the simple pleasures and meaning of their special day.

If it is your wedding.....try to work out how you actually want to do things, rather than base your day on what you think everyone else wants. But also do your best to be realistic. You will never please everyone, and if you try, you may make just yourself miserable, stressed and exhausted. Ambitious, complex ideas may be difficult to achieve in the time you have available to plan, or keep within budget. If you can prioritize those things that are most important to you and are most likely to be enjoyable for you and your guests and leave the rest on a reserve list (that you know you may never get around to, or can easily cross off if you go over budget or run out of time,) this could take off some of the pressure.

If you are directly related: family, mother of the bride/groom etc.......Try really hard not to inflict too much of your own agenda or tastes. This may not be easy, especially if you are the major financial contributor, but if you can accept the couple's preferences gracefully, even if they may not concur exactly with your own, it will probably be appreciated and aid harmony.

If it is your friend's wedding......You will probably be asked what you think from time-to-time. If you can bring yourself to offer advice only when asked, seeing things from their point of view, and be appreciative and re-affirming of decisions already made, it will help to give them confidence to do it their own way, without feeling guilty. Try not to create a drama about things like the seating plan or not having your children invited, for example. If you offer to help with anything, make sure you can deliver. Basically, be a good friend.

         Above all try not to lose sight of what the day is about. Everyone is there to witness the vows and

         to share the couple's special day. Everything else is just decoration.

 Text=Copyright. Property of Meryl Smart. 2012 .May not be copied without permission.

/