Shopping Cart
Your Cart is Empty
There was an error with PayPal
Click here to try again
Thank you for your business!
You should be receiving an order confirmation from Paypal shortly.
Exit Shopping Cart
Ivory.white,pale pink/peach                                      

Bias cut- (cutting diagonally across the fabric)          

Flared at hem
Loosely structured/draped                                                  

Slinky fabrics; satin, crepe, velvet.

Cape sleeves or sleeveless
Often with 'Flying panel' attached to dress
Cowl or V neck
                     Pettibone                                                Temperley                                               Packham
The'30's bias cut dress has become a fashion staple in subequent generations.  The style is still available on the High Street today, for day and evening wear, in different colours and prints.
worn across the head with a band fastened at both sides.
Quite often bouquets were carried sideways
Corsages were also popular ( see pic >)

and/or a huge rose bouquet, more as an upright arrangement than  posy or hanging bouquet                                          Pic copyright Meryl Smart

Long beaded necklaces were still in vogue. Beaded 'bib' neckalces, strung pearls and rhinestones
Many fashion trends draw on the past for inspiration.The current Hi-Low/ 'Mullet' hem trend is no exception.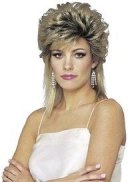 Higher at the front than the back - 'Hi-Low' or

'Mullet' like the hairstyle of the '70s and 80s !

It is a flattering style for dresses. The back view is not everywoman's most flattering angle. The hi-low hem offers the benefits of the elegance of a longer gown with the convenience and practicality of a shorter hemline at the front, making it easier to walk without tripping, or the need to hitch up the dress.

The 1920's is remowned for it's uneven hemline but there were also 'hi-low' hems
                          1920's                           1920's                       1925 Lanvin

It was also a very popular design feature in the 1950's
                          VINTAGE 1950'S                                            DIOR
The trend is very strong in BRIDAL wear for the 2013 season
                                                                                                                                                                    DIOR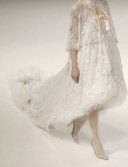 I have been commissioned to make a wedding dress with Hi-low hem for this summer. The dress is 50's style made of ice blue silk Duchesse satin with matching silk organza overlay. It has pockets too!.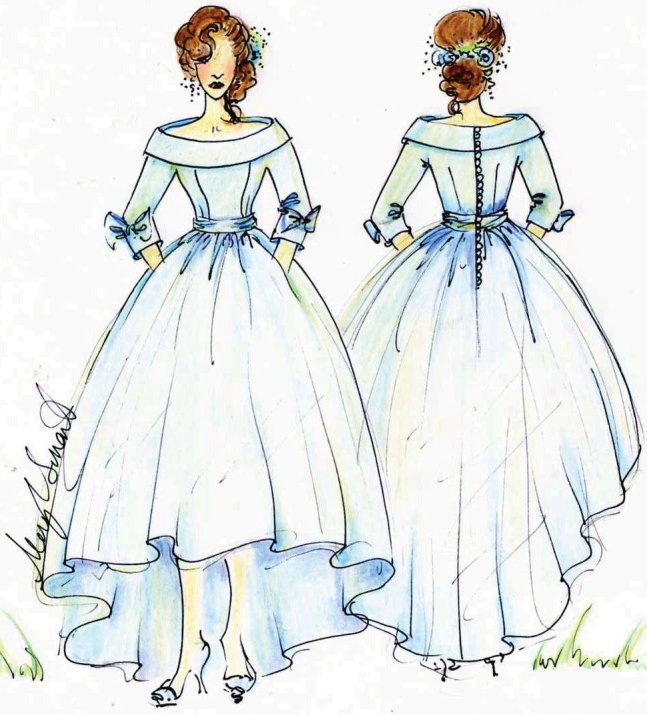 I think the trend may be around for a while.                                                Design copyright Meryl Smart 2013

The Hi-low hem was already popular in 2012 and continues in 2013

                  DIOR                                                       CHANEL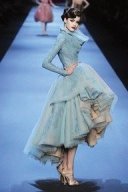 Hi-Low hems can be stylishly casual too. The trend can be seen all over the High Street in tops. skirts and dresses,

So there is a version for everyone!
Ever had major parasol envy? I saw a lovely vintage parasol on a wedding blog (as you do) I wanted one!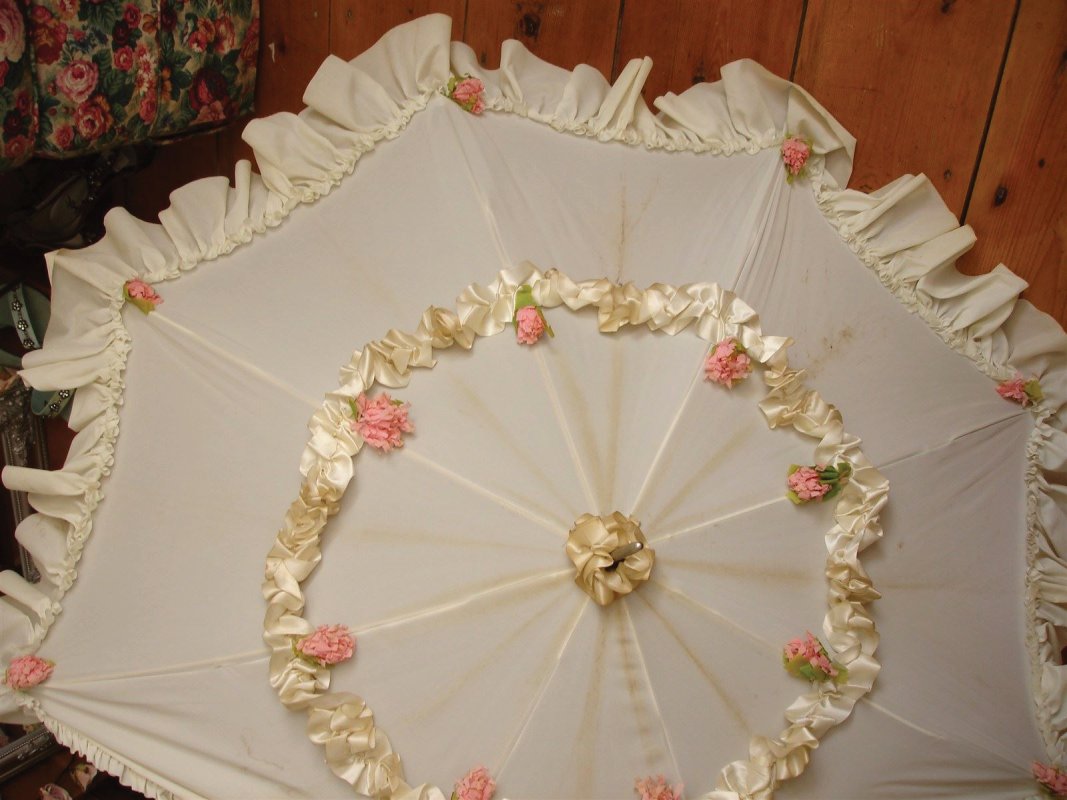 I've had this theatrical prop in my 'collection' ever since I played Eliza Doolitttle in 'Pygmalion' when I was 16. (I never throw anything out!) I knew it would come in handy some day. Now I am a vindicated hoarder.
It came with the original frills but my mum embellished it at the time with crepe paper flowers! Several decades have not been kind to it and the nylon fabric became stained. It was time for a glamourous makeover. I was sure I could use the frame which had a lovely mother of pearl effect crooked handle to create a 'parasol' like the one I now envied so much.

I took the fabric and trimmings off and was left with the frame. I had planned to cover it with panels if silk and then embellish with vintage lace which would be gorgeous....but take absolutely ages, which is why the frame was languishing naked in a corner whilst I then got on with other, more pressing commissions.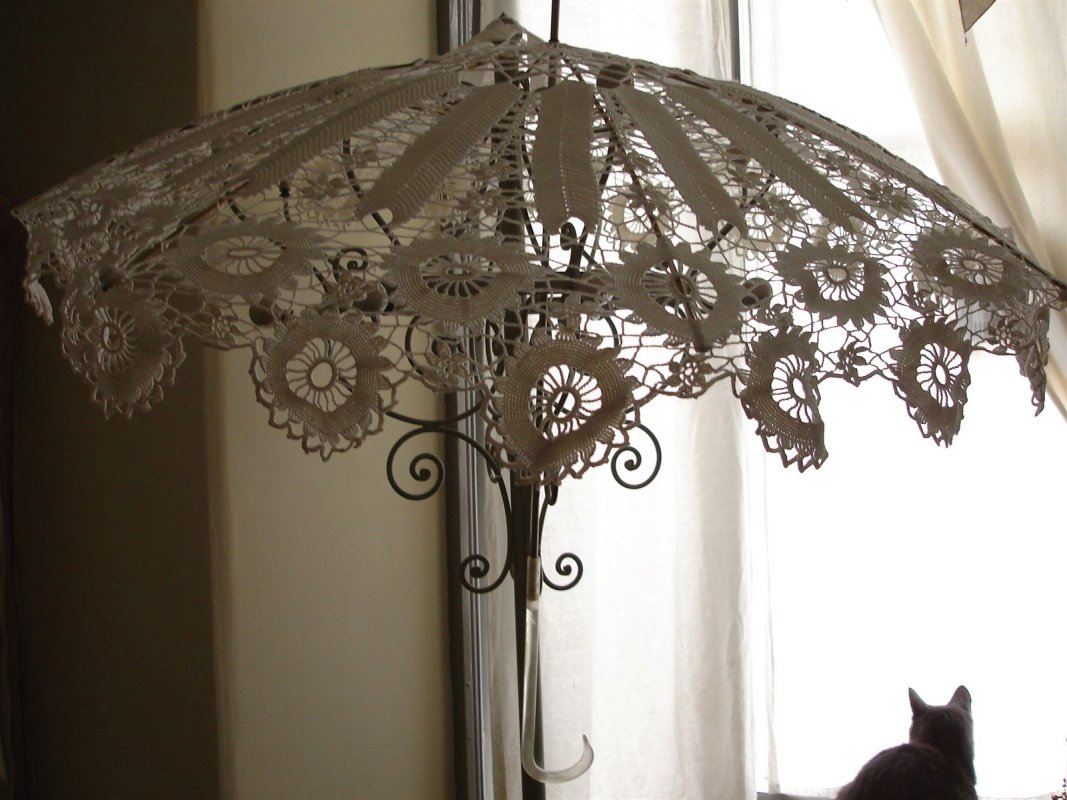 Quite by chance. whilst rummaging through my vast collection of vintage paraphernalia for something else entirely (to trim a wedding dress) I unearthed a vintage crochet tablecloth.
I thought it would make a fabulous skirt so I put it to one side to experiment with later.
I had it draped around a mannequin that evening when I had a eureka moment. What if?!...............

Some experimentation revealed that the piece would fit nicely over the frame and dangle attractively over the ends.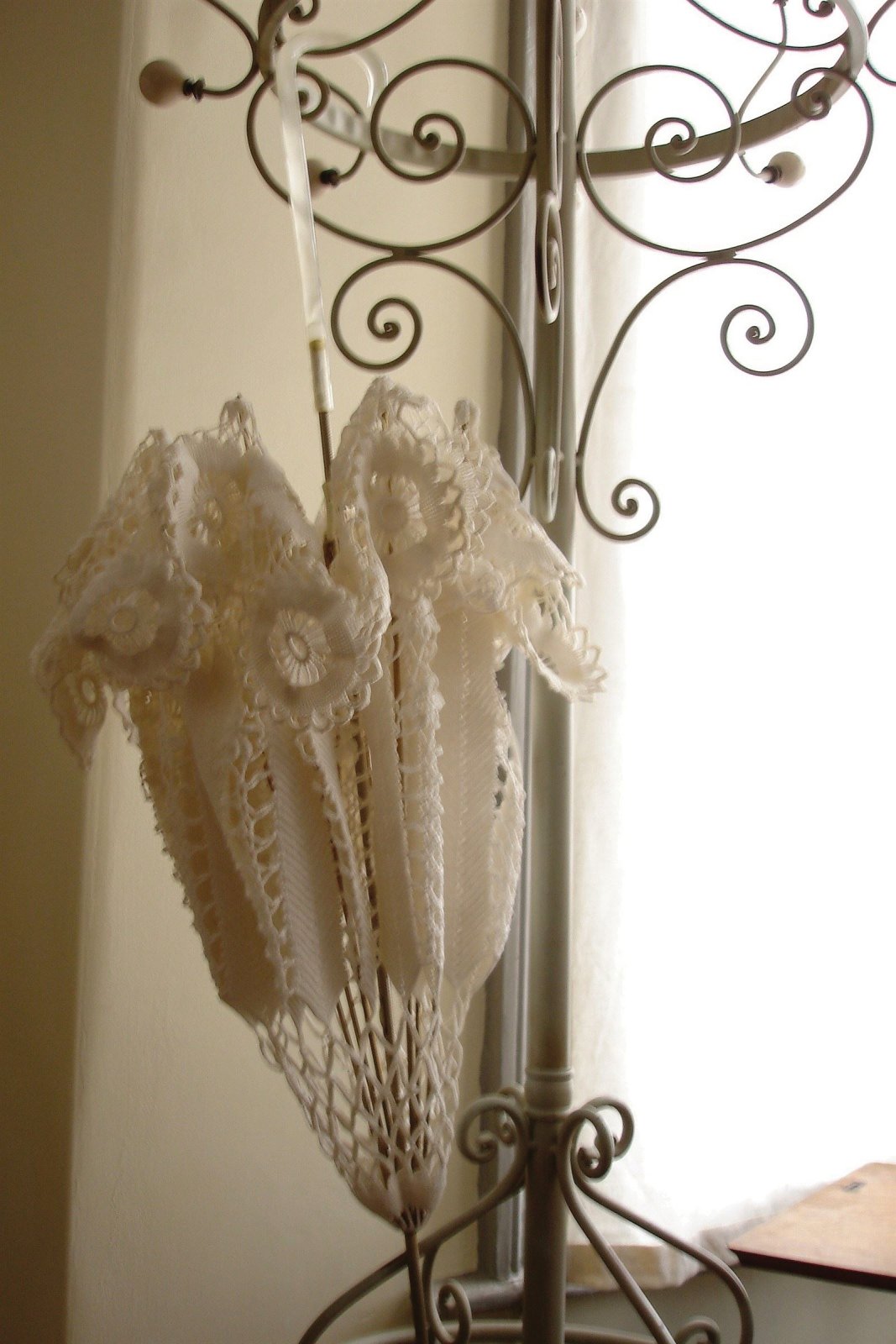 The trick was distributing it evenly as there were not exactly enough panels to go with each 'spoke' of the frame. This was achieved through trial and error and using glass headed pins to keep the crochet in place during experimentation. I attached the crochet to the appropriate points by hand stitching.
It was a fairly straightforward process once I had worked out how to stop the spokes slipping completely through the crochet and finish it so that the crochet didn't get caught on the spokes when it opened.
I am really pleased with the end result.
It's a lovely piece and practical because it clicks closed so can be carried in that position.
I love it when a plan comes together
I shall be keeping the parasol for use in photo shoots and fashions shows.

Whilst the  parasol is not for sale it will be available to borrow, free, for any brides commissionning a Vintage Smart bridal gown.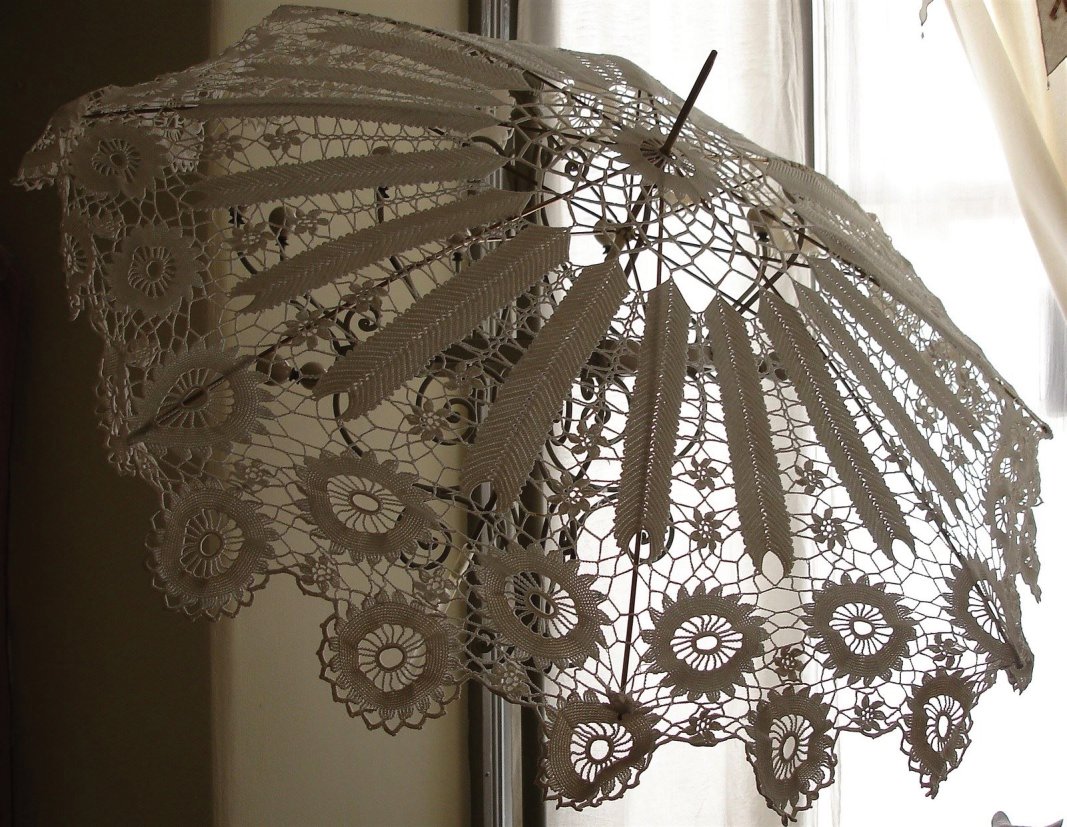 At one of my sales events recently, a customer said,
"Sometimes with Vintage, you have to wade through a load of old tat to find the good stuff, but all your stuff is lovely."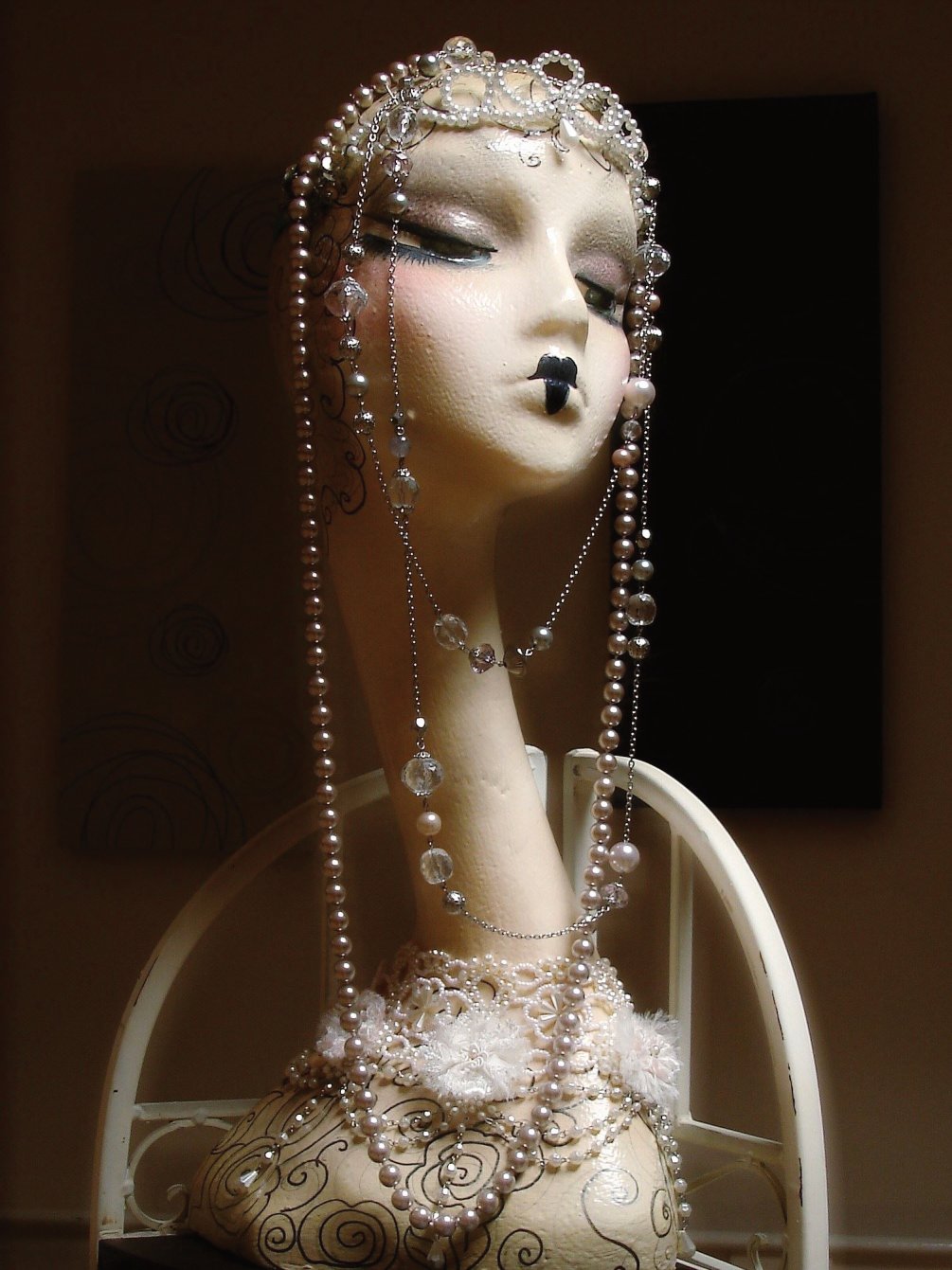 Praise indeed! It is always rewarding when a paying client appreciates one's selection, and that is key to the way I run the 'vintage fashion' side of my business. I don't buy in Vintage- for- the- sake- of- vintage items, I only buy what I actually think people will like....... to buy. That means I have to like it too. Even if the item would not suit me because of figure type, height, colouring etc, I can see the potential for it to look gorgeous on someone else. I source to re-sell, as a business, not as a museum curator or theatrical costumier.

The vintage section in my studio is literally full of excellent quality Vintage and Vintage-inspired loveliness. Much more than I can list on the website. I am attracted to lace in particular but also beautiful printed fabrics, embroidery and silk.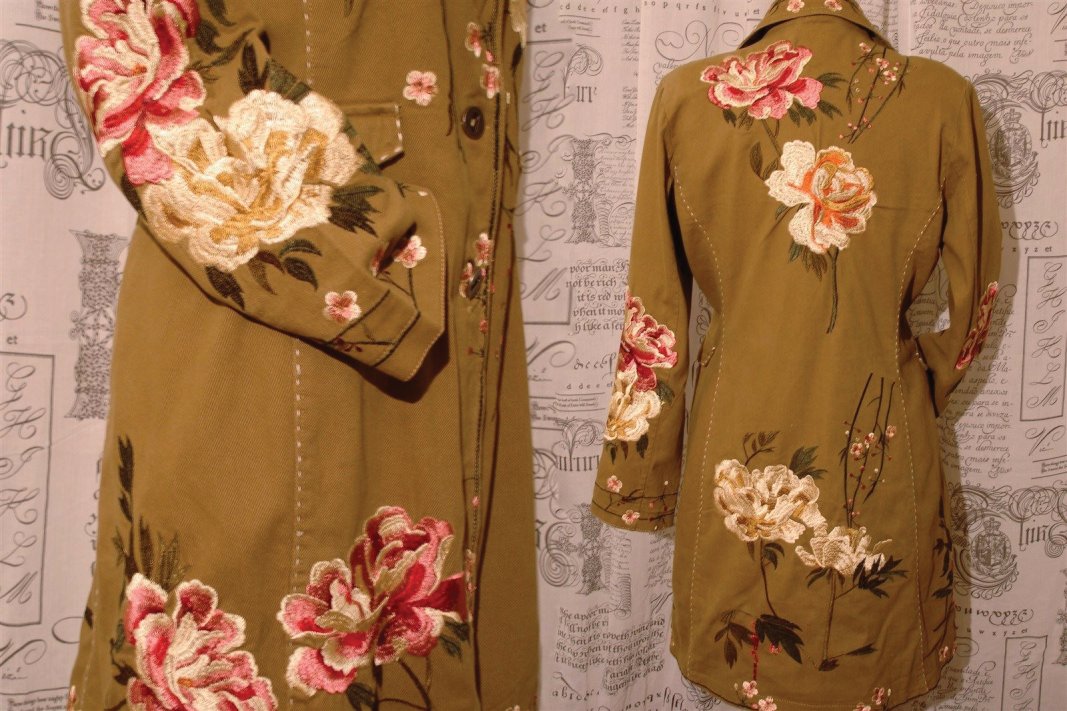 Whilst there are many genuine vintage items in really good condition, I make no apologies for the fact that I have also selected newer pieces that are clearly inspired by styling from 'vintage' eras. This also means I can stock some larger sizes.
I know from speaking to some of my friends, that not everyone feels entirely comfortable buying, or wearing 'second-hand'. The thing is that, with most of my stock, if you weren't told it wasn't new, you would not know, and some of it actually is new! I aim to source good quality in the first place, but as a seamstress, I also have the ability to restore items that might need some TLC. This means that some beautiful fashion gets a second lease of life!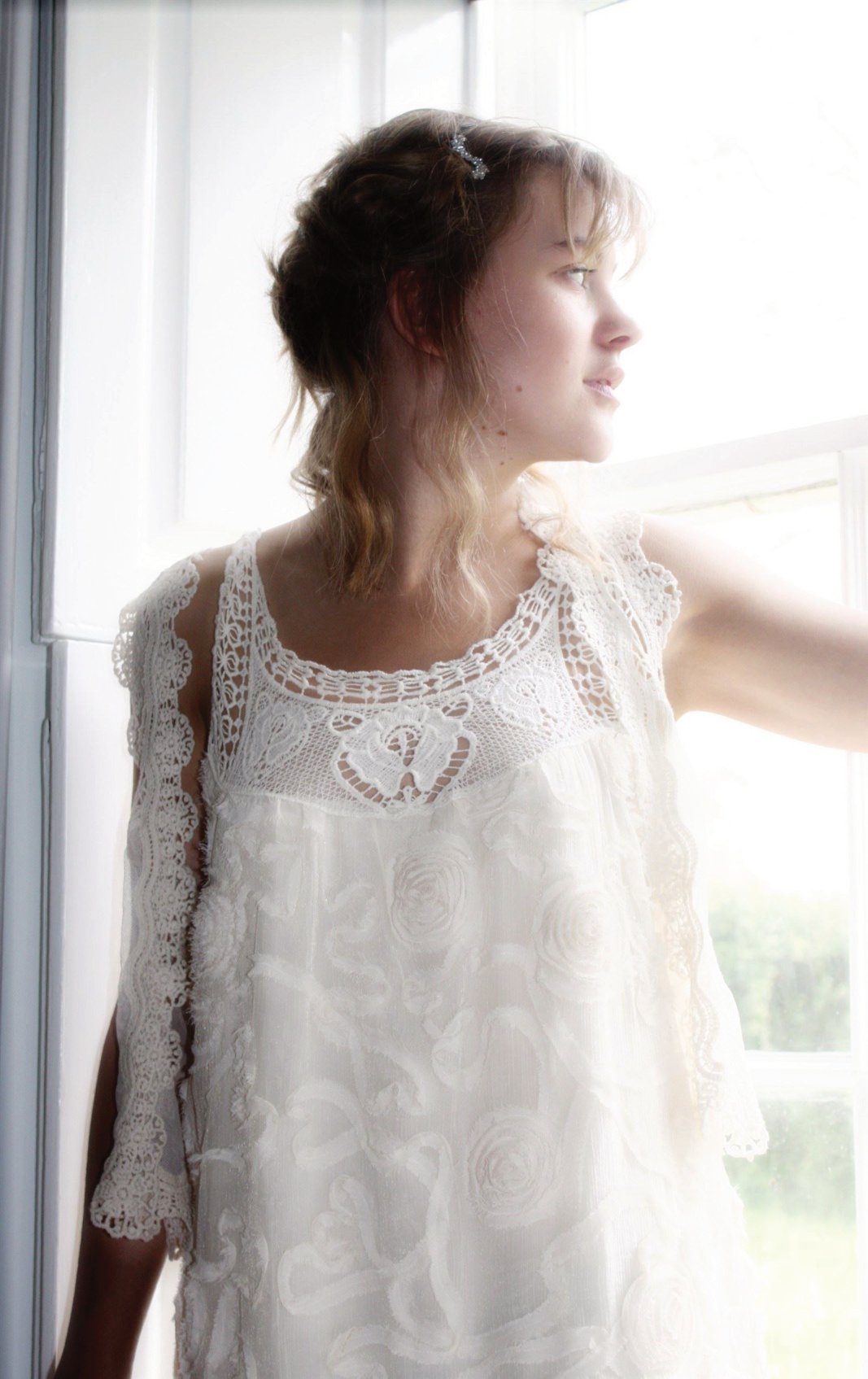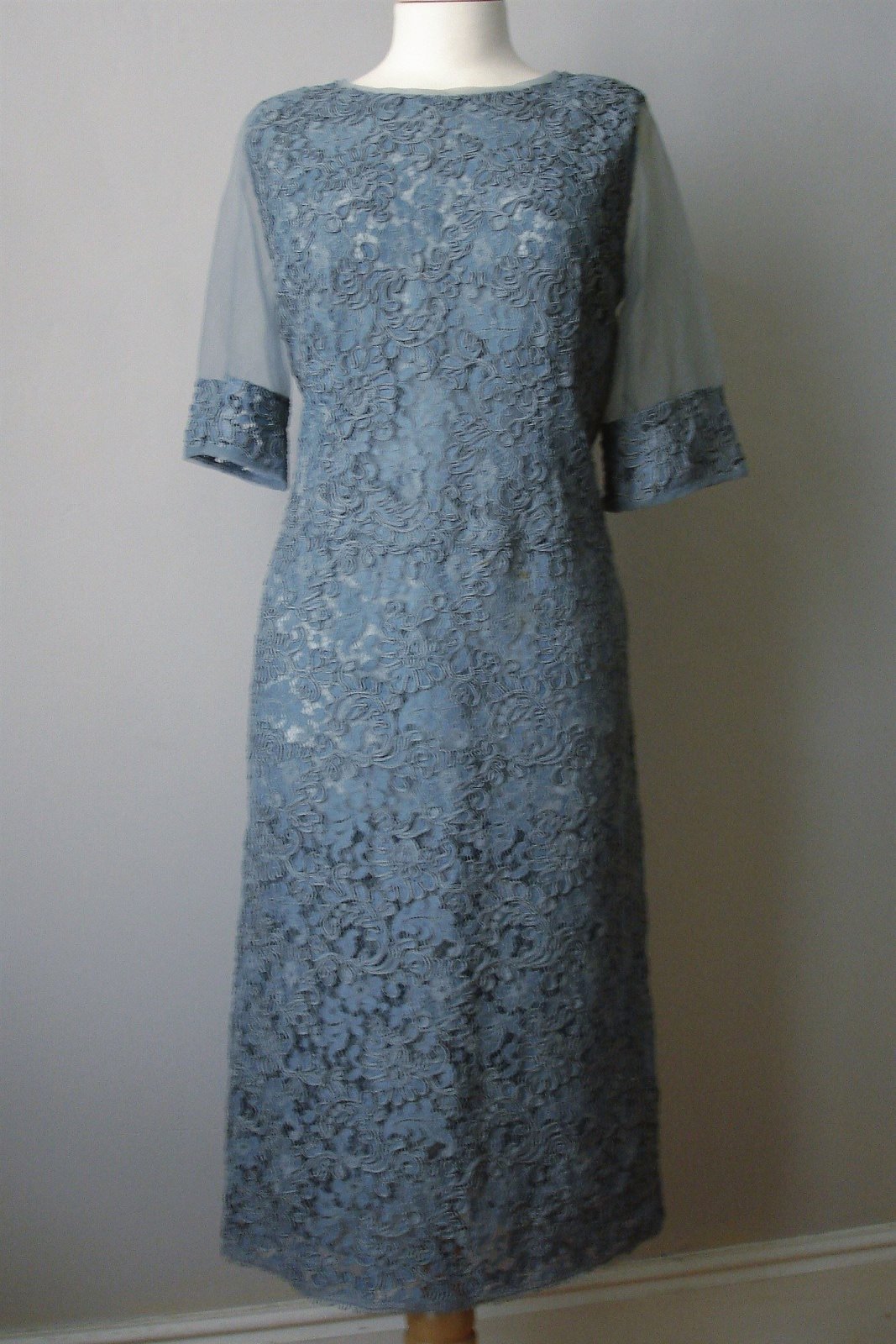 Display is also an important element. In my studio, I try to put things together in display, as a suggestion as to how items may be worn. Live models, rather than dummies, always show off the items best in pictures though, and I am still working on that for the website.

If you would like to visit the studio please e-mail me to arrange an appointment.
[email protected]
As a bridal designer  who specializes in Vintage and Vintage-inspired gowns, I am very aware that when a Bride-to-be tells me she wants a 'Vintage wedding dress', this usually means one of four things.
She's looking for

1. An authentic Vintage original from a particular era.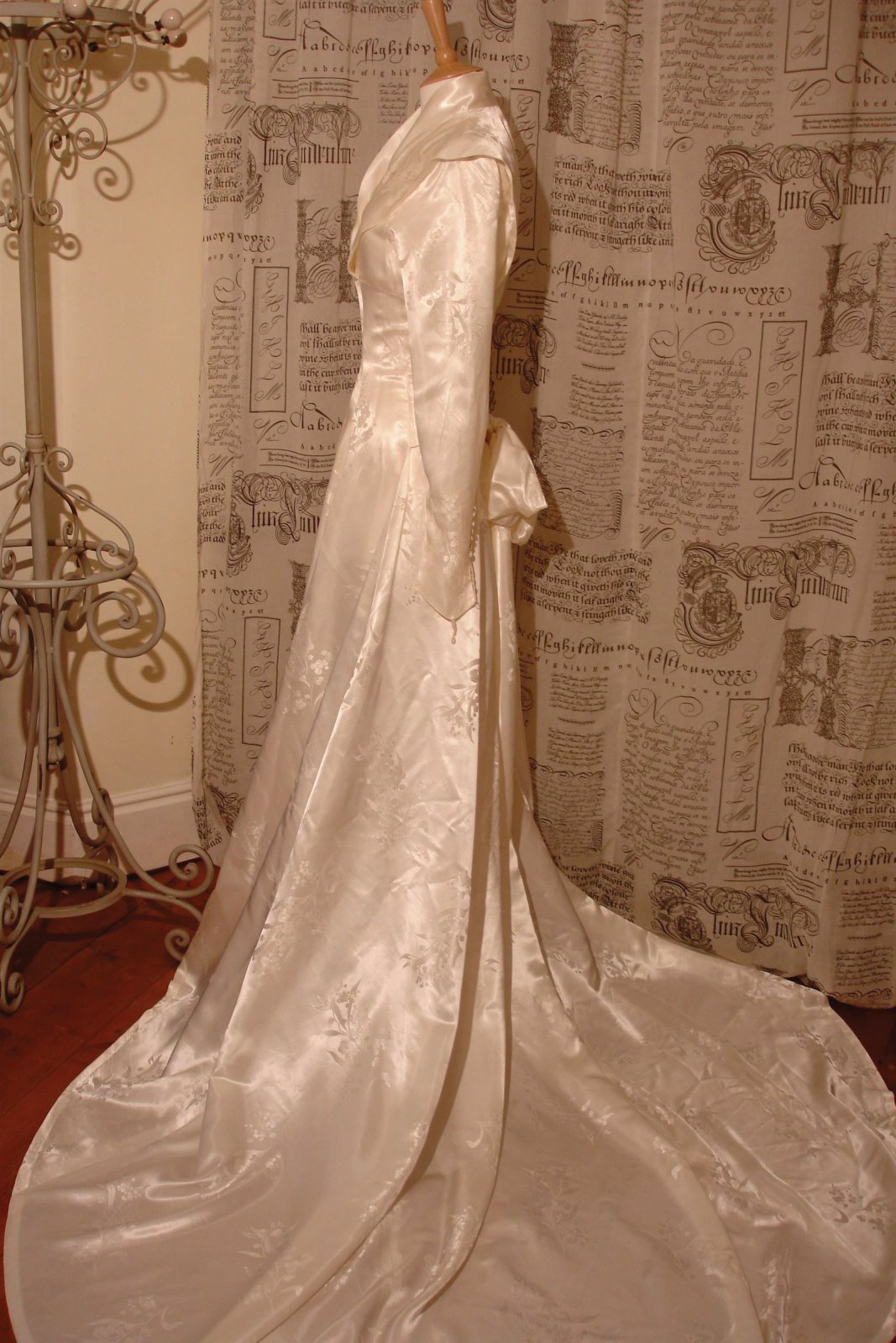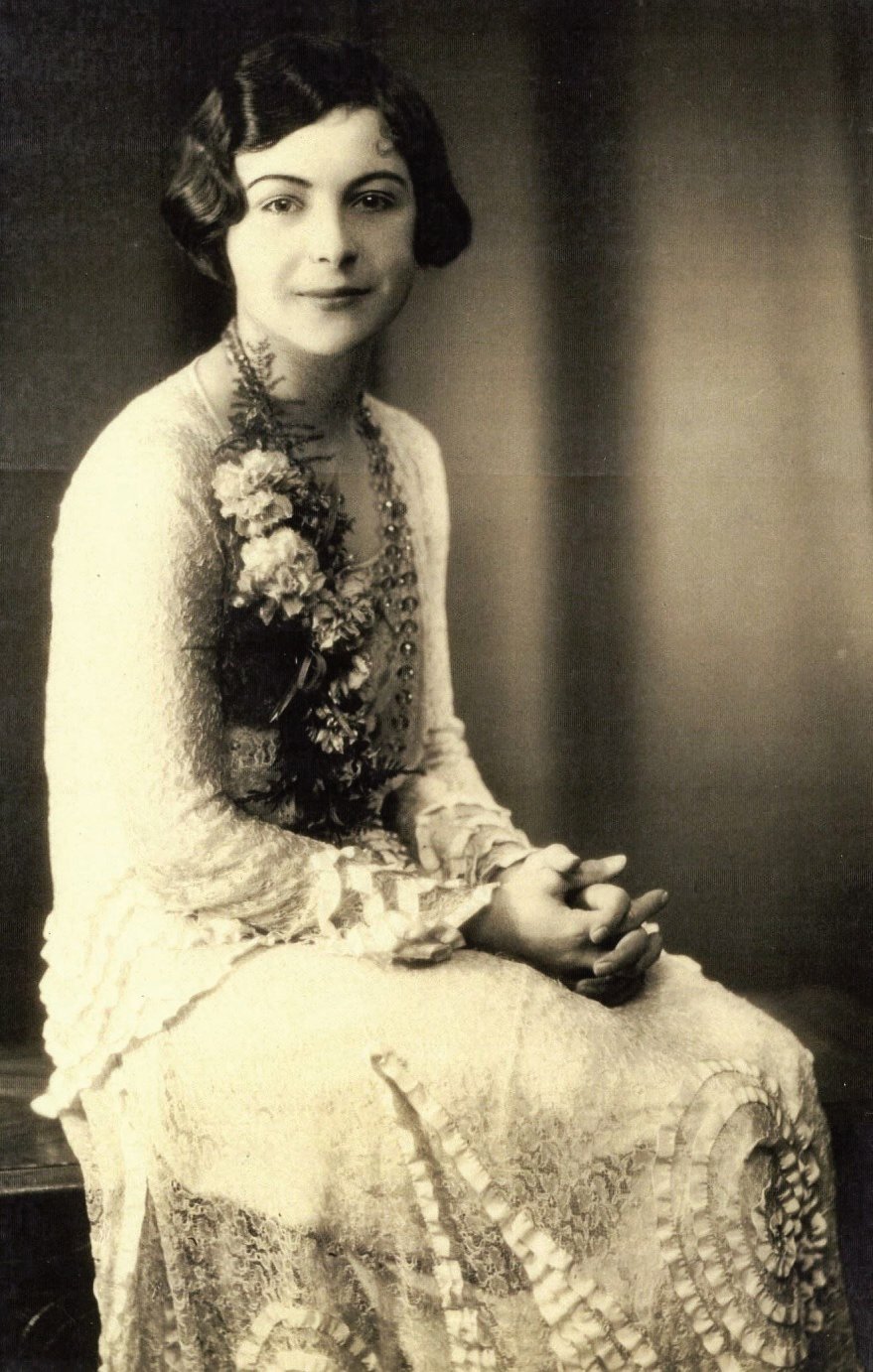 Vintage original late 1920's                                            Vintage original 1956
2. An authentic reproduction of a gown from a particular era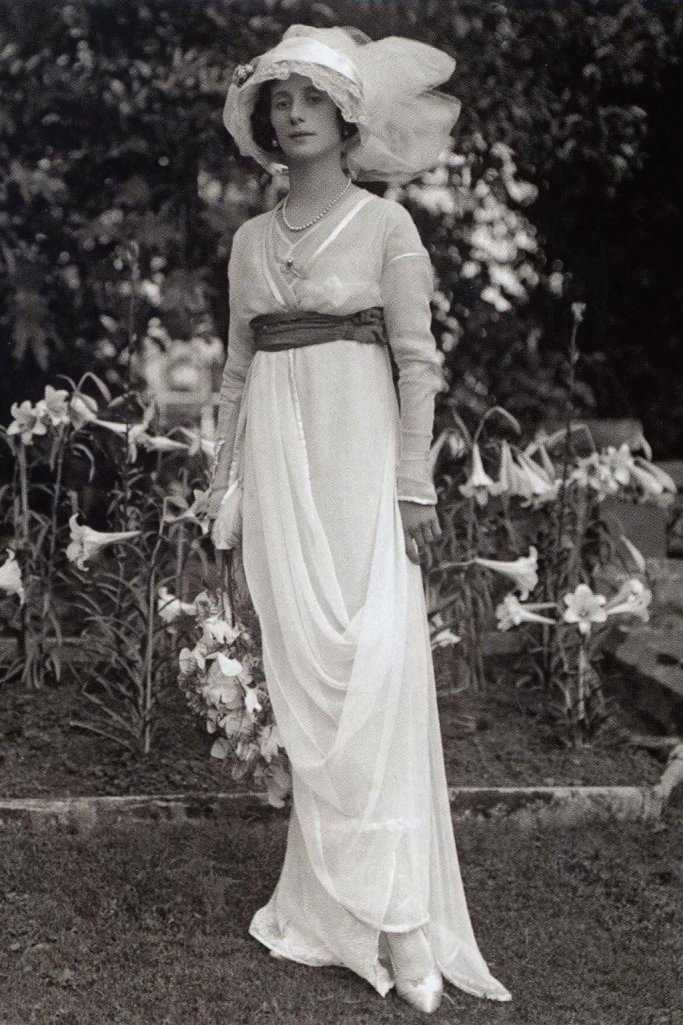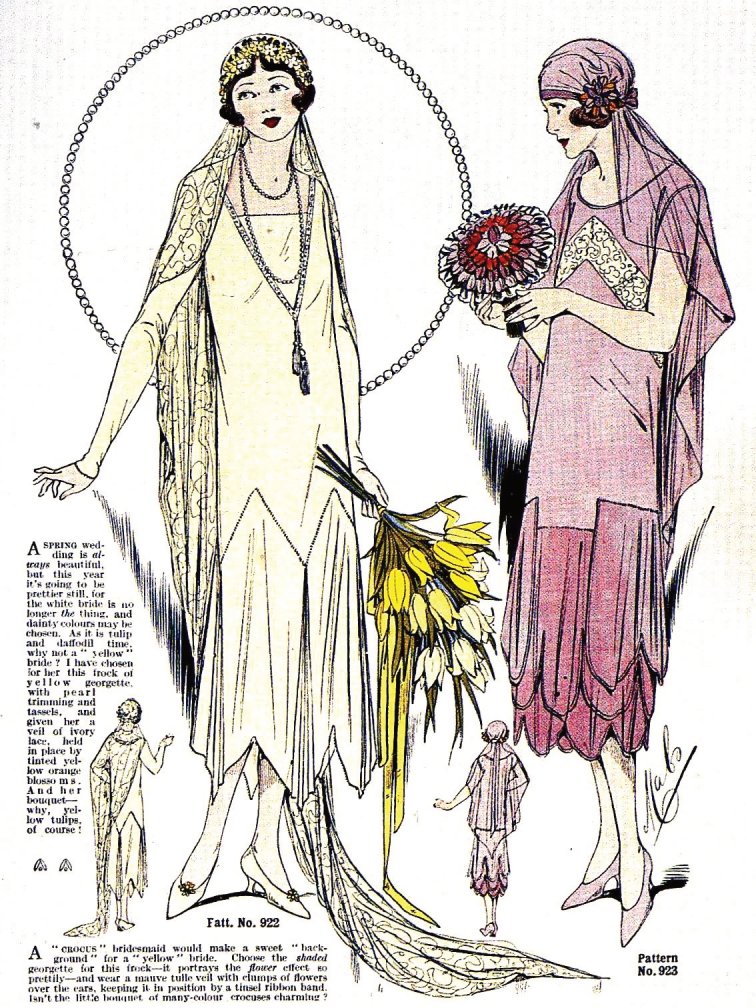 3. An original design with style elements from a particular era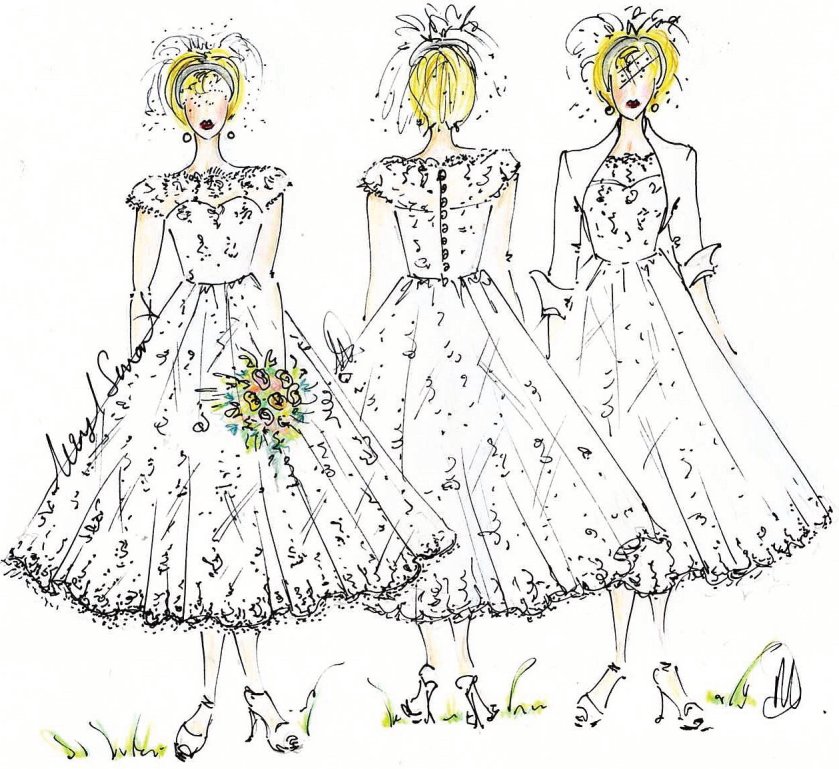 Original design influenced by 1950's styling
 Original design with edwardian styling details        Original design with 1930's style elements

4. A lacey, romantic dress, with a nostalgic feel ( No specific individual era)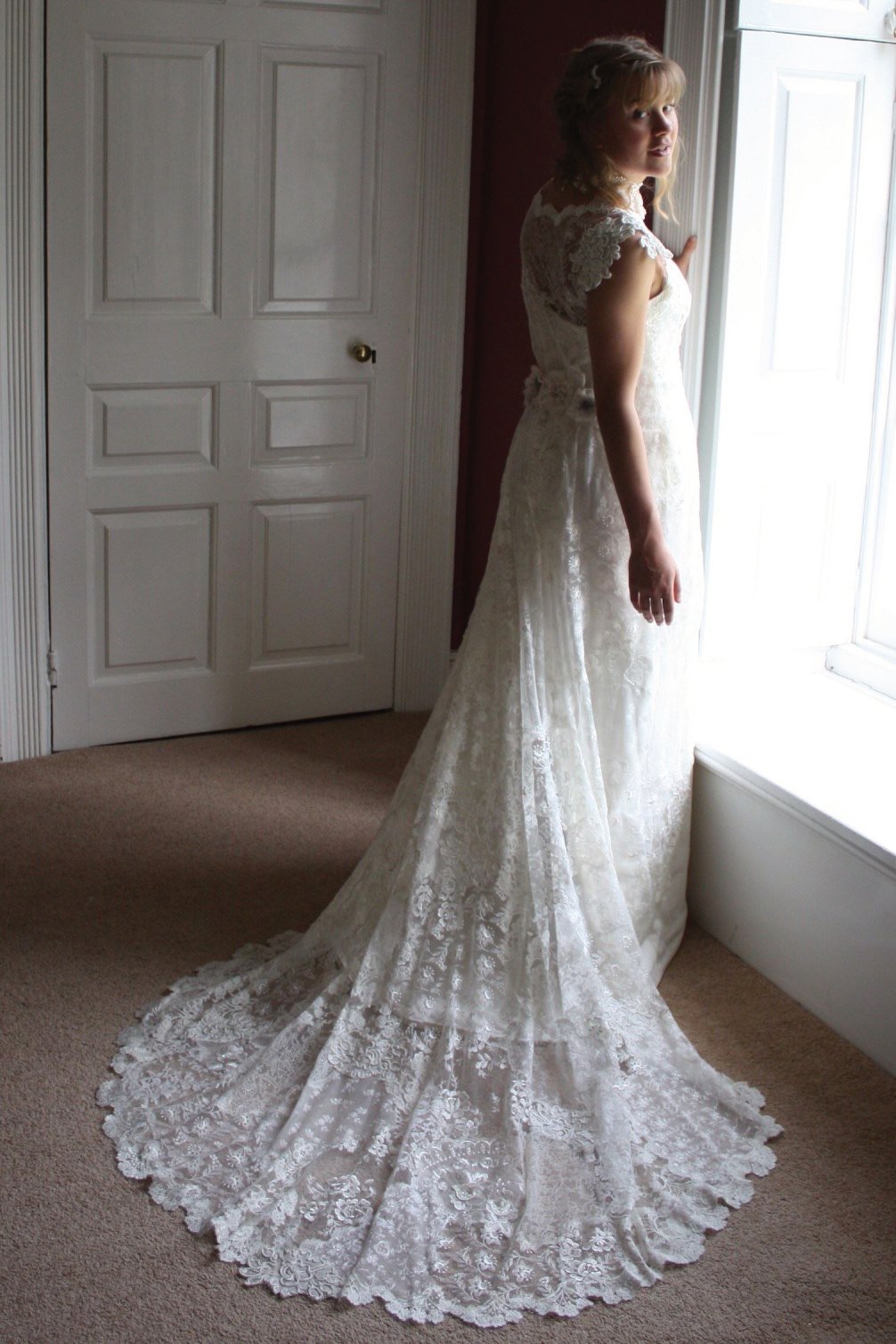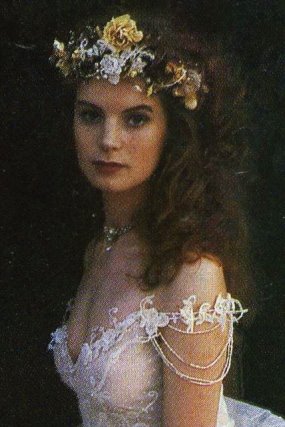 In another blog post, 'What is Vintage', I discuss how I use the term 'Vintage ' on my website, because Vintage 'officianados' are quite particular about that sort of thing, but most bride-to-be s, in my experience, are not.
Sometimes you just know you love it.

Copyright. property of Meryl Smart 2012. May not be copied or otherwise reproduced without permission

Shoes for weddings have sold very well on the website recently and, as part of my forthcoming blog series on Vintage Shoes, I have decided to devote one specifically to wedding shoes.

Advice on selecting your wedding shoes
Co-ordinate with the dress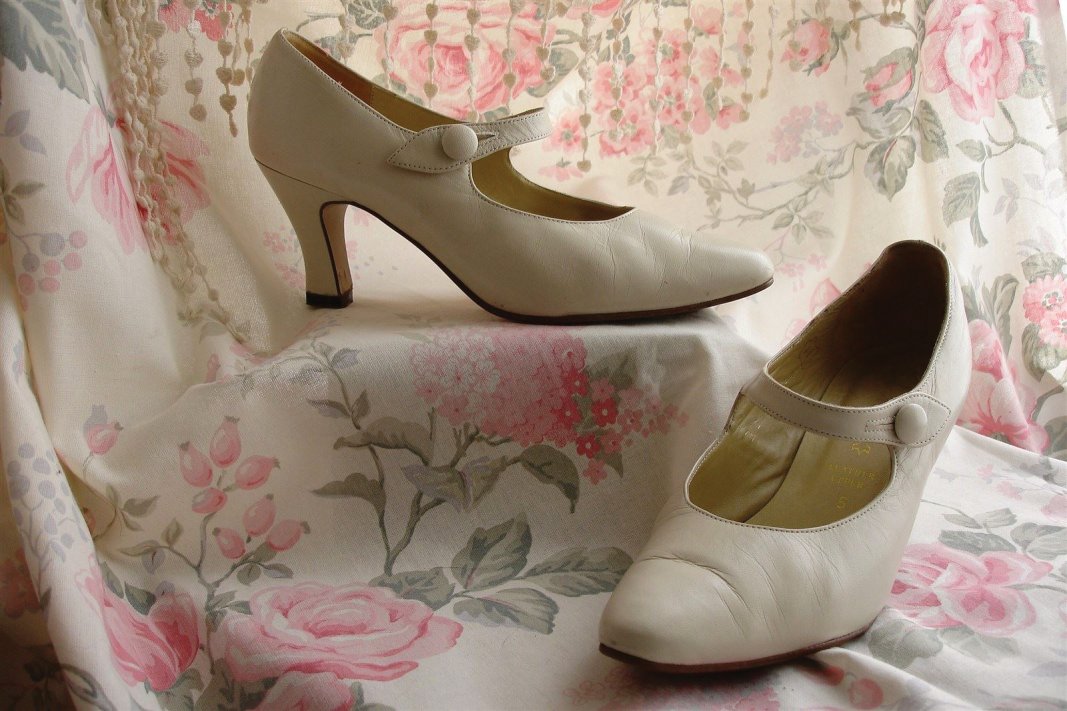 Many brides these days have a theme for their wedding. Whether it is colour, era or another kind of style or theme, you may want your shoes to add to the look. The shoes do not necessarily need to match in colour. Dramatic constrast can work really well, particularly with shorter styled dresses where more of the shoes are seen. Some brides decide they want to co-ordinate their shoes with the style of dress in terms of era, particularly if they have chosen a vintage style. At the moment, because of recent fashion trends, it is possible to       source many modern vintage-inspired versions of these styles if you know what you are looking for. (I will be giving more           
  1920's style 'Mary-Jane' shoes
information on this in future blog posts).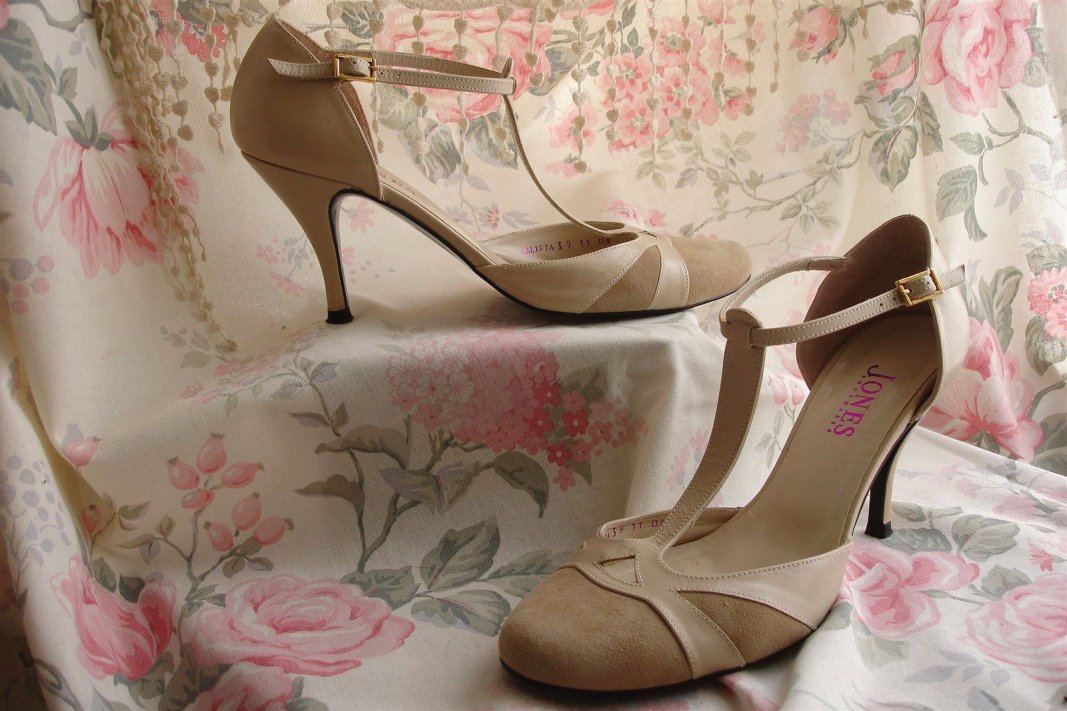 You will be on your feet practically all day and possibly dancing into the night too. You wouldn't want to ruin your day by being in agony because of your shoes so, if you are not used to wearing high heels for prolonged periods, either get into training (practice) or go for a more manageable heel height. Platforms with heels are an excellent idea if, like me, you are quite short. This is because the platform means that the angle of the foot is not so extreme and therefore you can achieve height without tottering. However, the higher you go the more careful you need to be. Falling from a great height could result in a broken ankle so, practice is essential.                       
1920's-30's T-bar shoes
If you are buying new shoes it is a good idea to wear them in; around the house sometimes, with a pair of thin socks or tights until they are less stiff and mould to your feet. Often backs of heels and toes rubbing on peep-toe shoes or sandals can be real issues, that you may not feel after wearing the shoes for 5 mins, but with sweat and pressure, can get really bad. (A good idea to have a couple of plasters available just in case anyway).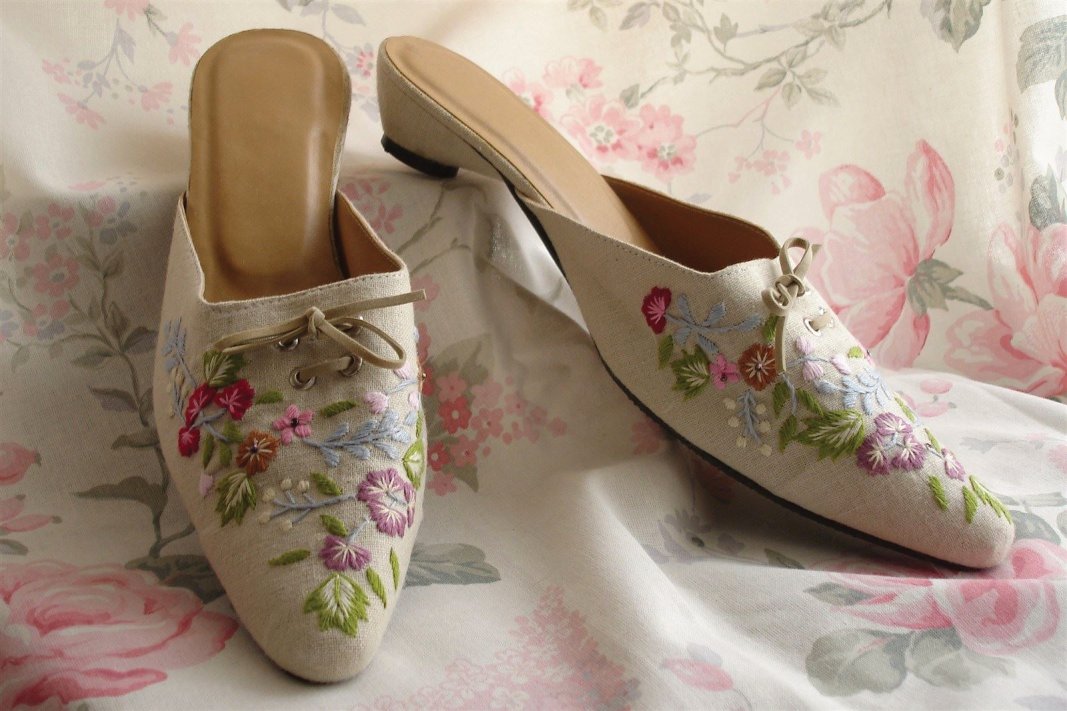 What ever you heel/platform height and whatever style your shoe, if you buy previously unworn shoes, make sure you scuff or scratch the soles of the shoes. Aisles in churches and tiled/wooden floors, especially dance floors can be like skating rinks, and slippery, unscratched soles will just help you glide or slip rather than grip!

                                                                                                                                            Embroidered mules
Please re-visit the blog for more information as future blog posts will give more detail about specific styles of vintage shoe to co-ordinate with particular styles/periods of dress.
(Text and pictures are the property of Meryl Smart and may not be copied or otherwise published without permission)

/