Shopping Cart
Your Cart is Empty
There was an error with PayPal
Click here to try again
Thank you for your business!
You should be receiving an order confirmation from Paypal shortly.
Exit Shopping Cart
One thing I have learnt since starting my business 'Vintage Smart' is that photoshoots are much more complicated to arrange than I had imagined!
As a new business it is often a catch22 situation. You know you need to invest in some fabulous photos to promote your products but there are so many financial pressures initially, it is not always possible to finance the professional shoot you might want.
Although I was frustrated by this, I am now rather glad that I built up to the full professional shoot in stages, because I learnt more that way.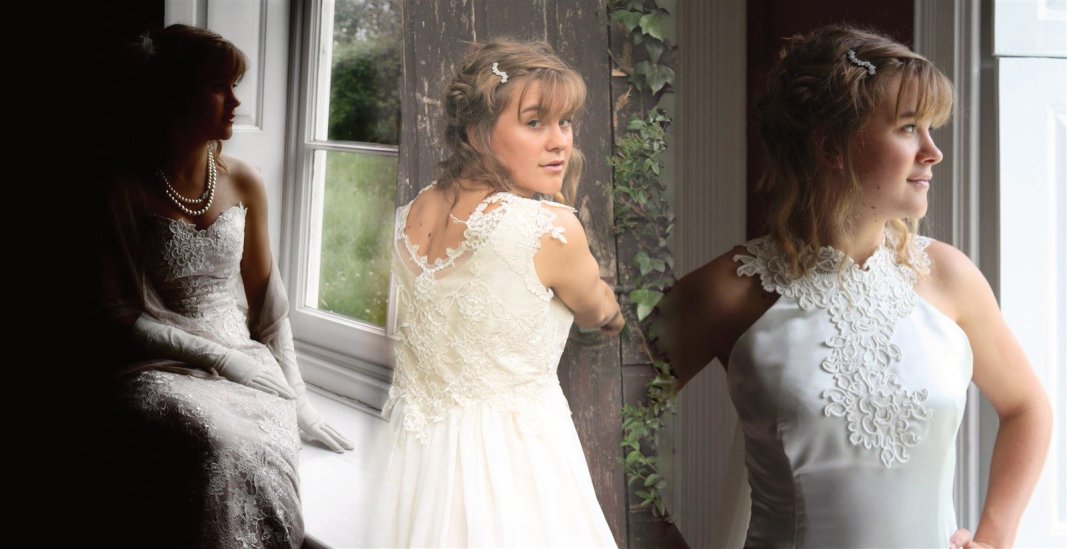 I will always be eternally grateful to my first model  Hope Whittington, who modelled for free and spent the entire day in and out of outfits with nothing to eat or drink all day (because we were so engrossed) - well I was anyway! She looked great and I was pleased with what we achieved for a first try, although I know the photos are not technically brilliant. I did use a decent camera for this one.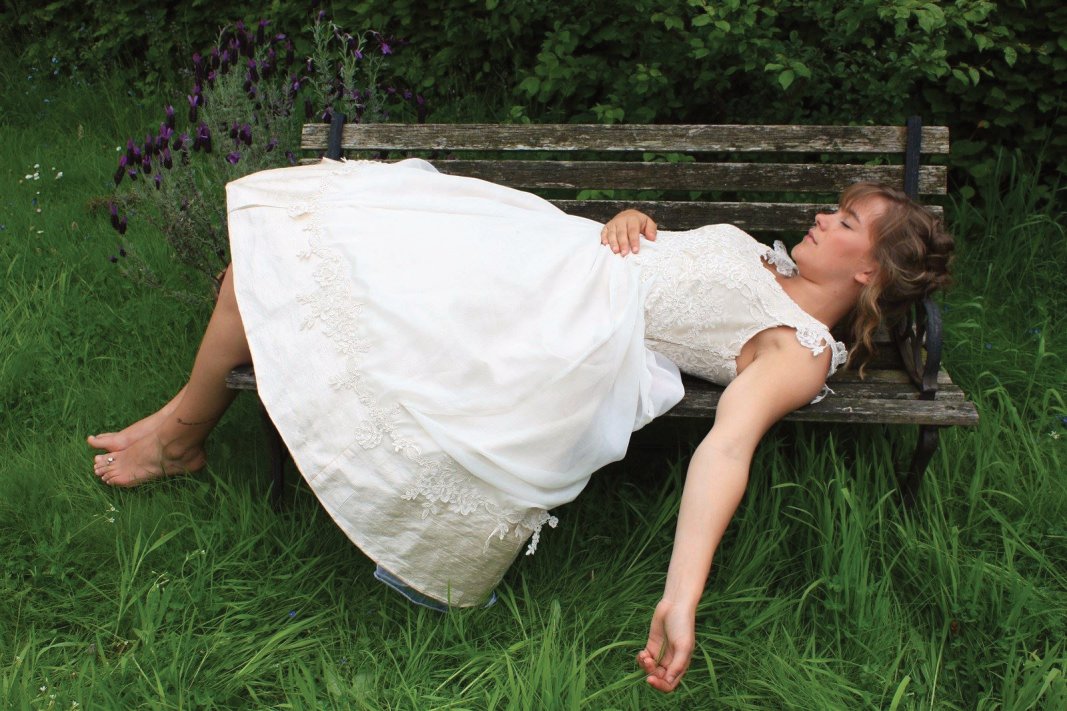 From this shoot I learnt- EVERYTHING TAKES LONGER THAN YOU THINK IT WILL
Work out a realistic schedule

Visit the venue first if at all possible and plan your shots before-hand, making sure the background is clear of distractions and unwanted items. It takes much longer to clear these things on the day with the model hanging around in the dress ( which would be expensive if you were paying them and a photographer, by the hour)
Arrange for proper styling of hair and make-up. On the first shoot I did not allow enough time for this.
If shooting several outfits, more than one model is essential.
At least one other person is needed to help to change/arrange model/s
Too much light bleaches out the detail of dresses. Shadow works well.
Make sure regular refreshments and toilet facilities are available for those involved.

Hestercombe House and Gardens.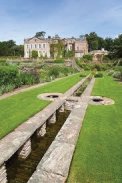 It is always a good idea to take advantage of the backdrop of a fantastic venue for a few shots.
This impromptu 'shoot' was part of a venue open day at Hestercombe House in Somerset, where I had been invited to exhibit. I had arranged a model and created a hand-painted 30's style dress especially for the event.  The weather forecast for the day was shocking, so it was a pleasant surprise when it turned out to be not pouring down. The gardens at Hestercombe are lovely and worth exploring with a model and camera. These pics were just experiments really. It was a windy day.The light was not brilliant and the lovely model (Fay Venner) was pretty chilly but cheerful. It was fun though and I was quite pleased with the pics.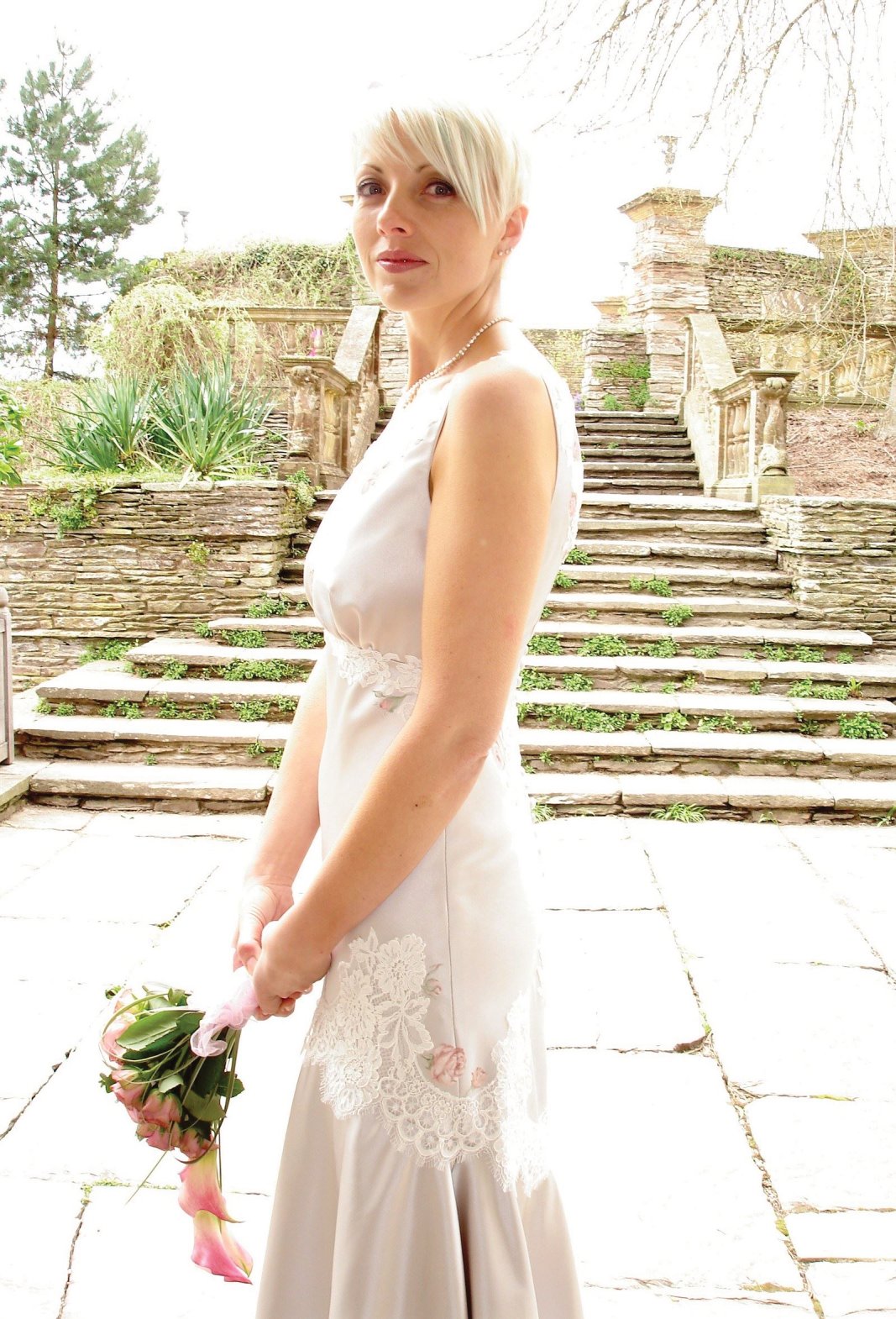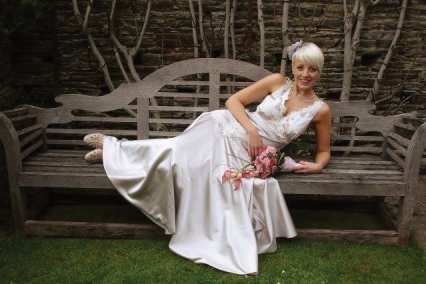 Photos my Meryl Smart

One incidental thing I learned from this shoot was, take a blanket or something for the model to sit on if going around a garden venue: bird poo on the dress is not a good look!
Holford

For my next shoot I was lucky enough to have a professional photographer(Clayton-Jane Photography), who had volunteered his services and the venue - and brought another photographer Lucy Driver and assistant. So, having learnt a little from my previous experience, I lined up three models of different heights, sizes and looks, with varying degrees of experience, who were willing to model for free - as a favour and for the fun of it.
 Rebecca-Jane (Vintage stylist)               Sue Keates                           Fay Venner (Beautician)
Photos by Lucy Driver
I spent ages planning the outfits and accessories and shoes to go with each. I didn't know the venue but got there early and had a look around. This was a collaborative shoot and because I did not consider myself an expert and was not paying for it, did not feel that I could 'call the shots'. I was busy changing the models into one outfit after another throughout the day and saw very little of the actual shoot. This was a BIG mistake. It was a fun, busy day and everyone got on really well. There were some lovely pictures, but I was wrong to assume that the photographer would take many of the sort of shots I would be able to use.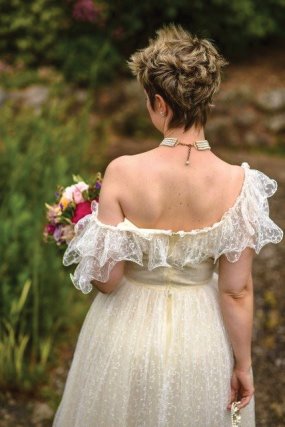 From this shoot I learnt -

SOMEBODY NEEDS TO BE IN CHARGE- don't assume that a professional photographer will know what you want.

HONEST COMMUNICATION. Don't be afraid to say what you want from the shoot, even if it is free because everyone's time and skill is being used; be precise ie. I really wanted some full length shots as well as some that showed the detail of the outfits and accessories.

Someone with a meticulous eye for detail needs to be at the sharp end to check that the clothes etc are hanging right. Some photographers tend to focus on the composition and the model and don't notice such details that then (to me) become glaringly obvious when seeing the pics.
Unless you have an army of professionals don't try to shoot too many outfits at one shoot because the styling has less impact. Best to style each one properly, particularly when shooting vintage clothing.
Allow adequate (plenty of) time for re-touching/styling hair and makeup throughout the day.
Don't over-use props. Seeing the same things in too many shots lessens the impact of the styling.

Don't rush. Less is more.

Photo by Clayton-Jane Photography
I will always be really grateful for all of the people who have been kind enough to participate in the shoots so far.  For the next thrilling installment, please see my  Blog 'Photoshoot- Kilver Court'.

Ivory.white,pale pink/peach                                      

Bias cut- (cutting diagonally across the fabric)          

Flared at hem
Loosely structured/draped                                                  

Slinky fabrics; satin, crepe, velvet.

Cape sleeves or sleeveless
Often with 'Flying panel' attached to dress
Cowl or V neck
                     Pettibone                                                Temperley                                               Packham
The'30's bias cut dress has become a fashion staple in subequent generations.  The style is still available on the High Street today, for day and evening wear, in different colours and prints.
worn across the head with a band fastened at both sides.
Quite often bouquets were carried sideways
Corsages were also popular ( see pic >)

and/or a huge rose bouquet, more as an upright arrangement than  posy or hanging bouquet                                          Pic copyright Meryl Smart

Long beaded necklaces were still in vogue. Beaded 'bib' neckalces, strung pearls and rhinestones
Many fashion trends draw on the past for inspiration.The current Hi-Low/ 'Mullet' hem trend is no exception.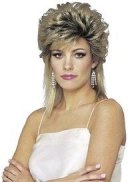 Higher at the front than the back - 'Hi-Low' or

'Mullet' like the hairstyle of the '70s and 80s !

It is a flattering style for dresses. The back view is not everywoman's most flattering angle. The hi-low hem offers the benefits of the elegance of a longer gown with the convenience and practicality of a shorter hemline at the front, making it easier to walk without tripping, or the need to hitch up the dress.

The 1920's is remowned for it's uneven hemline but there were also 'hi-low' hems
                          1920's                           1920's                       1925 Lanvin

It was also a very popular design feature in the 1950's
                          VINTAGE 1950'S                                            DIOR
The trend is very strong in BRIDAL wear for the 2013 season
                                                                                                                                                                    DIOR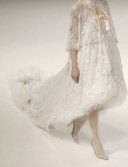 I have been commissioned to make a wedding dress with Hi-low hem for this summer. The dress is 50's style made of ice blue silk Duchesse satin with matching silk organza overlay. It has pockets too!.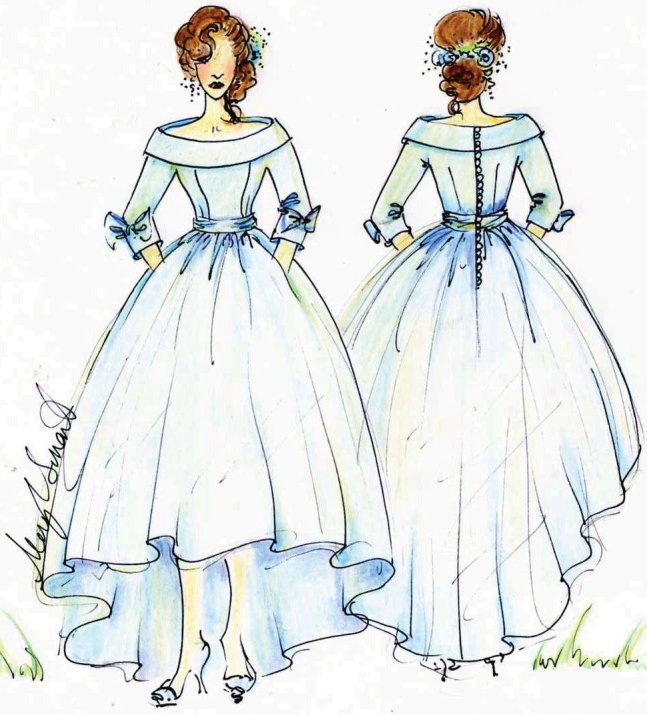 I think the trend may be around for a while.                                                Design copyright Meryl Smart 2013

The Hi-low hem was already popular in 2012 and continues in 2013

                  DIOR                                                       CHANEL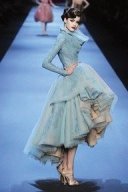 Hi-Low hems can be stylishly casual too. The trend can be seen all over the High Street in tops. skirts and dresses,

So there is a version for everyone!
Ever had major parasol envy? I saw a lovely vintage parasol on a wedding blog (as you do) I wanted one!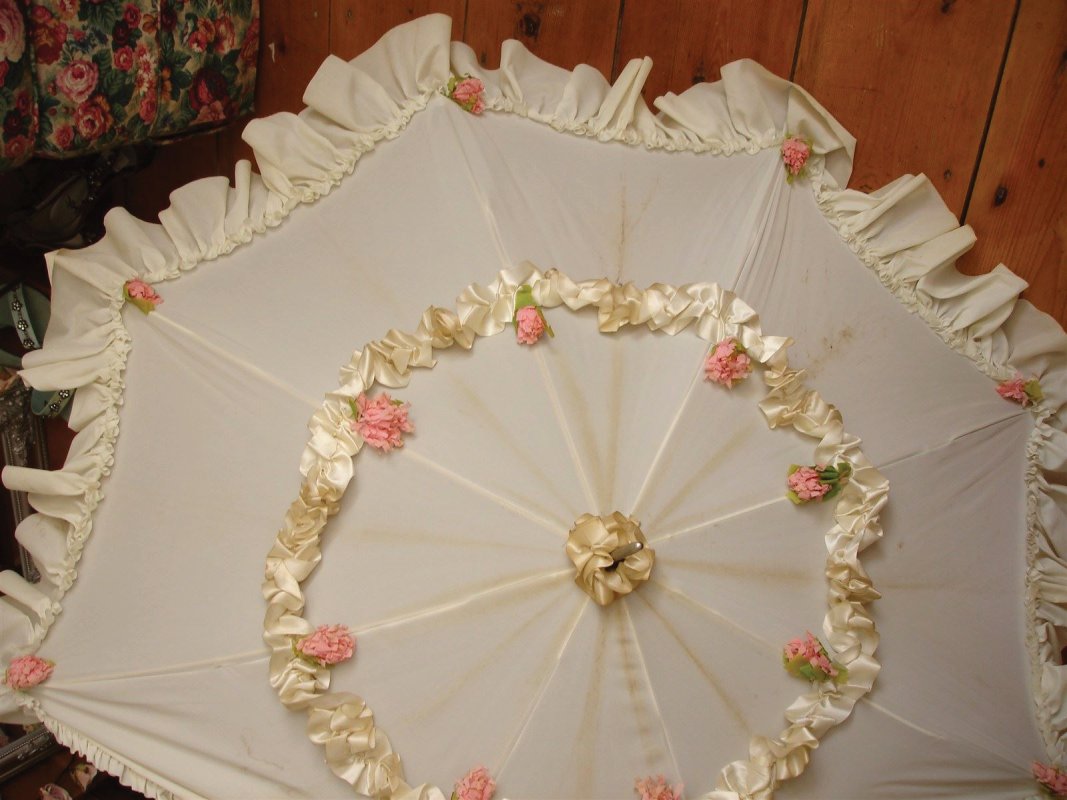 I've had this theatrical prop in my 'collection' ever since I played Eliza Doolitttle in 'Pygmalion' when I was 16. (I never throw anything out!) I knew it would come in handy some day. Now I am a vindicated hoarder.
It came with the original frills but my mum embellished it at the time with crepe paper flowers! Several decades have not been kind to it and the nylon fabric became stained. It was time for a glamourous makeover. I was sure I could use the frame which had a lovely mother of pearl effect crooked handle to create a 'parasol' like the one I now envied so much.

I took the fabric and trimmings off and was left with the frame. I had planned to cover it with panels if silk and then embellish with vintage lace which would be gorgeous....but take absolutely ages, which is why the frame was languishing naked in a corner whilst I then got on with other, more pressing commissions.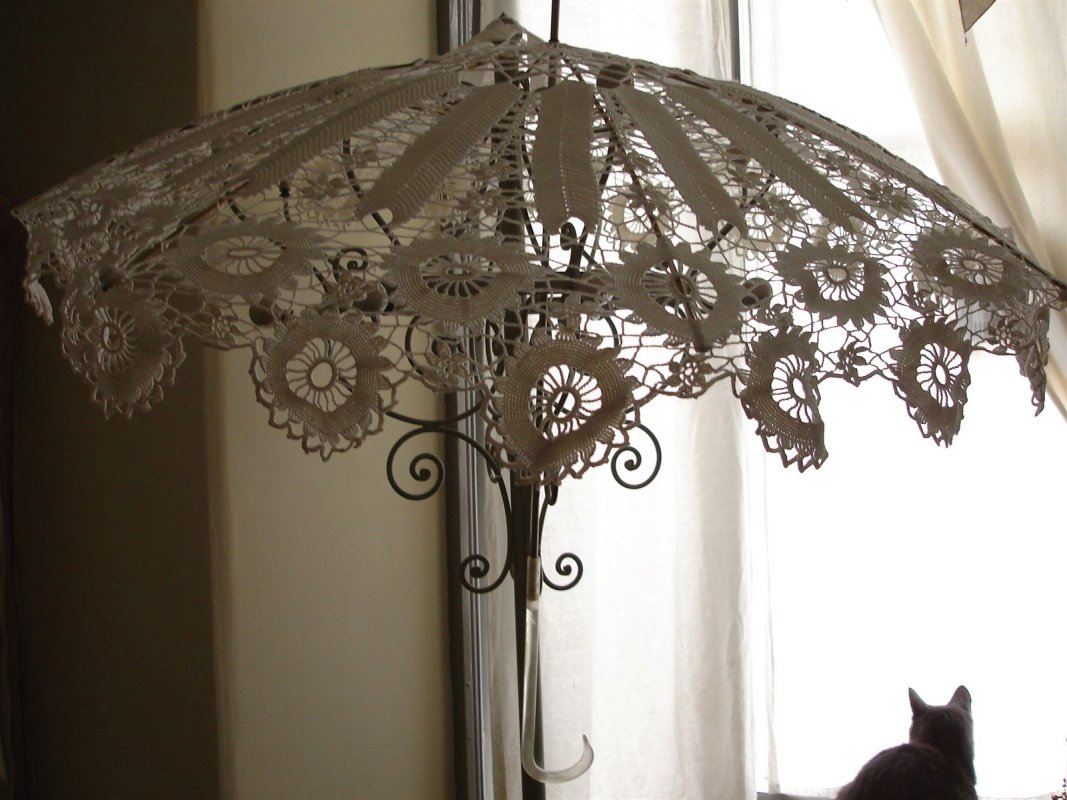 Quite by chance. whilst rummaging through my vast collection of vintage paraphernalia for something else entirely (to trim a wedding dress) I unearthed a vintage crochet tablecloth.
I thought it would make a fabulous skirt so I put it to one side to experiment with later.
I had it draped around a mannequin that evening when I had a eureka moment. What if?!...............

Some experimentation revealed that the piece would fit nicely over the frame and dangle attractively over the ends.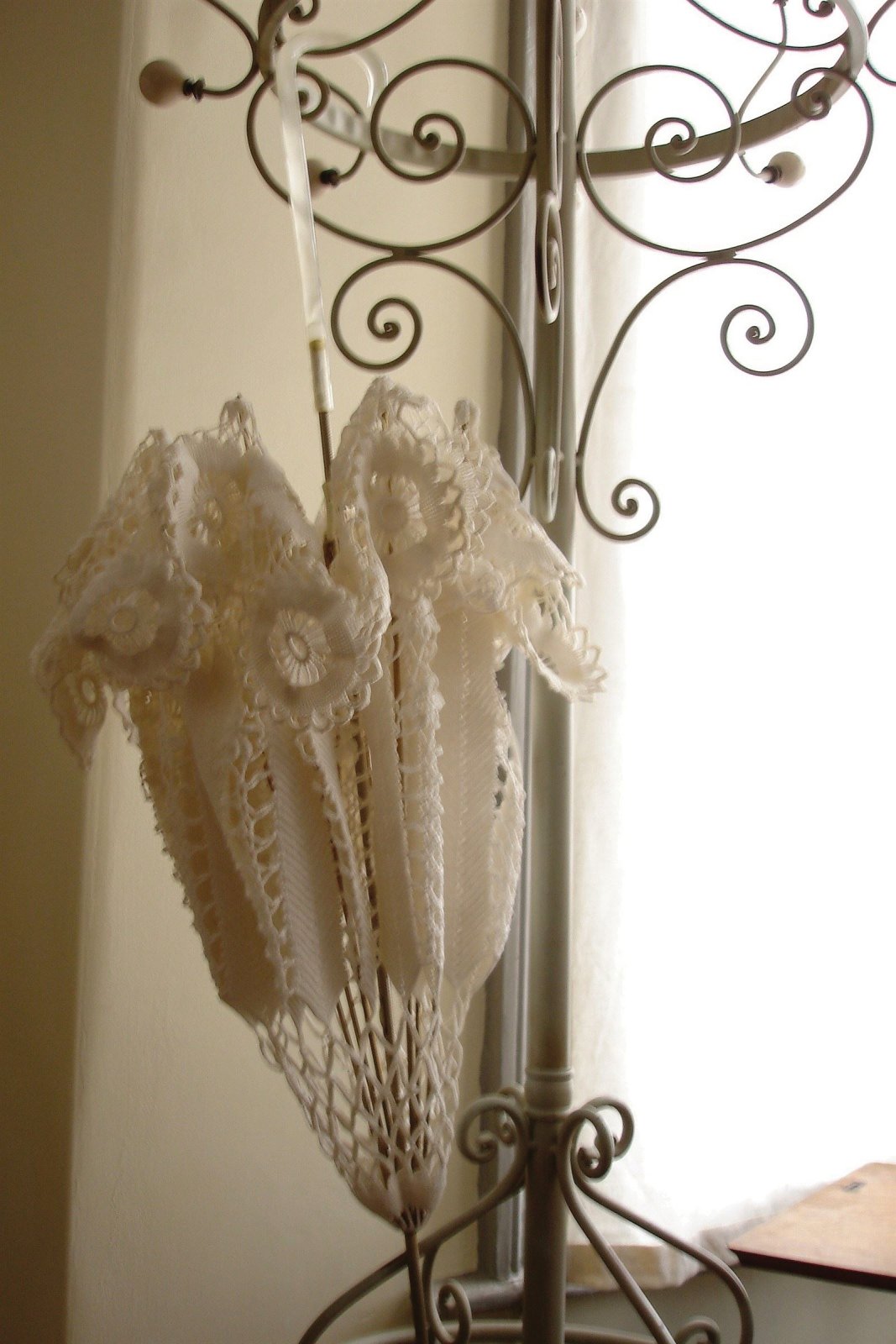 The trick was distributing it evenly as there were not exactly enough panels to go with each 'spoke' of the frame. This was achieved through trial and error and using glass headed pins to keep the crochet in place during experimentation. I attached the crochet to the appropriate points by hand stitching.
It was a fairly straightforward process once I had worked out how to stop the spokes slipping completely through the crochet and finish it so that the crochet didn't get caught on the spokes when it opened.
I am really pleased with the end result.
It's a lovely piece and practical because it clicks closed so can be carried in that position.
I love it when a plan comes together
I shall be keeping the parasol for use in photo shoots and fashions shows.

Whilst the  parasol is not for sale it will be available to borrow, free, for any brides commissionning a Vintage Smart bridal gown.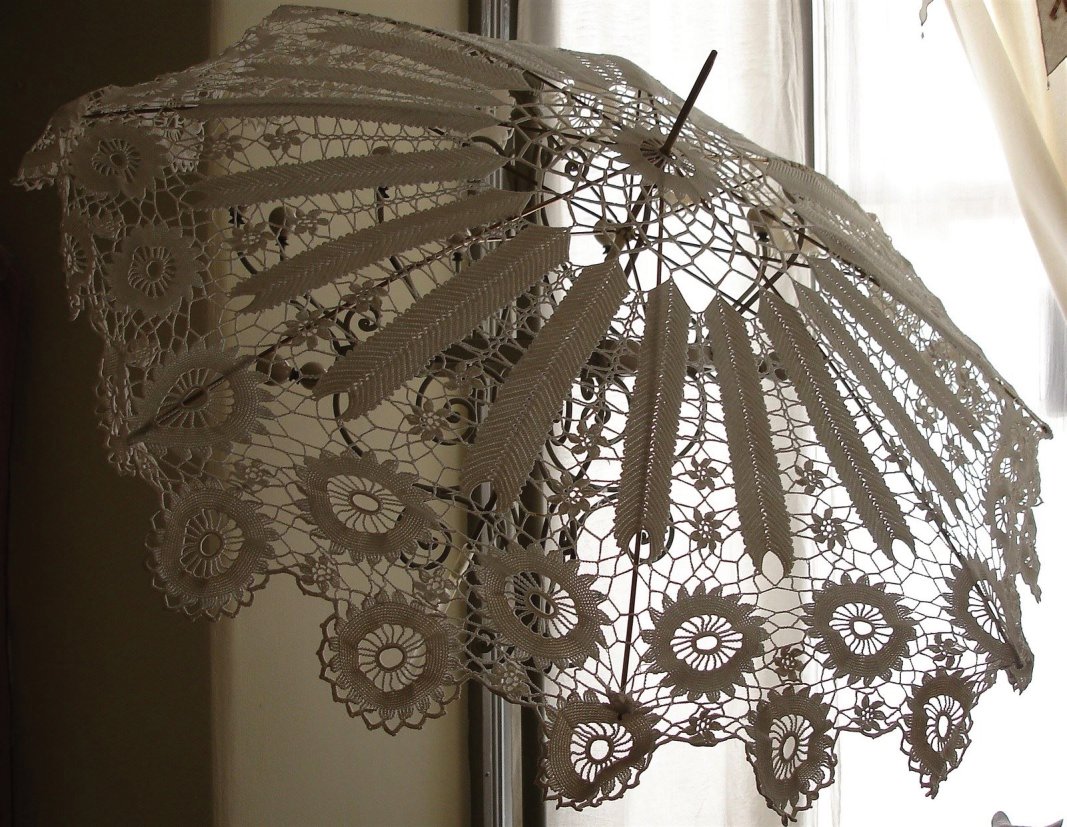 What is Vintage? .

It appears that there are numerous interpretations of the term 'Vintage', originally applied to wine but now liberally applied to fashion. Some people feel that clothing has to be old (over 20-30 yrs) to qualify. Some specify '20s -'40s. Others even think that items should be 'designer' labels to be considered worthy. The more recent 'Vintage' fashion trend- which reflects an appreciation of 'simpler' times, tradition, old-fashioned values and design, would suggest that anything with styling from Victorian/Edwardian through the 'flapper' '20s, Hollywood glamour of the '30s,

the austerity of the '40s and the 'Rock and Roll' influence of the '50s as well as the futuristic, 'free-love' '60s counts as 'Vintage'.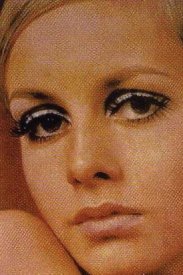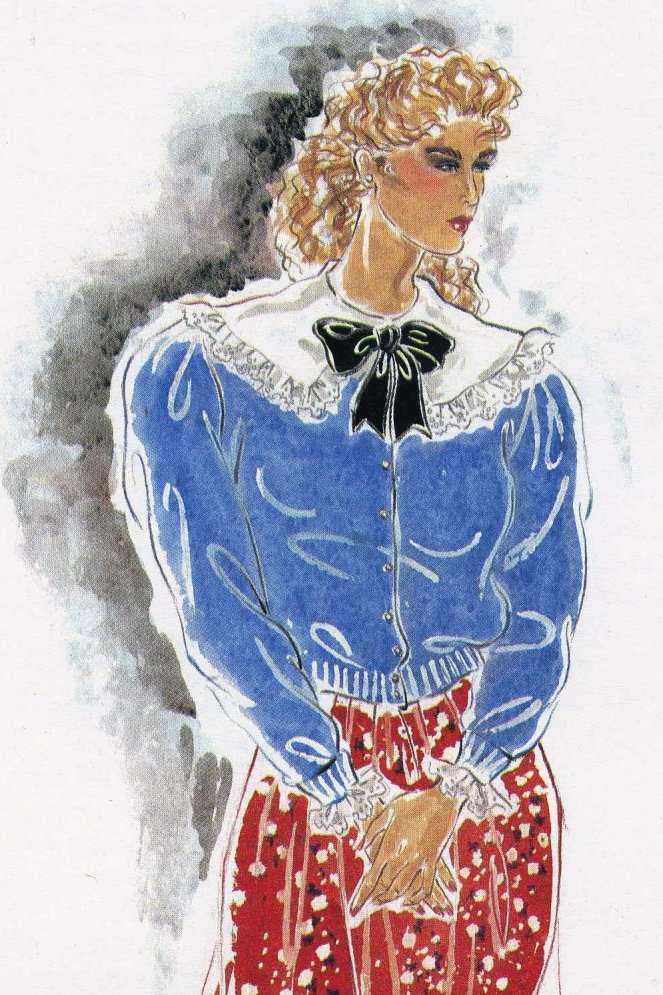 '70s '80s, even '90s fashion is nowconsidered eligible by some.
Perhaps fashion trends have always taken influence from previous generations but now more than ever people seem to want to be more individual in their choice of styling. I believe it is partly this wish not to be restrained by what is available in the High Street in any current season nor to be a slave to the latest trend that has led to the passion for vintage at the moment. Mainstream fashion in our present decade has, perhaps responded  by providing styles that are clearly influenced from several decades '40s, '50s '60s,'70s and '80s. As seen in the latest trend coverage.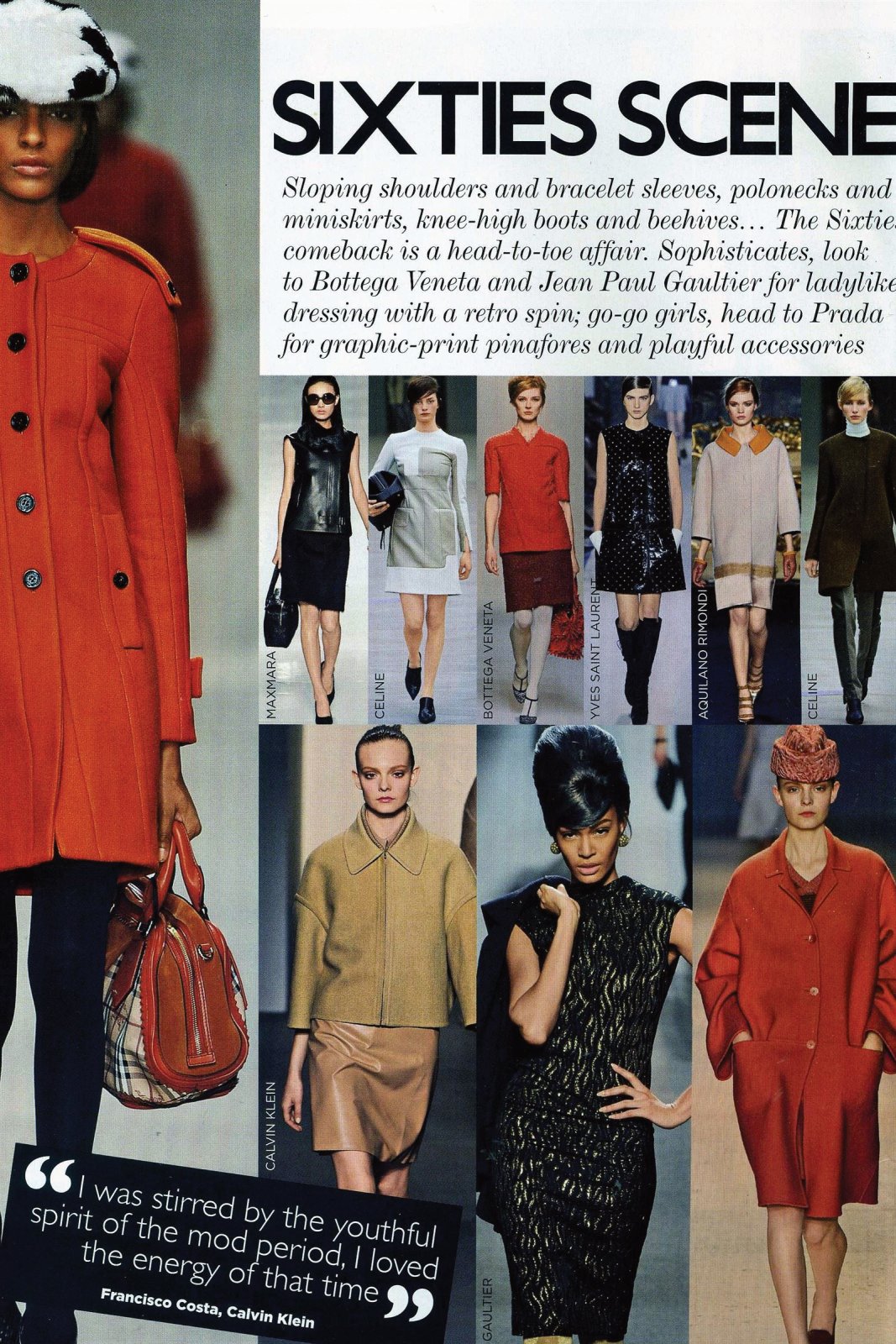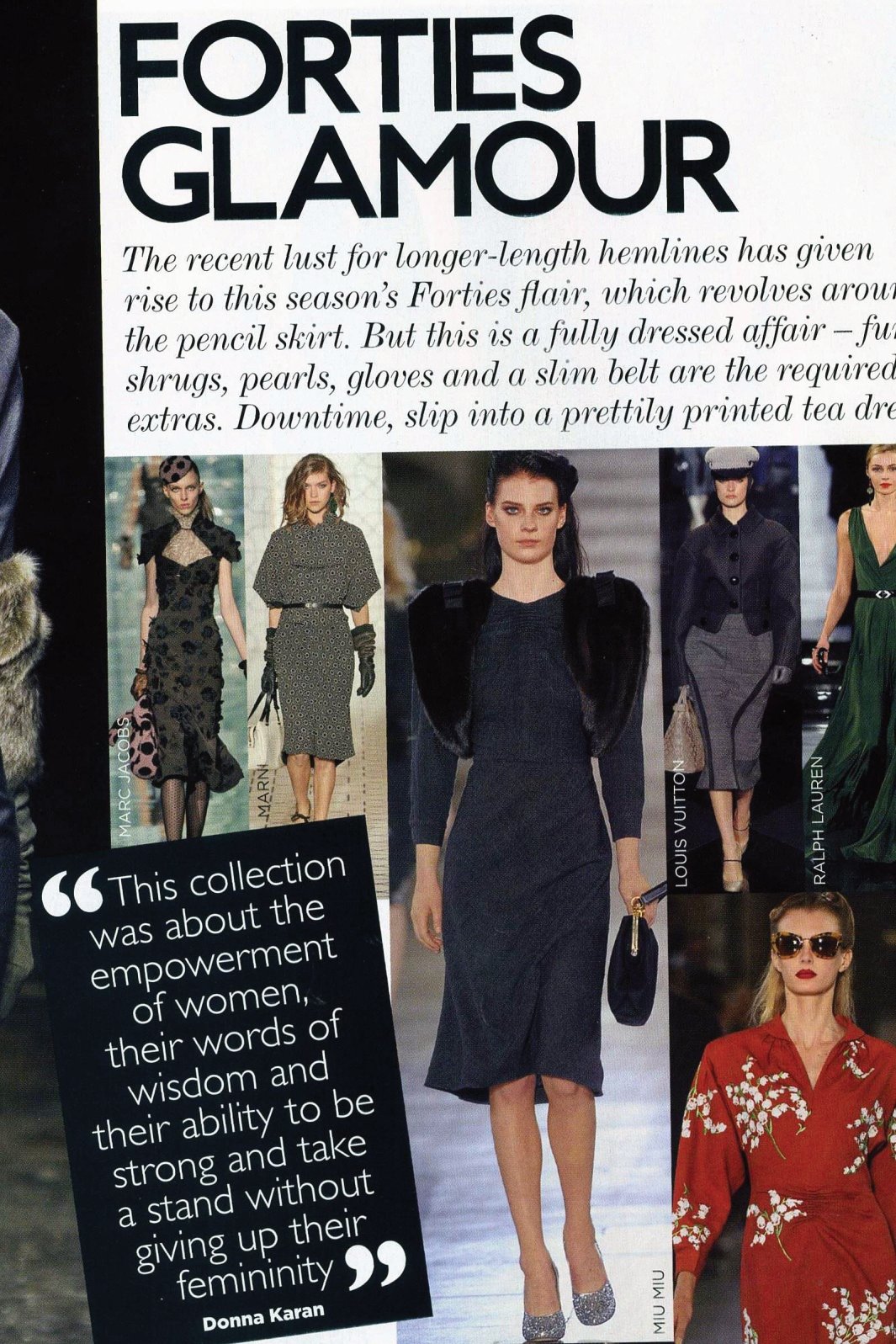 'Vintage'
is now a term frequently applied to anything that has simply been 'used'. One man's second-hand is another man's 'Vintage'. This is perhaps not helpful if one is looking for the 'real thing'
Then there is 'Retro'. This term is often now applied to items from the '60s, '70s and '80s along with the term 'Kitsch'- normally associated with the 'quirky' and weird; even tasteless or gaudy. ' Retro' - retrospective - by definition, is actually a more accurate term for what is now considered by many as 'Vintage' but as it is not commonly used as such, it can just be confusing.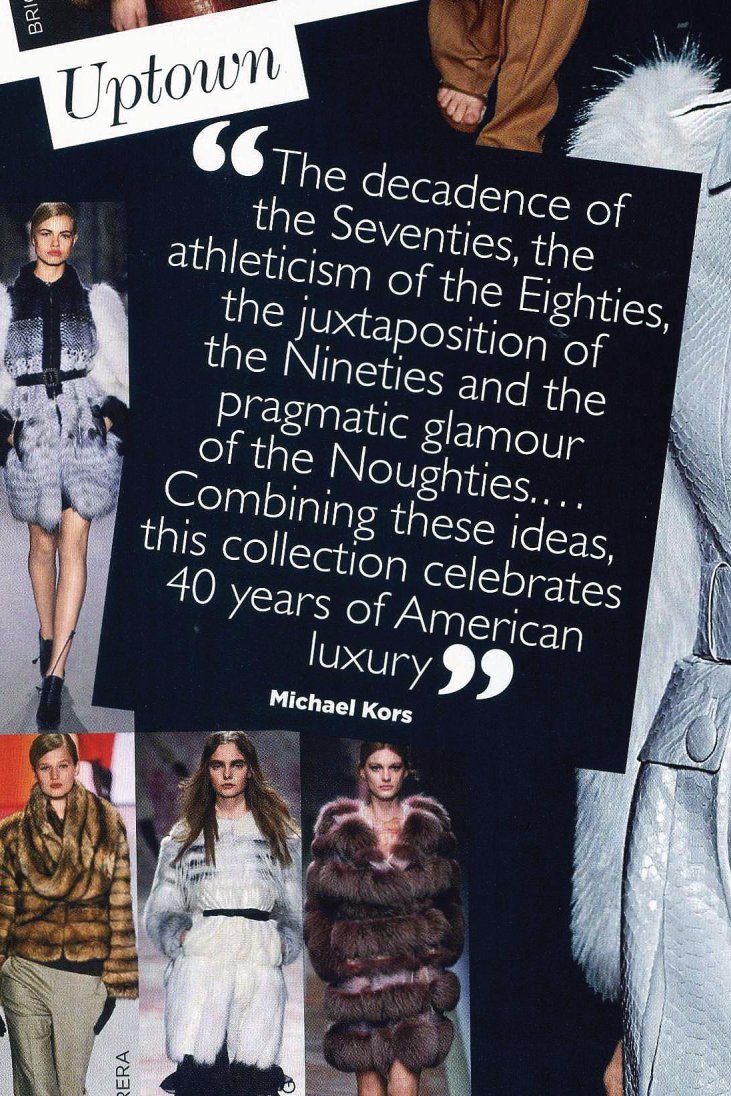 The most useful definition I found that corresponds to my own view of the term
'Vintage'
is that, like a 'vintage' wine, for something to be called 'Vintage' there should be something special about it that  corresponds to the period in which it was produced or that it was influenced by. It may be an iconic item that sums up a trend or style; there may be something interesting about the design, the fabric, embellishment or trimming. The item will certainly be of
'lasting worth or value'
to the extent that, whilst it may have been 'previously loved', it is of sufficient interest, style and
quality
to still be 'loveable'.
I believe that it is narrow-minded not to consider items from our more recent past and even present as 'Vintage'. If purists are prepared to consider fashion from the 60s 70s and 80s as 'Vintage' when some of the same labels existing in the high-street a few years ago would not qualify because they are too recent; it makes no real sense.  Quality of manufacture is a valid argument but some of the clothing considered as 'Vintage' by purists is actually not particularly well made either.
Some 'Vintage' purists adopt a particular period as a favourite; dressing and surrounding themselves with items from their chosen decade almost like re-enactment. Other 'Vintage' enthusiasts adopt a more eclectic approach; drawing together items from disparate periods in modern history to create an individual look. I believe either approach is valid.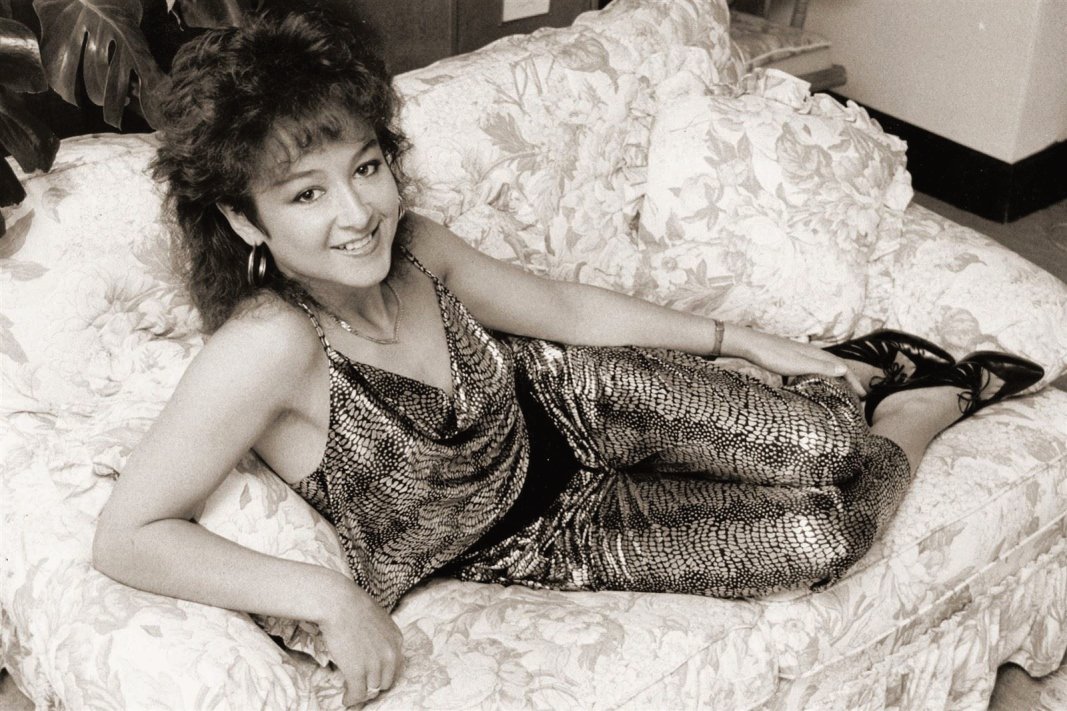 < Me.'80's 'Harem' pants and big hair
!
It could be said that we do not have enough distance in time to judge what is of most value from the more recent past. If you have access to recent fashion history books you will notice that they tend to stop at the '80s.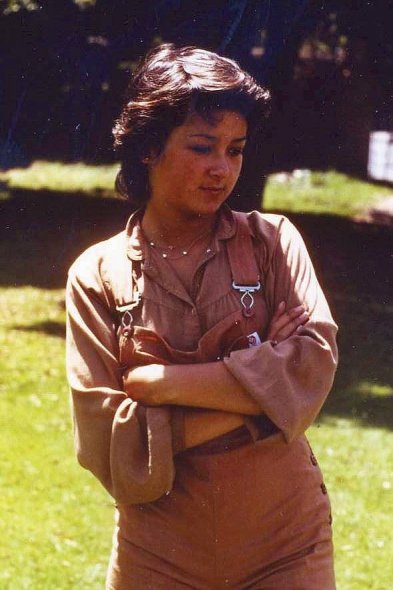 Having lived through several ground-breaking  decades myself as an obsessive observer and collector of fashion, I feel that some of the conclusions  authors have reached about iconic styles and trends (from the '80s and '90s in particular) are quite strange. I suspect this is partly due to the fact that the freedom and mass production since the '60s has meant that people have been able to select from a much broader range of fashion. With so many different looks to choose from in each decade it is harder to define each one's key iconic trends. I suppose it also depends upon one's own experience but these are books and pictures that will be referred to in years to come- defining an age and style and some do not neccessarily provide a very accurate picture of the iconic fashion of more recent times.                

                                          > Me.'70s. Dungarees and Princess Di haircut.
It is certainly the case that 'What goes around, comes around'. Even in my life-time I have noticed the cycle of fashion returning to certain style elements that I never thought to see again.

< Me. Late '80's hand-painted silk jumpsuit-even bigger hair!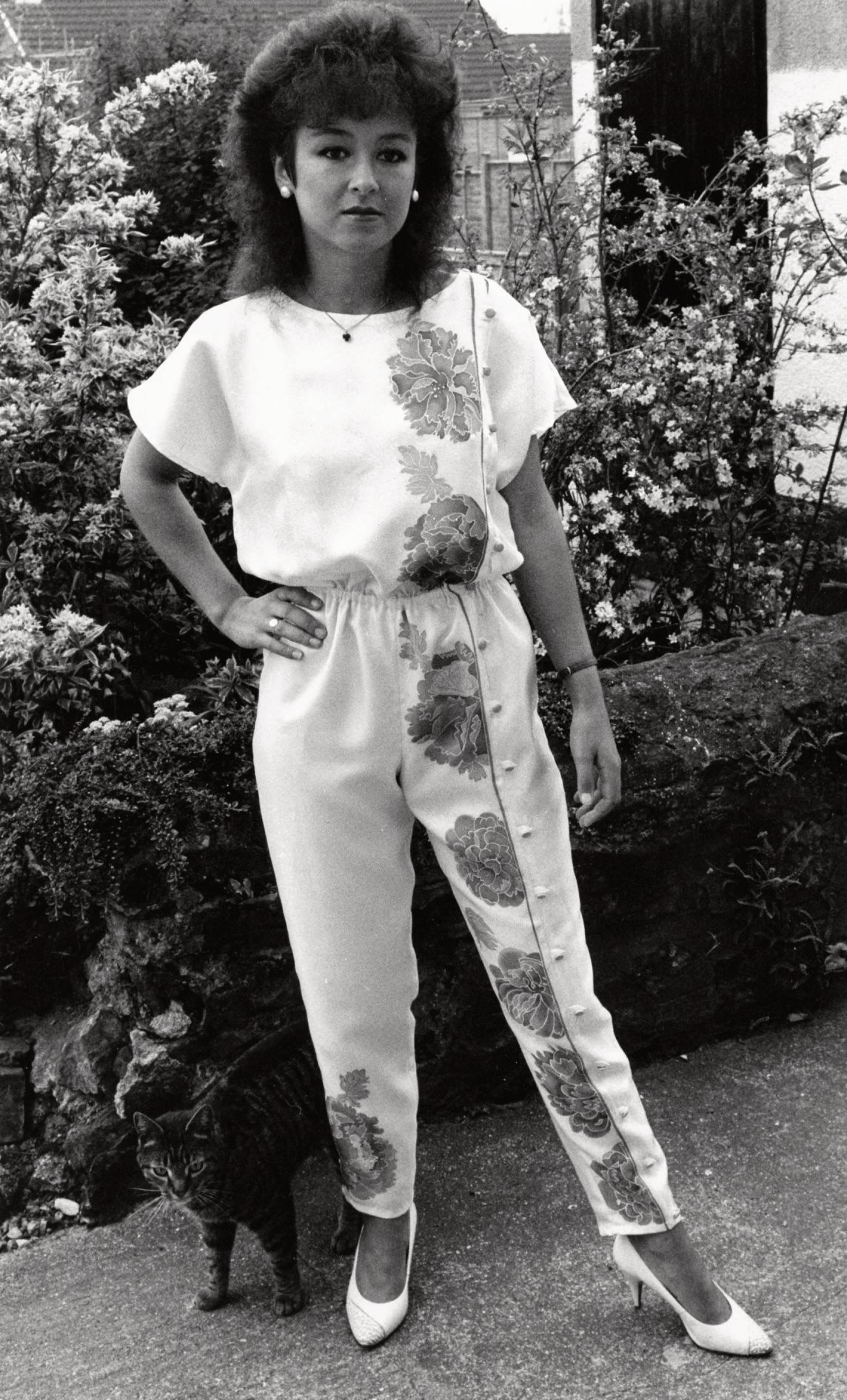 Jumpsuits for example - emerging again. Platforms have been back for a while. Harem pants -popular in the early 80s have also returned recently. Asymetrical hems and necklines have come and gone several times since the '20s, and these are only a few examples. I have never been a fan of 'Feng shui-ing 'my wardrobe on a regular basis. If I had I would have thrown out some real gems. As it is, I need a bigger house to store everything !!- and a lot of it is genuine 'Vintage' in a range of sizes.
                      I am a fan of all things 'Vintage'. I am fortunate enough to have a 'Vintage' sports car. A Triumph TR4 built in 1963. I have had it for more than 25 years. It was considered 'Vintage' or 'Classic' when I bought it. It has been re-built once and is in need ofeven more expensive TLC. For more than 20 years it was my only car. It has stylish design lines, leather seats, classic colour.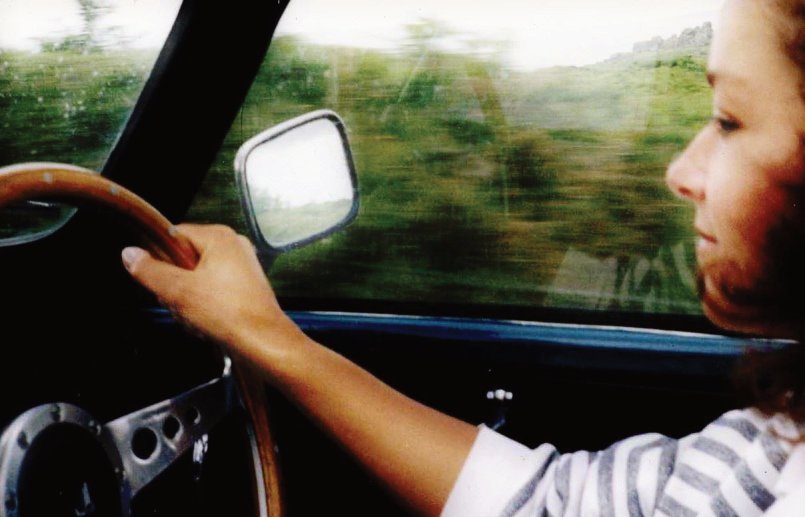 It has bags of personality and makes me smile when I drive it but it is also uncomfortable and drafty by modern standards and does 25 to the gallon if I am lucky! Other classic car owners keep their cars cacooned in garages; only bringing them out when it is sunny and they may frown upon the state of mine; driven everyday and kept out in all weathers. My point is that I think, where at all possible, these things should be used. It is their purpose and using them helps to keep style alive. 'Vintage' is not 'Antique'.
'Antique' is another matter. These are items of museum/collector's quality; too delicate or valuable to wear or use most of the time and rare; to be kept wrapped in acid-free tissue paper or in controlled environments where they are seen and not touched and won't deteriorate. I also have a number of these items and I really treasure them, but it still seems a waste for them to be kept in a drawer or cupboard and never seen.
I am a believer in conserving our heritage but also think we should recognise what is of lasting worth and value in our own time as well as the historical past or we are in danger of 'throwing the baby out with the bath-water'.
                                                             Meryl Smart.
At one of my sales events recently, a customer said,
"Sometimes with Vintage, you have to wade through a load of old tat to find the good stuff, but all your stuff is lovely."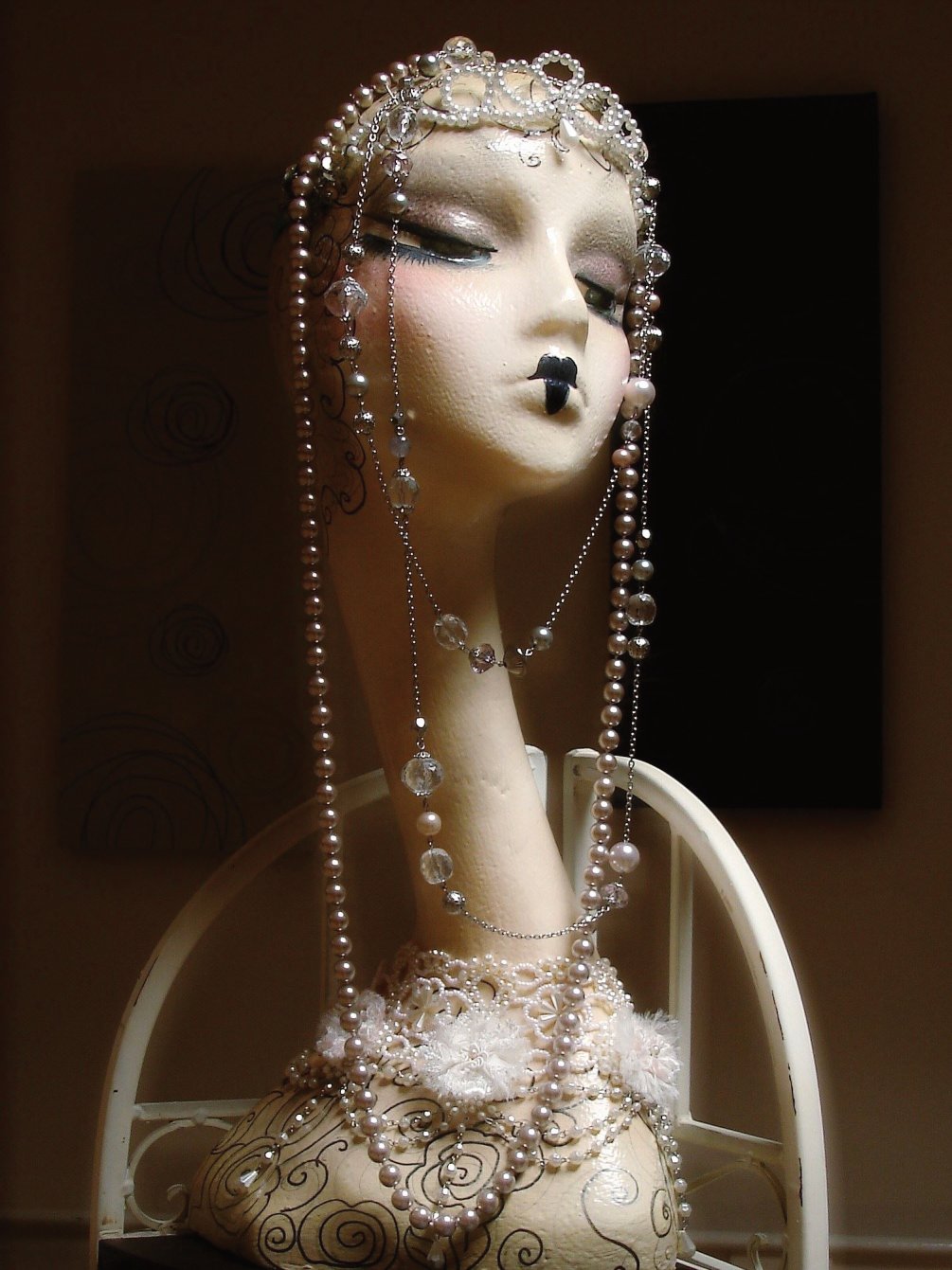 Praise indeed! It is always rewarding when a paying client appreciates one's selection, and that is key to the way I run the 'vintage fashion' side of my business. I don't buy in Vintage- for- the- sake- of- vintage items, I only buy what I actually think people will like....... to buy. That means I have to like it too. Even if the item would not suit me because of figure type, height, colouring etc, I can see the potential for it to look gorgeous on someone else. I source to re-sell, as a business, not as a museum curator or theatrical costumier.

The vintage section in my studio is literally full of excellent quality Vintage and Vintage-inspired loveliness. Much more than I can list on the website. I am attracted to lace in particular but also beautiful printed fabrics, embroidery and silk.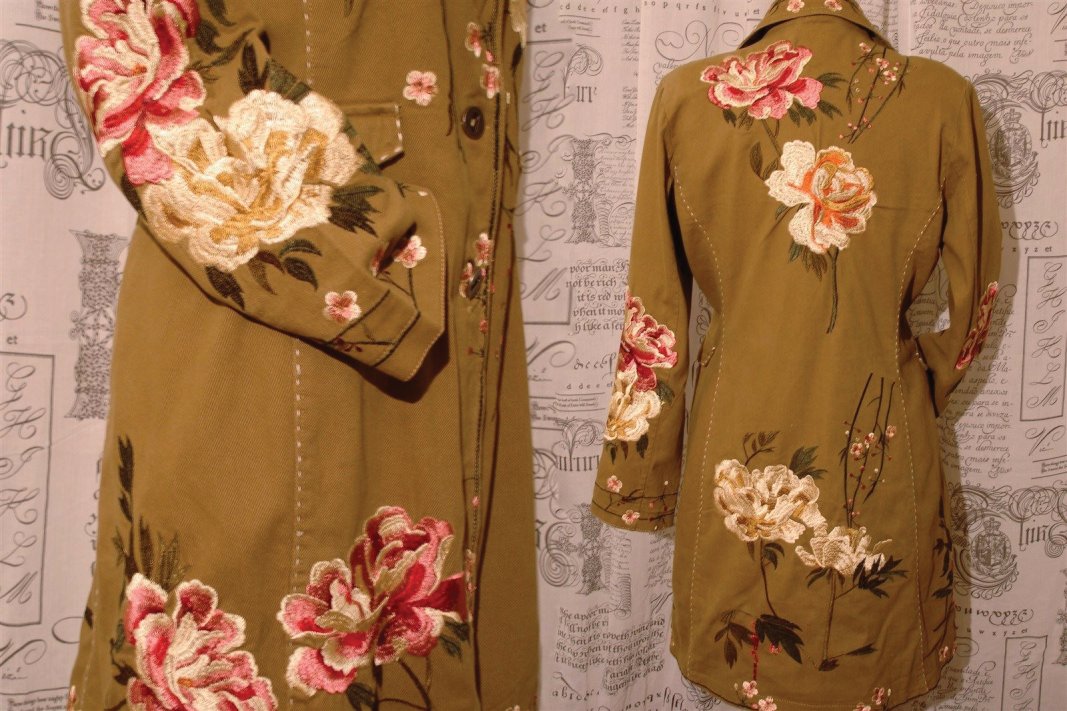 Whilst there are many genuine vintage items in really good condition, I make no apologies for the fact that I have also selected newer pieces that are clearly inspired by styling from 'vintage' eras. This also means I can stock some larger sizes.
I know from speaking to some of my friends, that not everyone feels entirely comfortable buying, or wearing 'second-hand'. The thing is that, with most of my stock, if you weren't told it wasn't new, you would not know, and some of it actually is new! I aim to source good quality in the first place, but as a seamstress, I also have the ability to restore items that might need some TLC. This means that some beautiful fashion gets a second lease of life!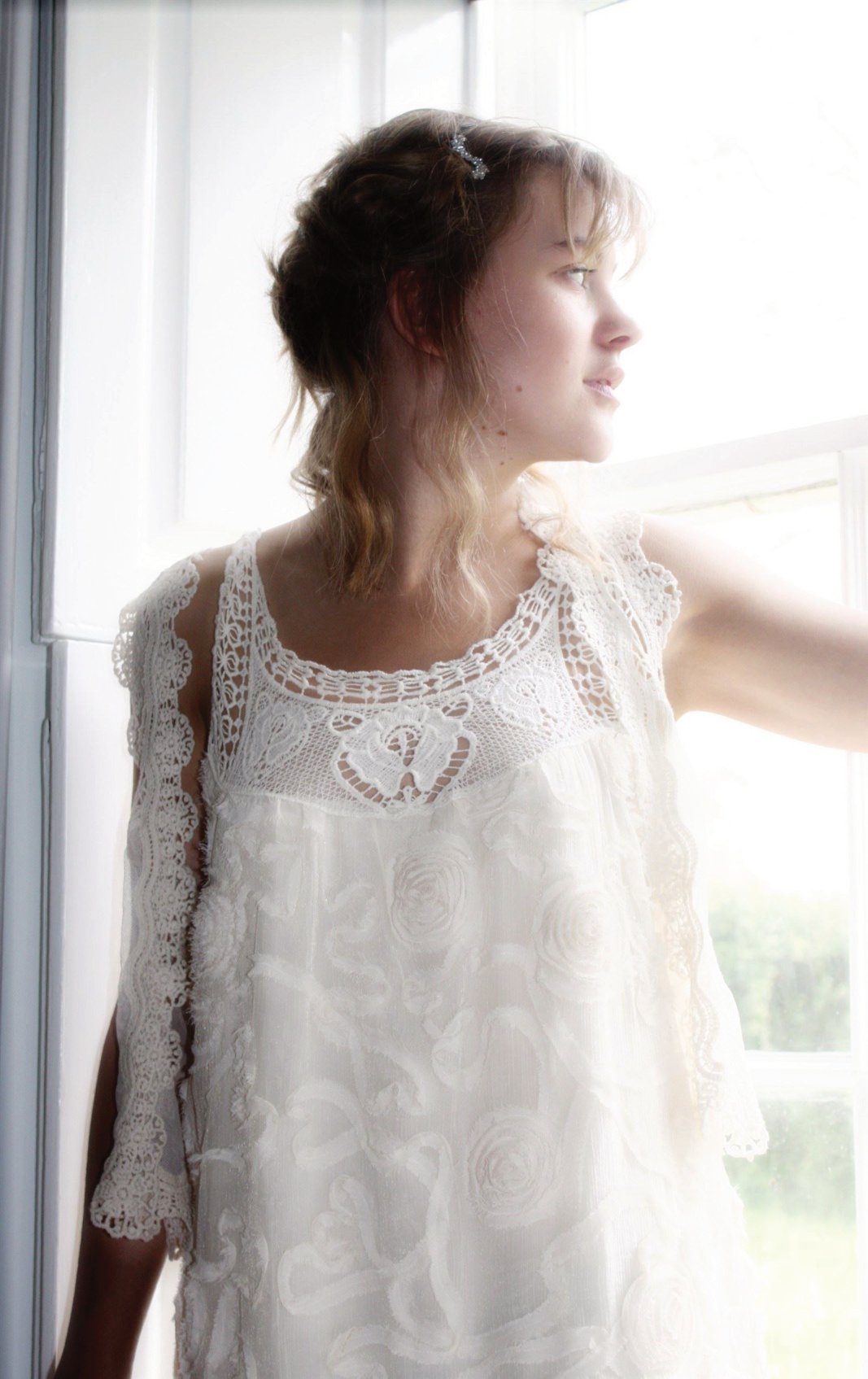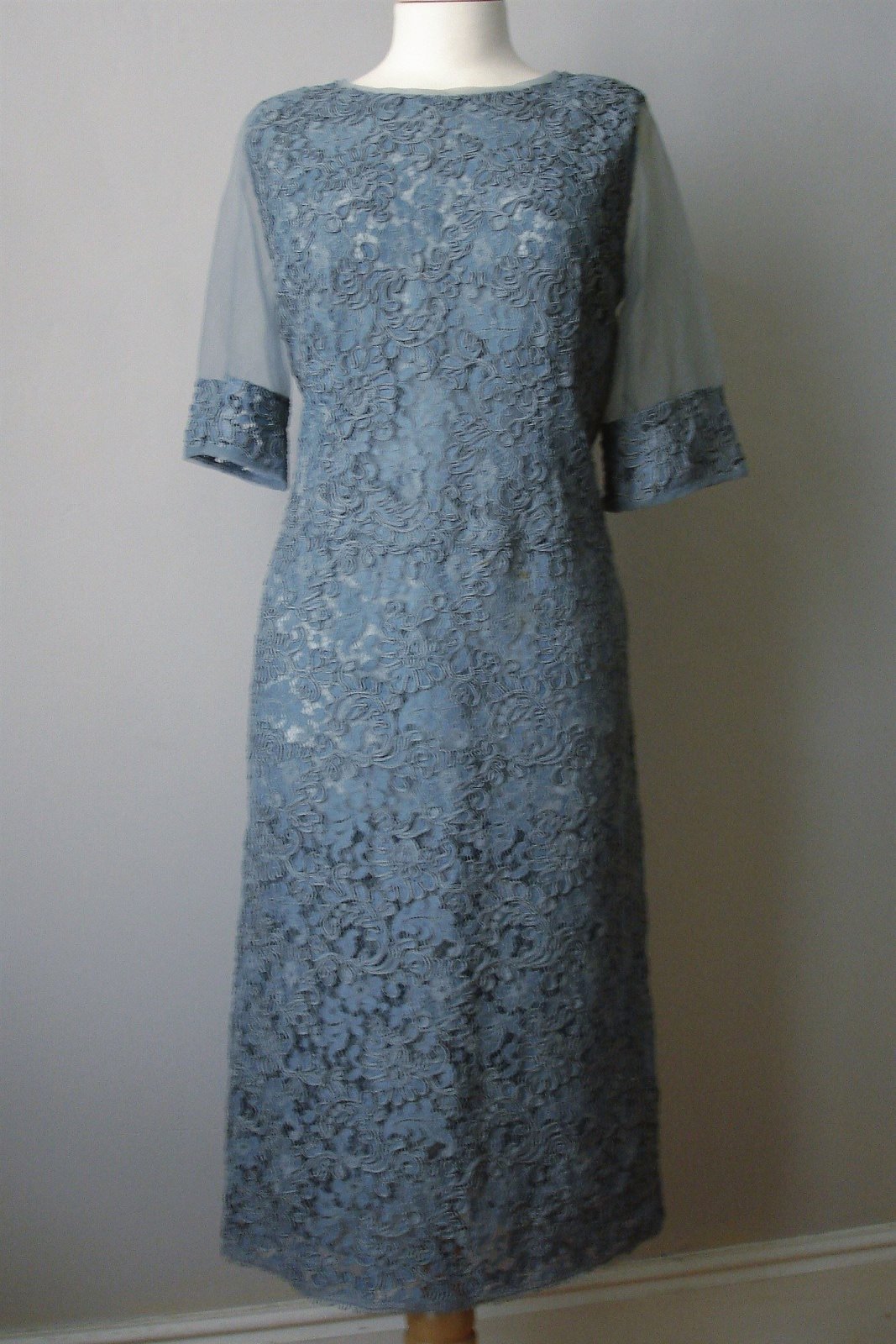 Display is also an important element. In my studio, I try to put things together in display, as a suggestion as to how items may be worn. Live models, rather than dummies, always show off the items best in pictures though, and I am still working on that for the website.

If you would like to visit the studio please e-mail me to arrange an appointment.
[email protected]
As a bridal designer  who specializes in Vintage and Vintage-inspired gowns, I am very aware that when a Bride-to-be tells me she wants a 'Vintage wedding dress', this usually means one of four things.
She's looking for

1. An authentic Vintage original from a particular era.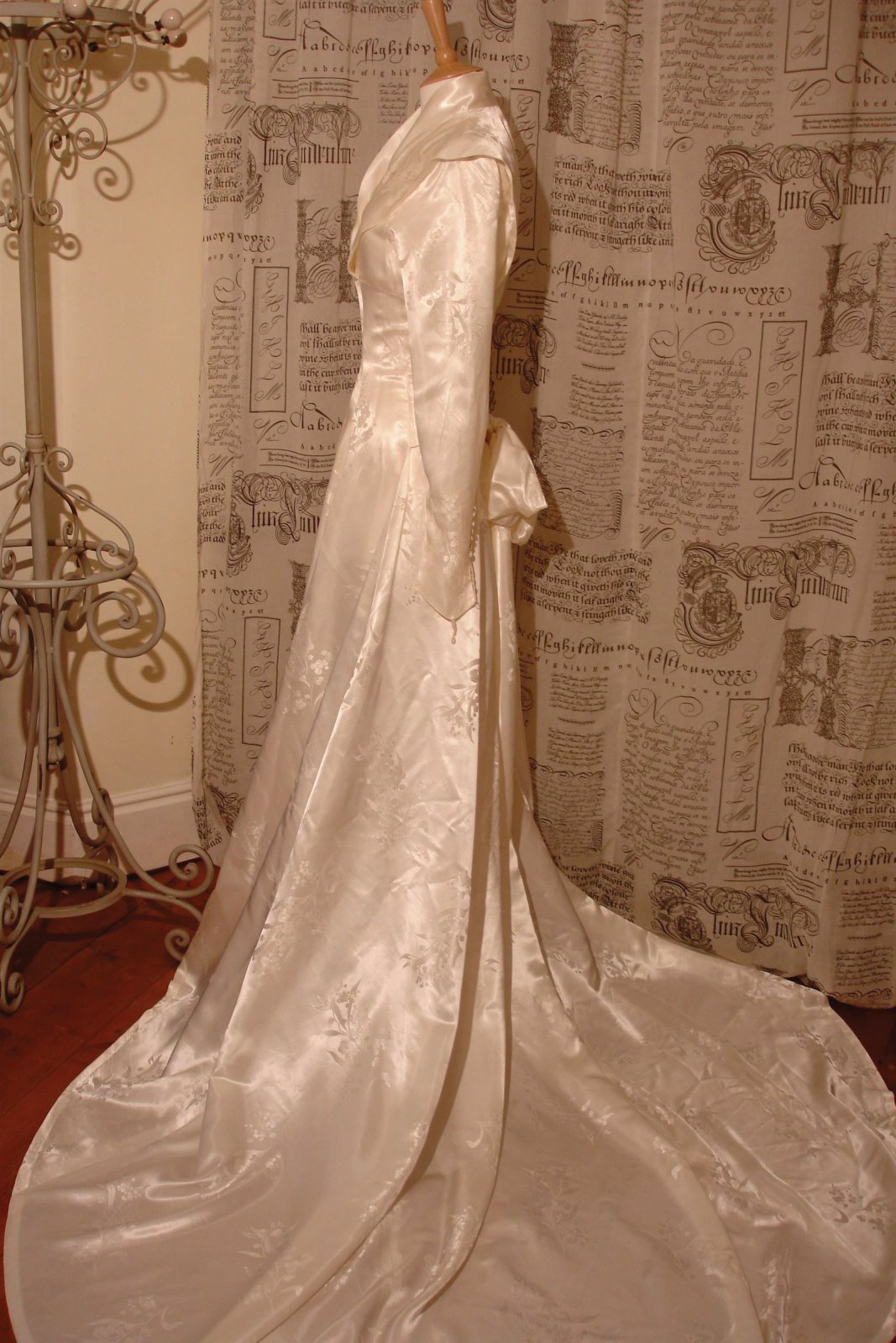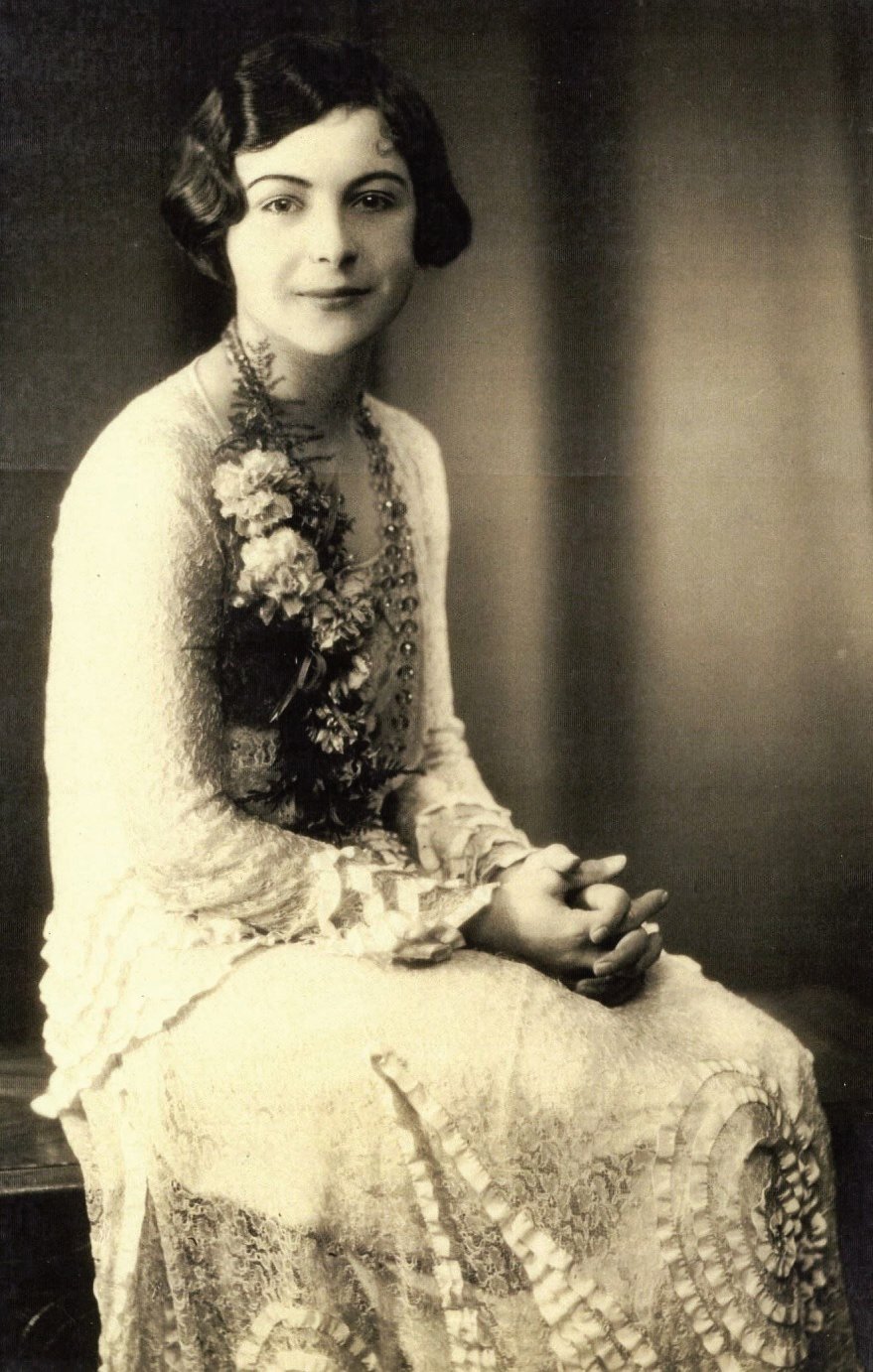 Vintage original late 1920's                                            Vintage original 1956
2. An authentic reproduction of a gown from a particular era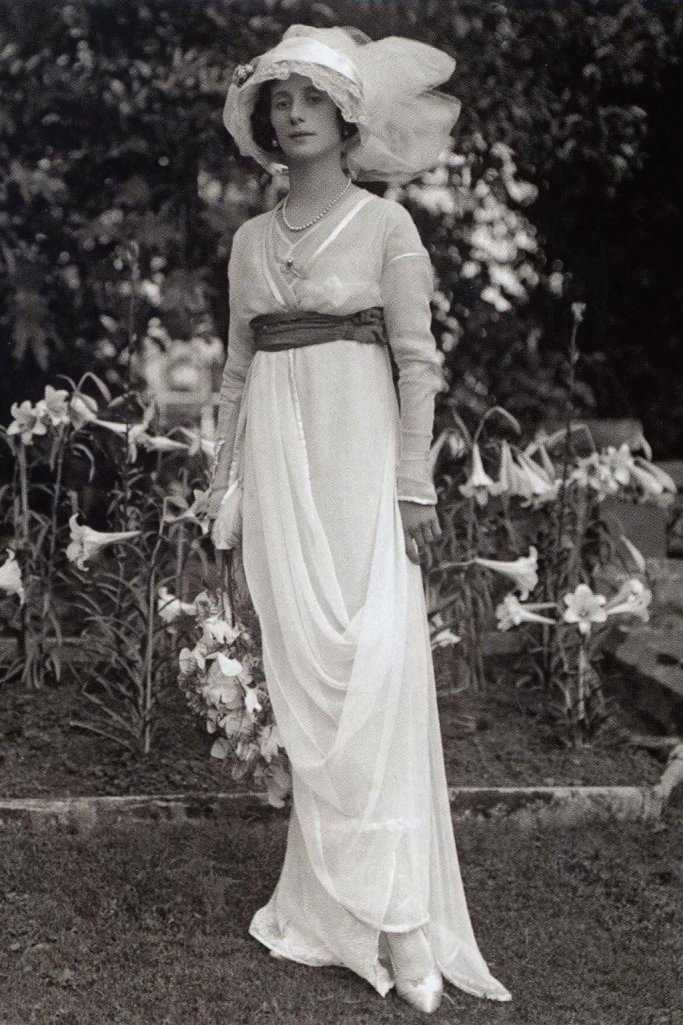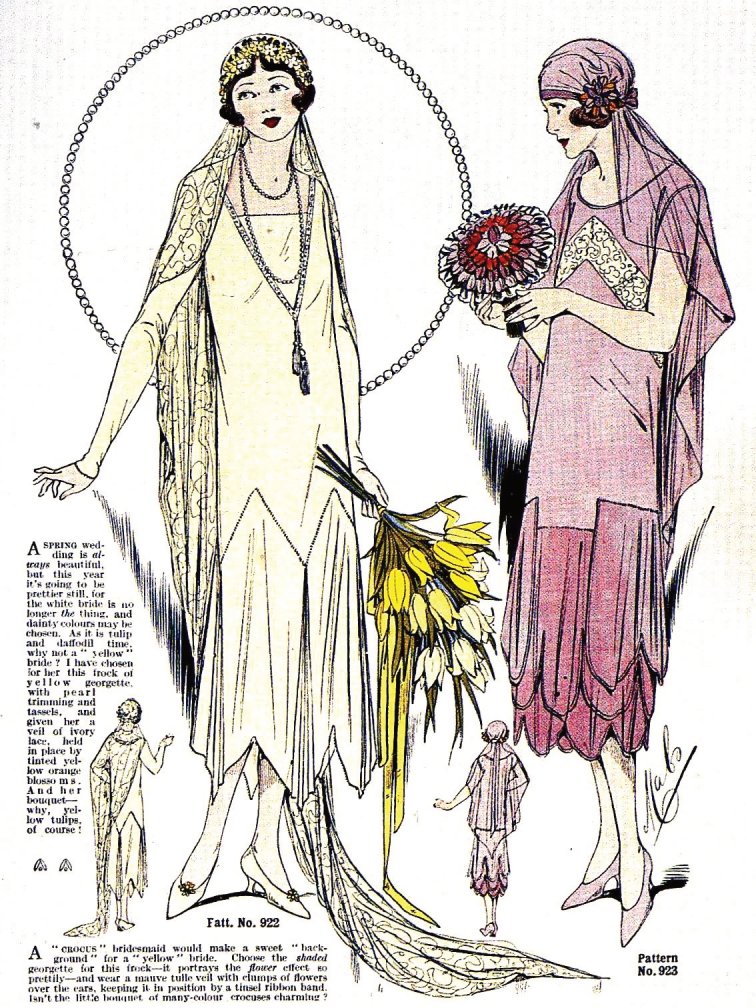 3. An original design with style elements from a particular era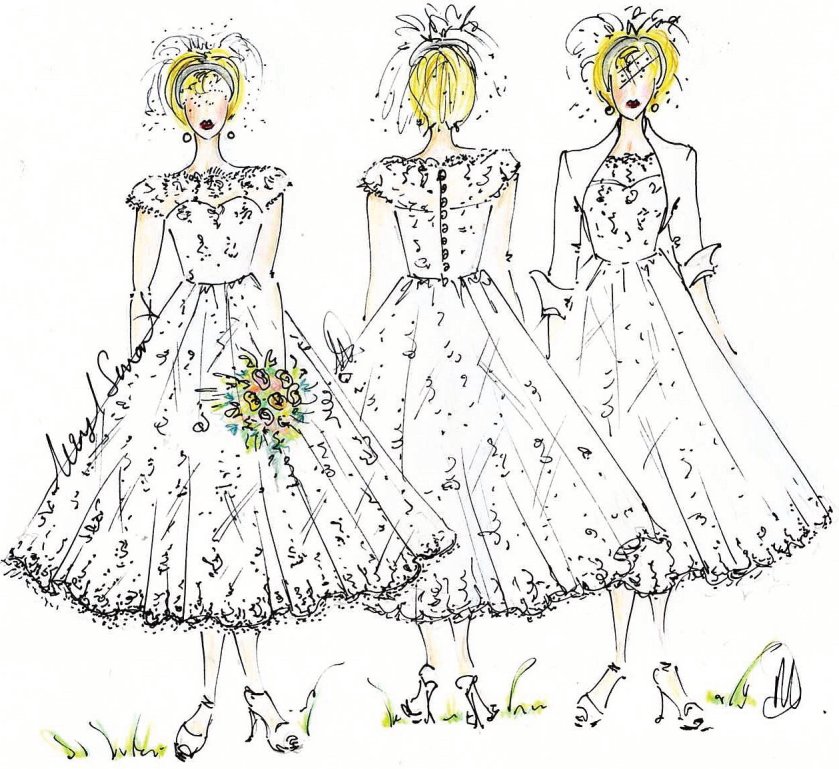 Original design influenced by 1950's styling
 Original design with edwardian styling details        Original design with 1930's style elements

4. A lacey, romantic dress, with a nostalgic feel ( No specific individual era)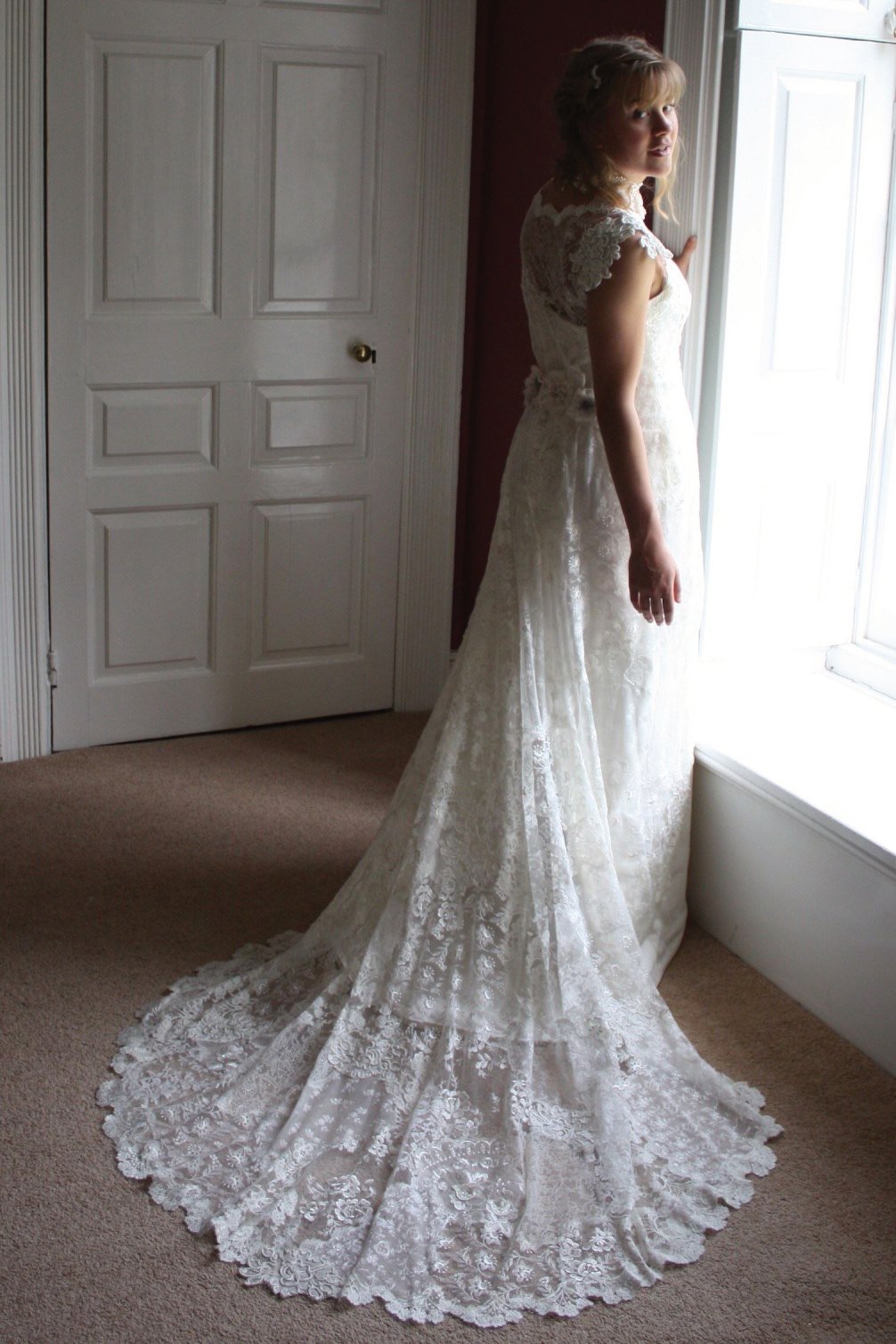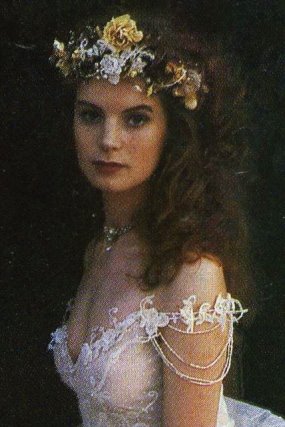 In another blog post, 'What is Vintage', I discuss how I use the term 'Vintage ' on my website, because Vintage 'officianados' are quite particular about that sort of thing, but most bride-to-be s, in my experience, are not.
Sometimes you just know you love it.

Copyright. property of Meryl Smart 2012. May not be copied or otherwise reproduced without permission

FASHION       FUSION - Con-fusion

We could be forgiven for being rather confused about what is happening in fashion at the moment. In some of the reporting of London Fashion Week it looks like some designers have hedged their bets and just bunged everything on at the same time. Clashing patterns, fruit/veg prints, jungle prints.

It could look a complete mess: perhaps that is the point - counter-co-ordination, anti 'mixy-matchy'.

A quick look around the High Street confirms the impression that, apart from designers being retrospective and jumbling up all the influences, there does not appear to be clear direction.

And then, just when you have got your brain around that, Armani comes up with an androgenous, wistful angelic look. Perhaps the industry is just trying to hedge its bets in difficult times; covering all  bases.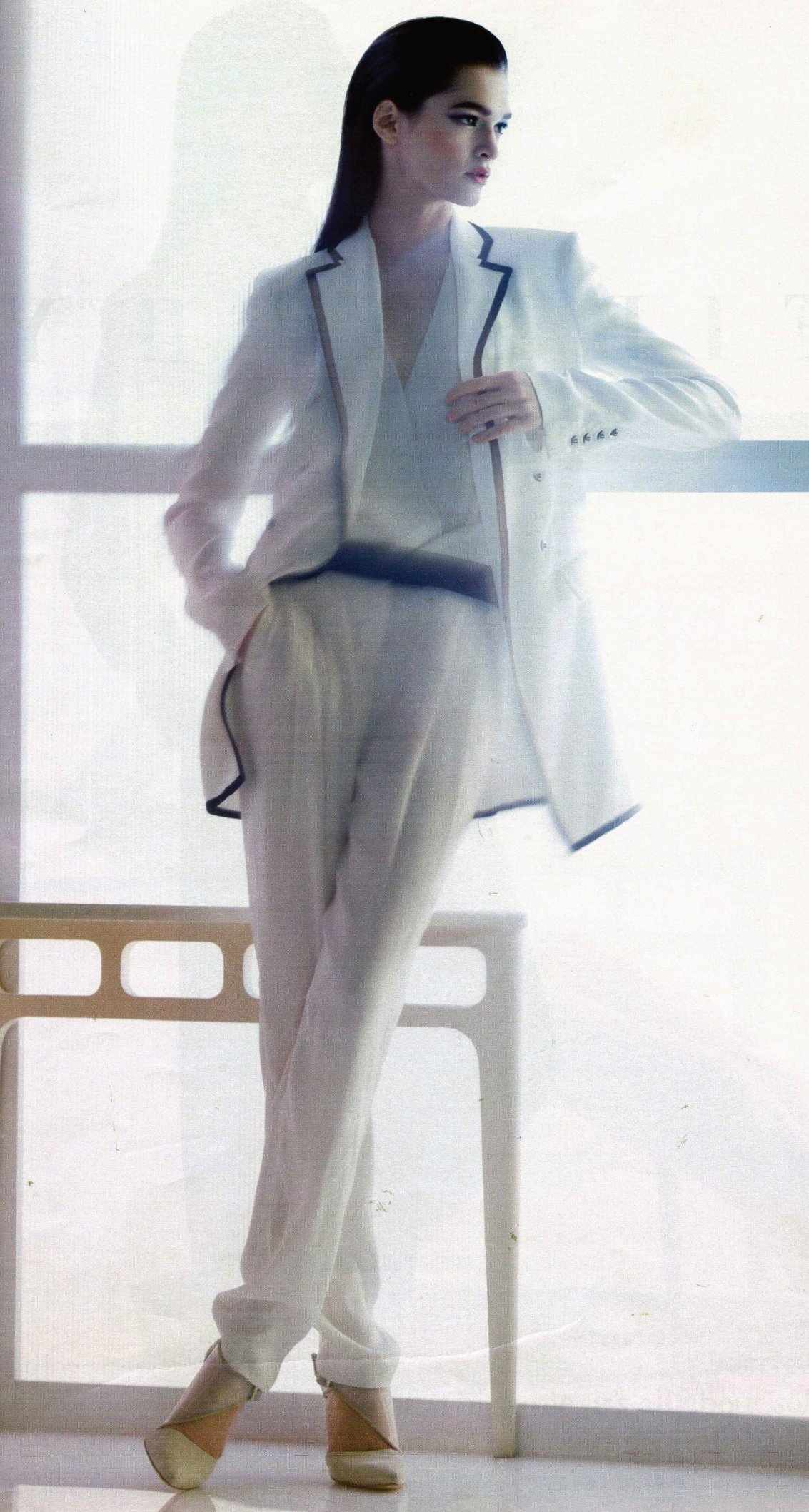 'Retro' seems to be the new buzz word; a term just as diversely defined as 'Vintage' - to add to the confusion.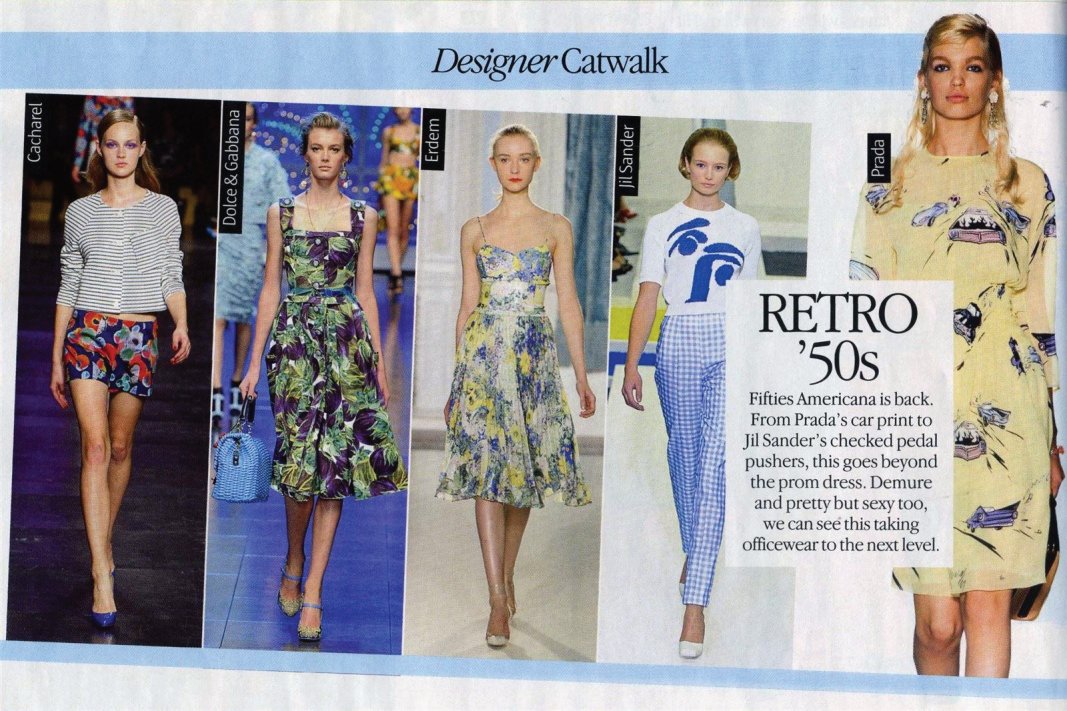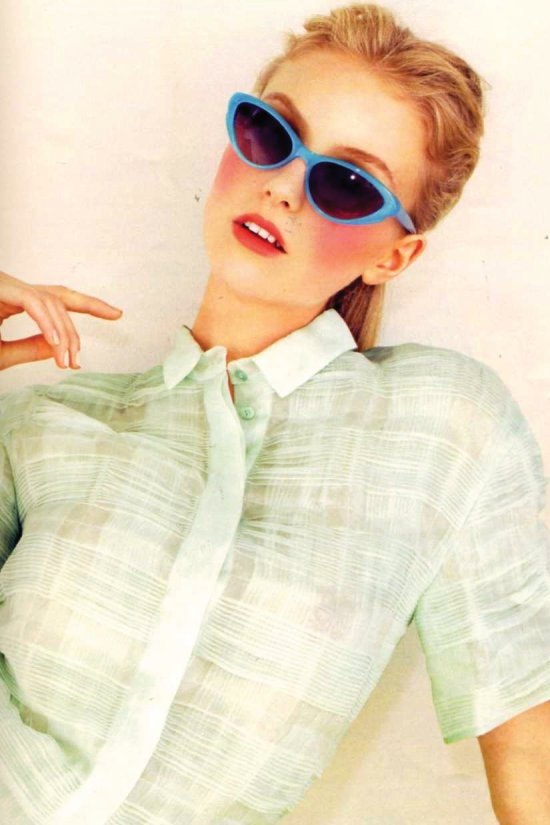 Influences come from  all directions, including new movies such as 'The Great Gatsby' (out later this year apparently) that have already influenced trends. I believe it would be possible to use images from recent fashion show coverage to prove almost any trend.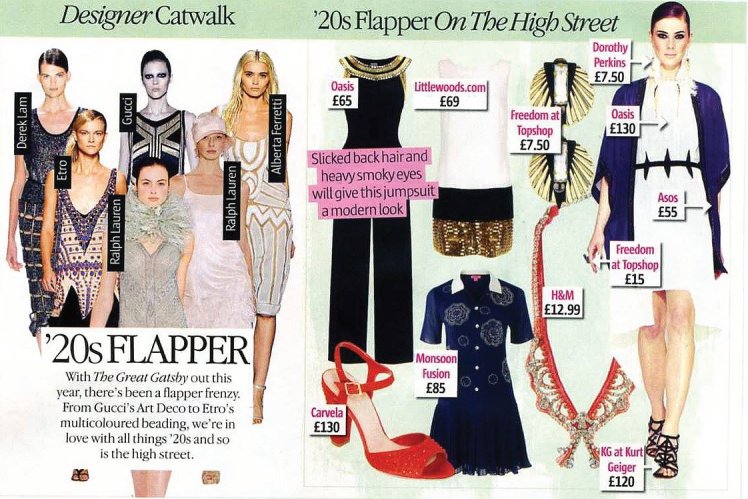 When a high profile figure like Kate, Duchess of Cambridge can resurrect a label by wearing one item from a 'defunct' range (50's style dress), one wonders who is really leading and who is following fashion.
Over the past few decades I have enjoyed reading fashion forecasts based on cat-walk collections, seen how the High Street has interpreted them, and then, with hind-sight, observed what actually caught the public imagination; what people actually purchased and wore. I even thought I'd write a book about it  'Chicken or Egg??'
I love (NOT) the way that fashion magazines create 'rules' for how to wear and not to wear trends.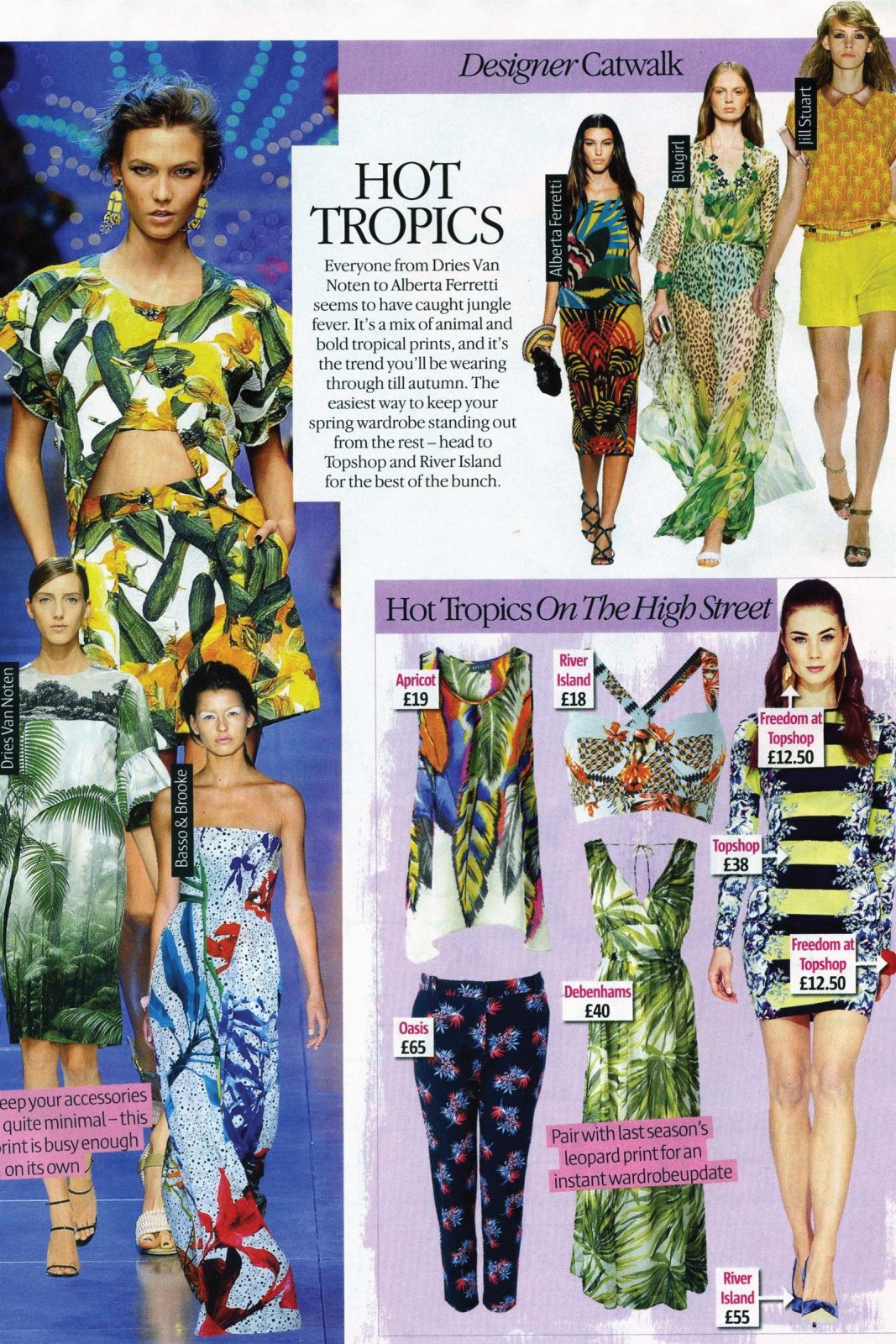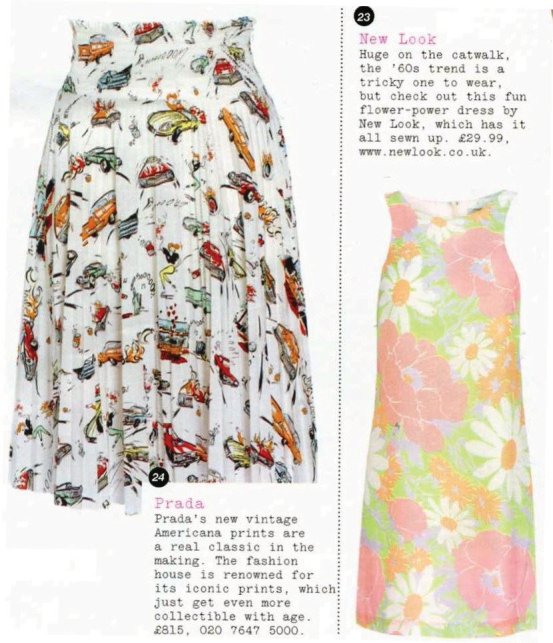 One magazine recently suggested that 'if you wear a 'vintage' fabric it should be in a 'modern' style and vice-versa in order to achieve a 'current' look'; as if everyone knows what they are talking about! Vintage sylists would probably not agree. Most people will, in-fact, just buy what they like. They may not realise, and probably care even less, that it might have a retro 60's influence in the print of the fabric or the tunic style of the dress or that the item they have just bought was 80's style..
Some people have quite a stereotypical and perhaps innaccurate image in their minds of the key looks of any decade.......that is, if they give it any thought at all; and who can blame them. People have busy lives and other things to think about.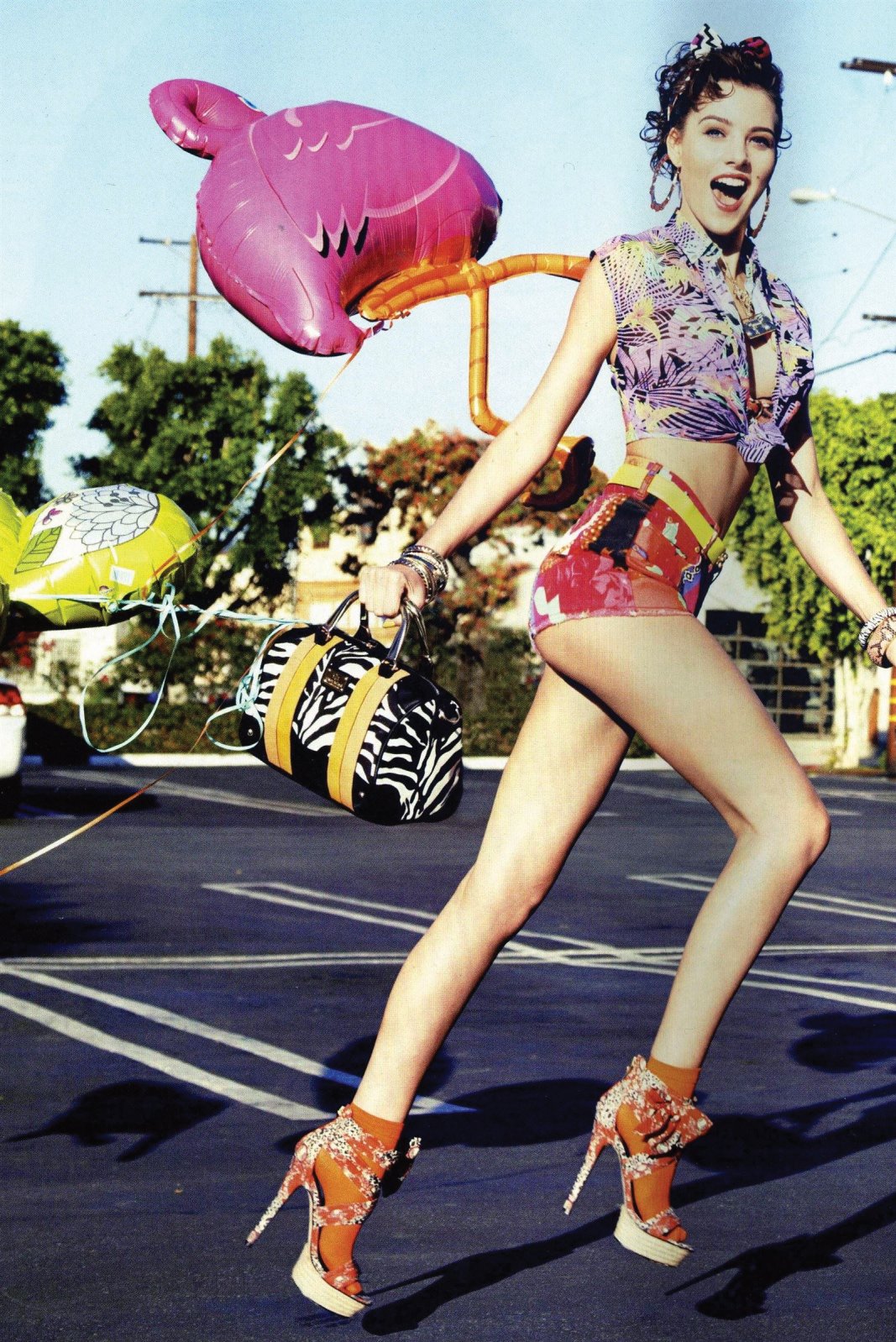 Even self-confessed fans of 'vintage' clothing may not know the intricacies of historical fashion - but know that they like original or unusual pieces that not everyone else has. Many are not aiming for top-to-toe historical accuracy; not interested in looking like they have stepped back in time or out of a period costume drama; rather prefering to pick and choose, mix and match and create an individual look.
Other 'Vintage' fans really like the styling of particular periods but would prefer not to wear 'second-hand'; happy to go for 'repro' or modern vintage/retro-inspired fashion.
One thing is for sure, as cat-walk extremes filter through to high street trends (and vice-versa) now, perhaps more than ever in history, and despite all the 'rules' anyone might seek to impose, anything goes....and sometimes, all at once!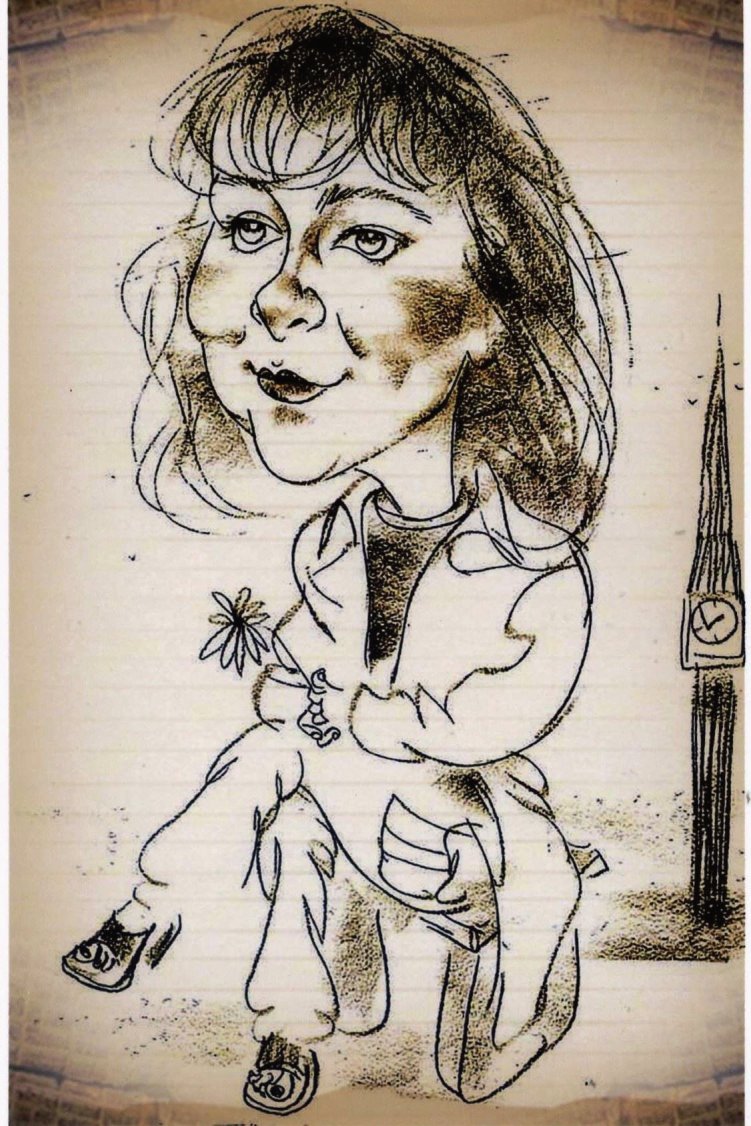 VintageSmartdog

Size does matter!

Sorry boys but size really does matter!...... particularly when buying Vintage. It is a fact that women are larger these days and not neccessarily in a bad way! Women are taller and broader and the increased use of elastane to provide stretch in many modern fabrics makes garments quite forgiving meaning we can all kid ourselves a little what size we really are. This is not the case with a lot of genuine Vintage clothing.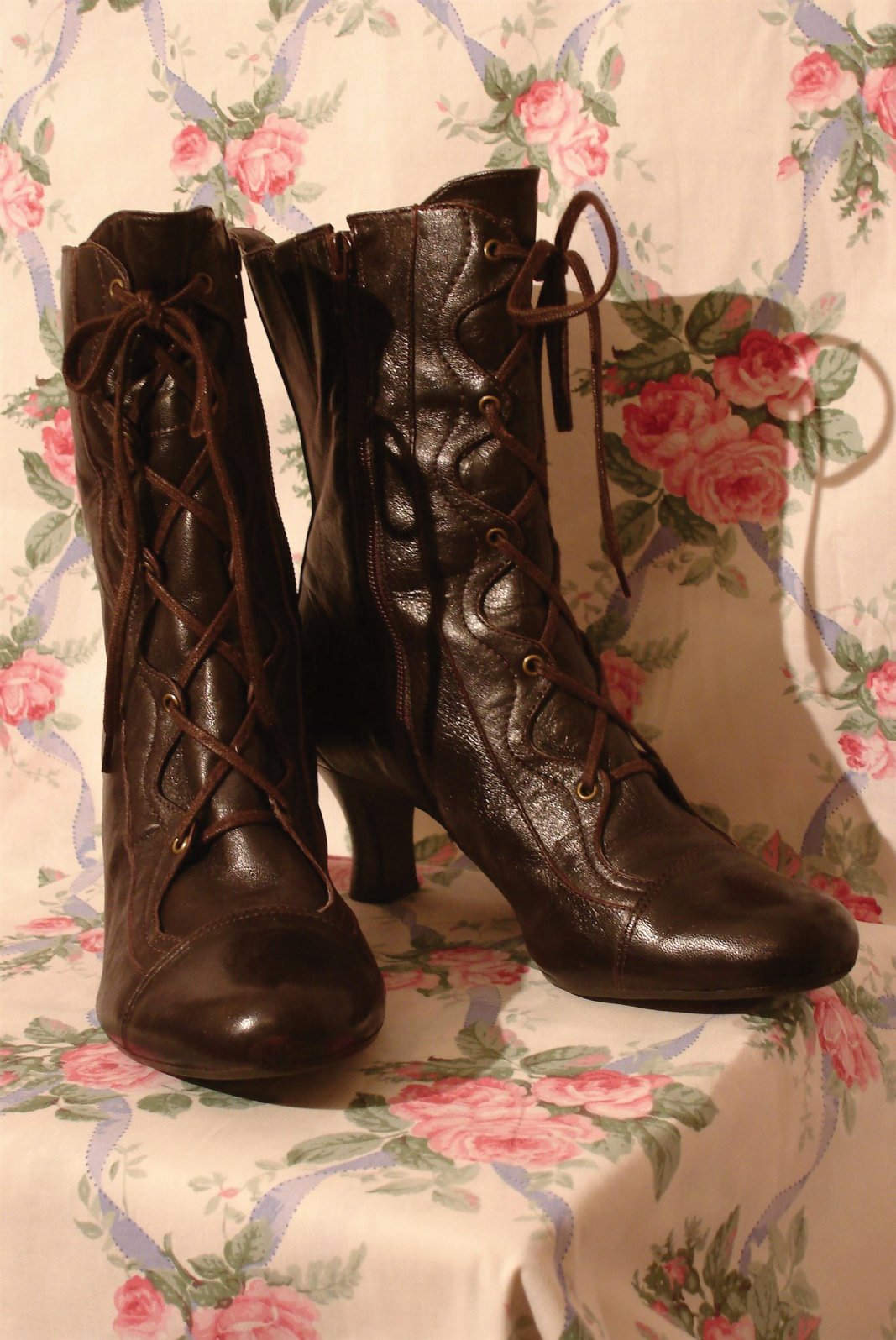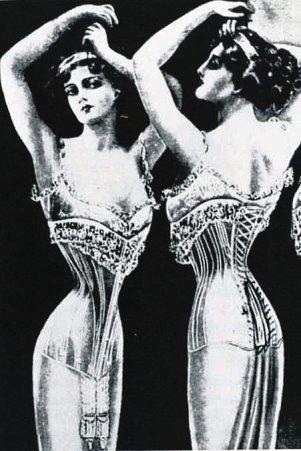 Underwear has always been used to redistribute our 'assets' to conform to the fashionable shape of the day. Nowadays implants, plastic surgery and padded bras have been used to change the 'desirable' proportions and impossible perkiness of boobs. The average bust size has increased.
The average shoe size has also increased from 5 (38) to 6 (39)

        The average dress size is now at least a 14 and that is in modern sizing so perhaps even nearer a 16. Perhaps stores have also been 'sizing to flatter'.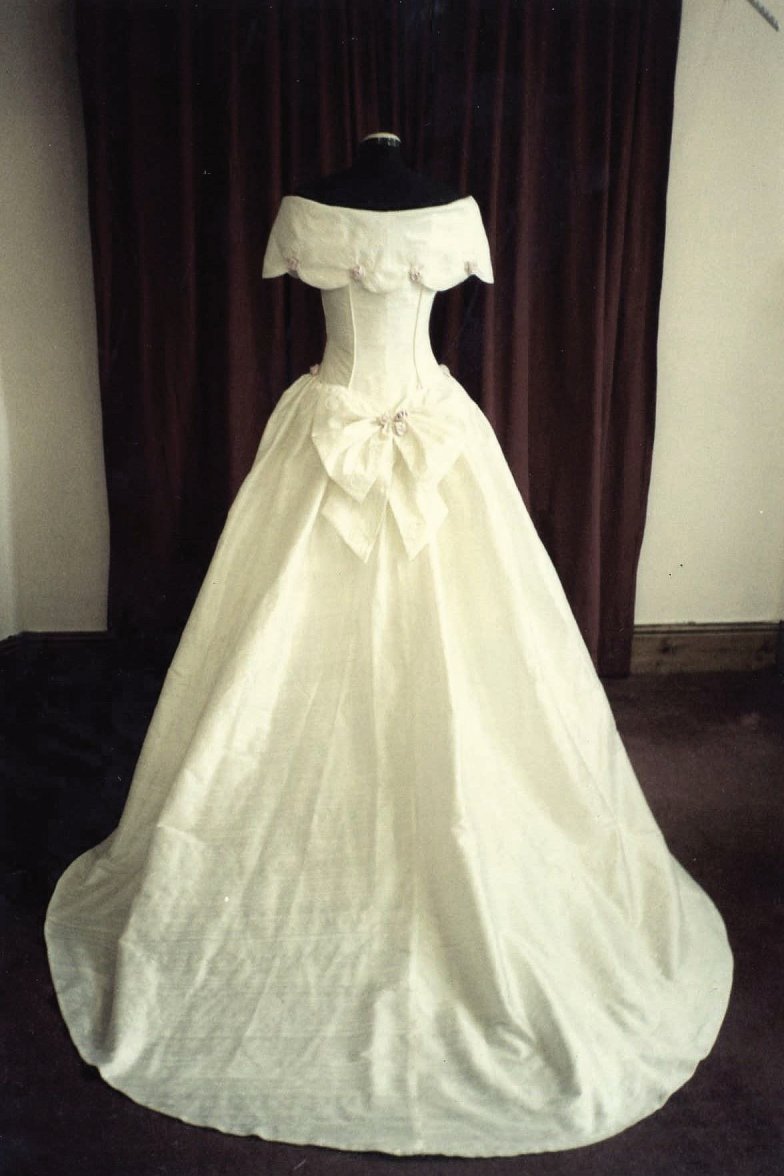 Pattern sizing has remained fairly consistent however and it can come as a shock for potential brides when they try on Wedding dresses because these tend to be made 'true-to-size' and are often boned and very fitted. Brides may have to try on dresses 2 sizes larger than they have become used to buying in High Street stores in order for them to fit.
It is important to be aware of the original period and sizing of a genuine Vintage garment but if it is to be worn rather than just admired it is also important to know the dimensions or how the size corresponds to a modern body and a more modern perception of size and fit.

For my website I include sizing details........
As they are provided in any labelling sewn into the garment.
My opinion as to the accuracy of this with regard to the garment and the sizes that could wear it now.                                                                    Bridal Gown by Meryl Smart

In the case of no sizing label information being available I provide accurate measurements.
I am happy to provide further sizing/measurement/period/fabric details if requested  (please use 'Contact Me' form or e-mail [email protected])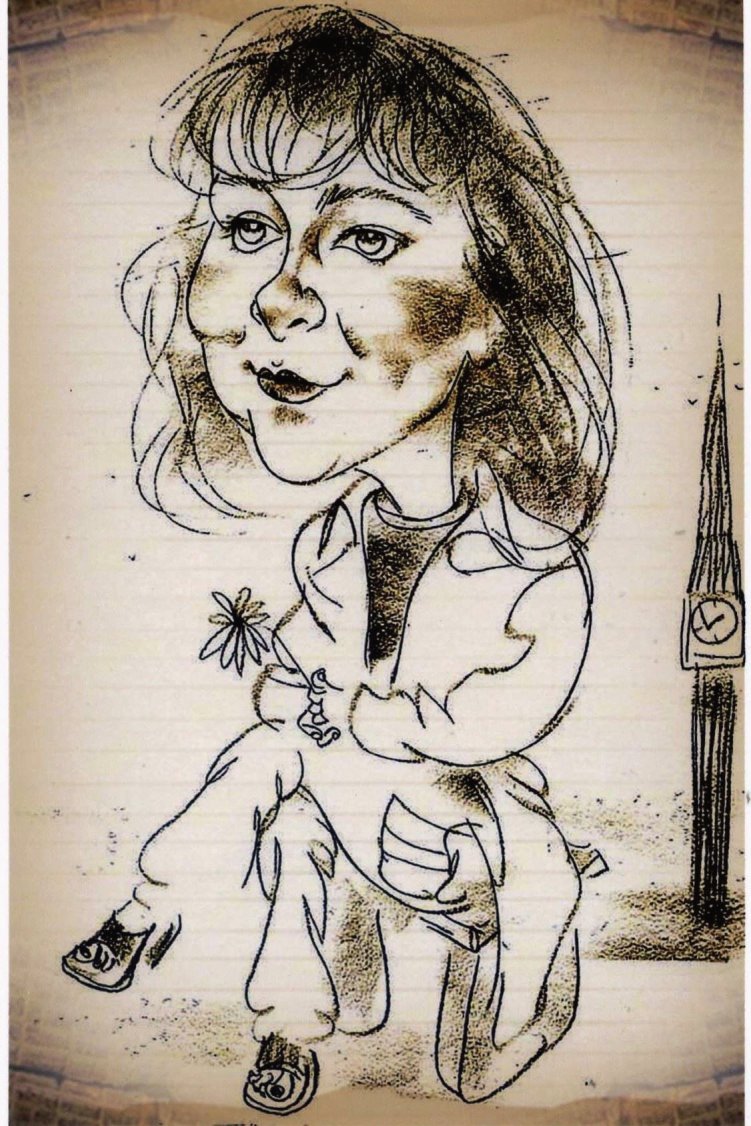 Meryl Smart
/